The Loop
Celebrating the best nicknames on the PGA Tour
This time last summer, Angel Cabrera came out of nowhere at the Greenbrier Classic, turning in two 64s on the weekend to capture his first non-major title on the PGA Tour.
However, in the 24 tournaments since his victory, Cabrera hasn't posted a top-10 finish. Turning 46 this September, we might have seen the last of the Argentinian's name on the leader board. (At least until he hits the senior circuit.)
Cabrera's friendly demeanor, as well as his now-retired habit of chain smoking on the golf course, has made him a cult hero among galleries. Plus, there's his nickname: "El Pato."
Spanish for "The Duck," the moniker references Cabrera's unique, nonchalant stride, which can generously be described as paddling. (It should be mentioned that Cabrera claims the label derives from his father being referred to as "Pato" as well, but that simply could be his way of coming to peace with the name.)
The epithet, along with Cabrera himself, has always been a favorite to this observer. To commemorate Cabrera and his El Pato handle, here are the top 10 nicknames on the PGA Tour. Note: we restricted the list to the current landscape, meaning classics like "Champagne" Tony Lema and "The Walrus" Craig Stadler are absent.
__Graeme McDowell - "G-Mac"; Rory McIlroy - "Rors" __
These aren't nicknames, they're abbreviations. Sports used to cultivate sweet-sounding sobriquets like "Ice Man," "Cool Papa" and "The Galloping Ghost." Now we've resorted to the "first letter, first name + first syllable, last name" equation. This is why grown-ups hate my generation.
__Phil Mickelson - "Lefty" __
Because he's a left-hander. Get it?
__Tim Herron - "Lumpy" __
Unfortunately, Herron has just two top-25 finishes in the last three seasons, and still has five years before reaching the Senior Tour. Out of sight, out of mind.
__10. Gerry Lester Watson - "Bubba" __
I seesaw on this one, but the fans dig it. Plus, it beats the hell out of "Gerry Lester."
__9. Louis Oosthuizen - "Shrek" __
If I were Oostuizen, I would fully embrace the persona by wearing only green ensembles and throwing temper tantrums on the course.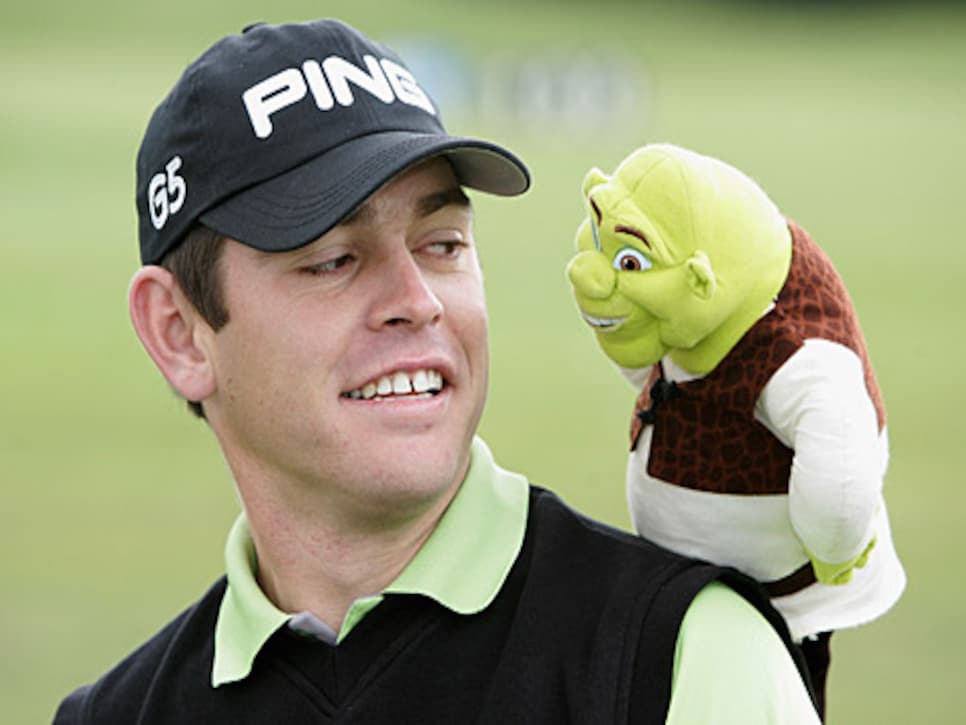 __8. Miguel Angel Jimenez - "The Mechanic" and "The Most Interesting Man in the World" __
The latter explains itself. The former refers to Jimenez's love of performance cars. Still, it's hard to correlate anything "mechanical" to a person who's known for this:
An aberration to the last-name derivate corollary. "Duf" is not a play on a name; "Duf" is a lifestyle. One that emits a "Devil may care" attitude. Almost an anti-hero, like Clint Eastwood in "The Good, the Bad and the Ugly."
Simply put: The Duf abides.
__5. Ernie Els - "Big Easy" __
The name is a nod to his large, broad physique that produces a swing that brings a tear to your eye.
__3. Jim Mackay - "Bones"/Mike Cowan - "Fluff" __
You know you've made it as a caddie when you're more recognized than half the players on Tour.
__2. Retief Goosen - "Goose" __
Our second cognomen derived from a last name, which should rank it lower on the list. Then again, it got him an endorsement with a vodka company. So there's that.
__1. Eldrick Woods - "Tiger" __
I'm convinced that Woods wouldn't have won 14 majors if he went by "Eldrick." How good is the Tiger handle? People don't even refer to him by his birth-given first name. THAT good.