The Loop
Cejka claims second-round lead
PONTE VEDRA BEACH, Fla. - Alex Cejka emerged with the lead midway through the second round of the Players Championship early Friday afternoon at TPC Sawgrass after a literal neck-and-neck battle with playing partner and fellow Las Vegas resident Kevin Na.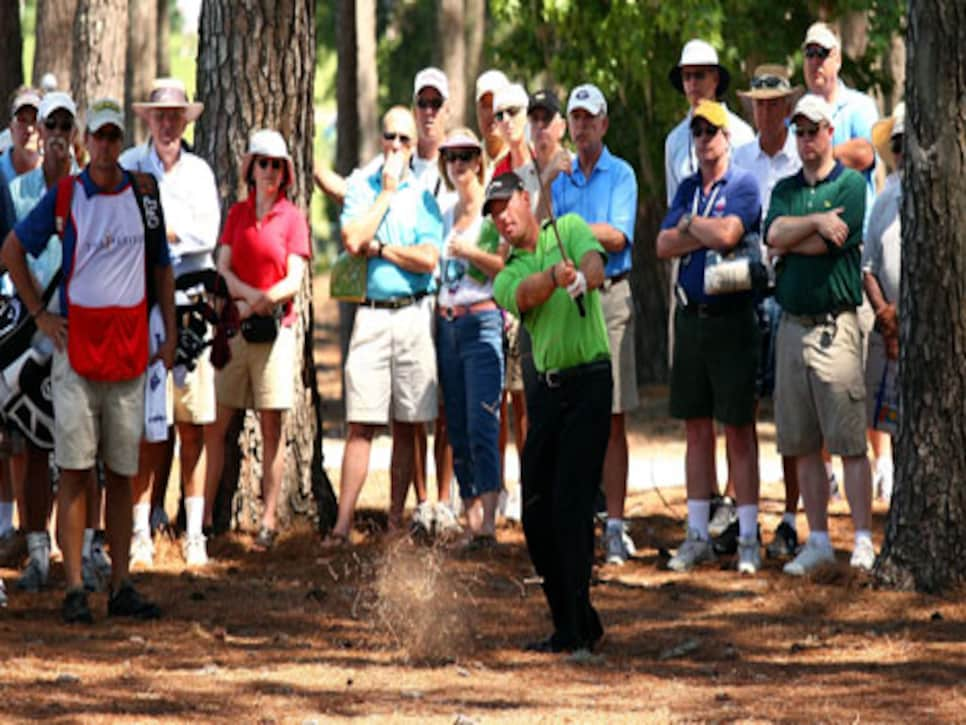 (Photo credit: Richard Heathcote, Getty Images)
Cejka fired a 5-under-par 67 and completed 36 holes in 11-under 133, four ahead of Na, who shot a bogey-free 66. Cejka birdied six of the first 11 holes at the Stadium Course before giving a stroke back at the 15th, but he couldn't complain with the state of his game considering that last week he had an epidural shot to alleviate a pinched nerve in his surgically repaired neck.
Cejka underwent neck surgery last fall after injuring himself at the Reno-Tahoe Open, but thinks he came back too soon. He had been experiencing numbness in his right arm the last three weeks before deciding to get a cortisone shot after missing the cut at the Zurich Classic. He's not 100 percent, he said, but his game is sound.
"I must say not really (surprised)," said Cejka, who missed the cut here last year and has never finished in the top 10. "I played actually kind of well in Hilton Head, just had, I think, a bad Sunday. In New Orleans, where I didn't feel anything at all, I really played from tee to green phenomenal. I just had no feeling and I couldn't make any putts. So the game is there."
While Cejka, who has finished 13th in three of his last six starts, has been battling neck problems for a while, Na, 25, experienced pain and stiffness in his neck and shoulder last week and decided to withdraw from the Quail Hollow Championship.
"I didn't want to risk it and keep playing and make it worse coming into this event," Na said. "I got it worked on and I felt better. I think it was from overuse, over-practicing in Florida. Geez, I'm 25 years old and I'm already falling apart."
Cejka and Na weren't the only golfers blitzing the Stadium Course. Masters champion Angel Cabrera, who had never broken 70 in six previous appearances at the Stadium Course, was following up a 72 with a 65 to climb into a tie for third place. Among the notable players fighting to make the cut, which is currently projected at level par 144, were former winners Adam Scott and Phil Mickelson. Scott, the 2004 champ, is one over for the tournament after a 74. Mickelson birdied two par-5 holes to offset an early bogey and was on the cutline at even playing in the same pairing with the Aussie.
Tiger Woods, who shot 71 in the opening round, was to tee off at 1:10 p.m. EDT. Defending champion Sergio Garcia, who also opened with 71, was in a group going off at 1:30.