The Loop
CBS owes Tiger a big thank-you for these ridiculous TV ratings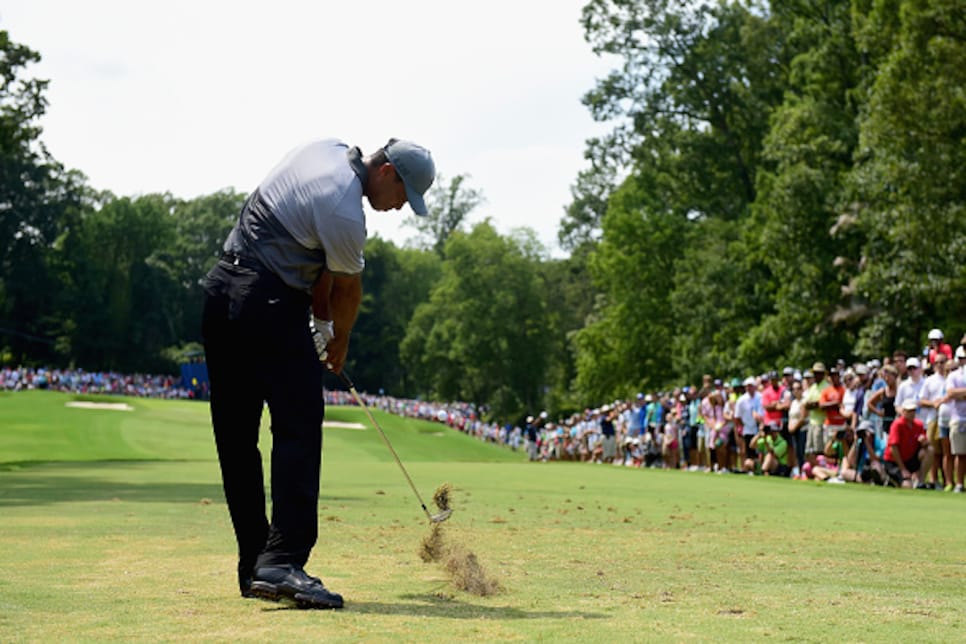 No offense to the Wyndham Championship, but it's pretty much a space filler on the PGA Tour's schedule these days. Despite all of the event's history, it's become that tournament that's played the week after the year's final major and the week before the FedEx Cup Playoffs. That is, until Tiger Woods showed up.
Woods played in the event for the first time this past week and the difference in atmosphere and crowd size was obvious. Apparently, people were crowded into their living rooms to watch as well. Weekend TV ratings have come out and they're pretty eye-popping:
That's a 220-percent increase on Saturday from the 2014 Wyndham and a 160-percent bump on Sunday with a 3.9 rating that would have been a lot higher if not for Woods' triple bogey on the 11th hole that all but ended his chances of a first win since 2013. It was also the highest non-major broadcast since Woods won the Players in 2013.
It gets crazier when you compare these numbers to the TV numbers of this year's four major championships. The Masters is in its own league, but you'd be amazed at how the Wyndham -- again, the Wyndham -- stacks up. That 3.2 Saturday rating matched the PGA Championship's third-round number when Jordan Spieth and Jason Day were battling at Whistling Straits. And it tops both the Saturday ratings for the U.S. Open and British Open.
That's right, more people tuned into see if Tiger Woods could win in Greensboro than they did to see if Jordan Spieth could keep his Grand Slam hopes alive at St. Andrews.
Woods is scheduled to play next at the Frys.com Open in October. Think Golf Channel, which has full TV coverage of the event, is hoping for him to play his way into contention on the weekend?