Courses
Catching Golf's Latest Wave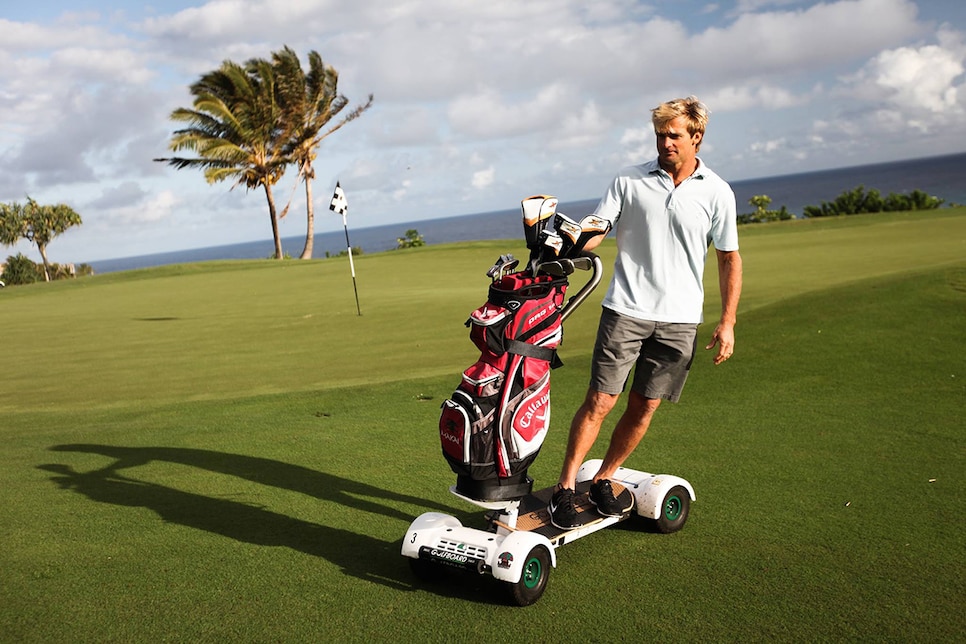 What if you could play a round of golf that was completely carefree, where bad shots didn't matter because you were having so much fun between swings? If you haven't heard of GolfBoarding, a craze gripping golf courses across the country—from local municipal courses to high-end resorts—it's time you did.
The GolfBoard looks like a souped-up skateboard, but it has a battery-operated motor and a stability bar, enabling people to safely and comfortably ride on even very undulated surfaces. Simply stand on the GolfBoard like you would a snowboard or skateboard, sideways to your direction of travel, with your feet spread apart on the deck. Speed and braking are controlled by a thumb throttle, and a rider simply shifts his weight in the direction he wants to go, using the stability bar to maintain balance. "Within two or three minutes, most users have the hang of it," says GolfBoard president Jeff Dowell. For those who want to purchase their own, GolfBoards can be personalized with custom fenders, decals and wheels in the spirit of boarding culture.
Aboard a GolfBoard, golfers can surf their way around the golf course in significantly less time than it takes to ride in a cart with another player (no more zigzagging across fairways to your partner's ball). The GolfBoard is designed to go the speed of a golf cart, ranging from 5 mph (so you can safely step off) to a zippier 10 mph. The company's research shows that an average 18-hole round on a GolfBoard can be played in 2 hours and 37 minutes. "The faster speed of play benefits both the owner and the golfer," says Dowell.
GolfBoard was named the Best New Product at the 2014 PGA Merchandise Show, and Golf Digest gave it the Best Club Transport Award in the "New Age" category of its Editors Awards. With such accolades, it's no wonder the demand for this exclusive experience is growing, and many courses have caught the enthusiasm, including Maderas Golf Club in San Diego, Boyne Highlands in Michigan and Predator Ridge in British Columbia. Other courses that offer guests the unique GolfBoarding experience include the Westin Kierland Resort in Scottsdale, the courses at the World Golf Village in Florida, and TPC Myrtle Beach. (See list below for Top 10 Courses That Offer Golfboards)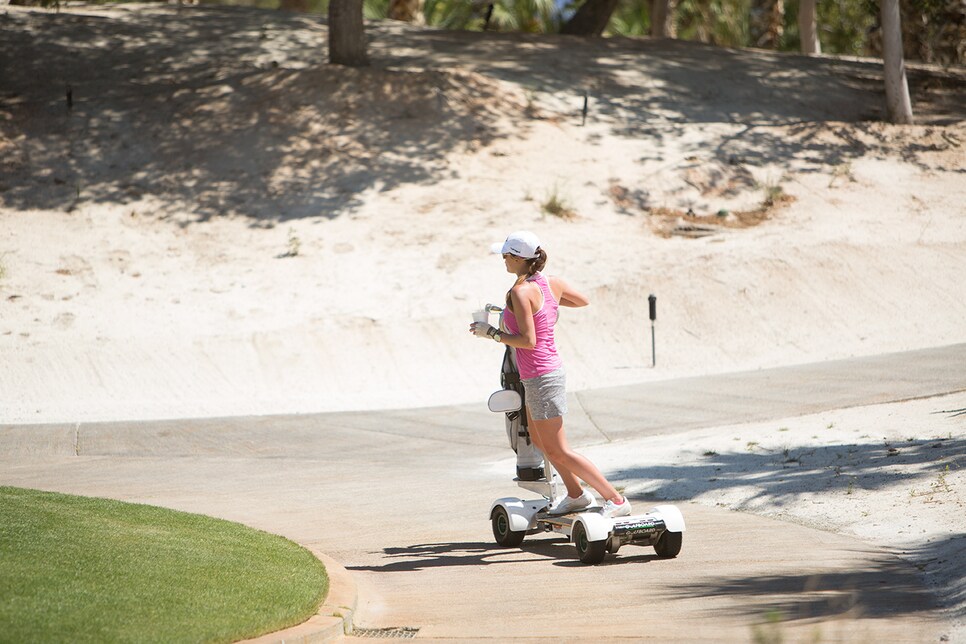 The innovators behind the GolfBoard are Don Wildman, 83, an avid golfer and founder of Bally's Total Fitness, and big-wave surfer Laird Hamilton, also a keen golfer. They came up with the idea for an "electric surfboard" to ride on the golf course for their own fun, never dreaming they would take it big. After a series of prototypes and some serious R&D, GolfBoard was born. And though the two envisioned the GolfBoard drawing a young crowd (kind of like snowboards did for skiing), Dowell says the "fit 50s and above are the biggest segment of users."
Think of it as another way to tailor your round of golf to your liking. If you don't want to ride a cart or walk, GolfBard is a fun alternative, and it also provides a good core workout. Courses provide a fleet for players to rent (just like they would a golf cart). Though prices will vary from course to course, expect to pay a 10 to 20 percent premium over a regular cart for the option to "surf the earth," says Dowell. By most accounts, it's worth the price. As Dowell says, "It's the most fun you'll ever have on a golf course." It's a great way for courses and resorts to diversify their assets and bring people into the game with a unique offering. Will it revolutionize the way golf is played? Only time will tell; however, by the looks of it, GolfBoard is off to a good start.
TOP 10 COURSES THAT OFFER GOLFBOARDS: