The Loop
Captain Price: 'Huge honor...I want to win'
DUBLIN, Ohio - It's been a long road for Nick Price to the captaincy of the International Presidents Cup team.
Price on Tuesday was formally introduced as the captain for the 2013 Presidents Cup at Muirfield Village GC. The native of Zimbabwe will serve opposite Fred Couples, who will be the U.S. skipper for a third straight time after successful turns in 2009 and '11.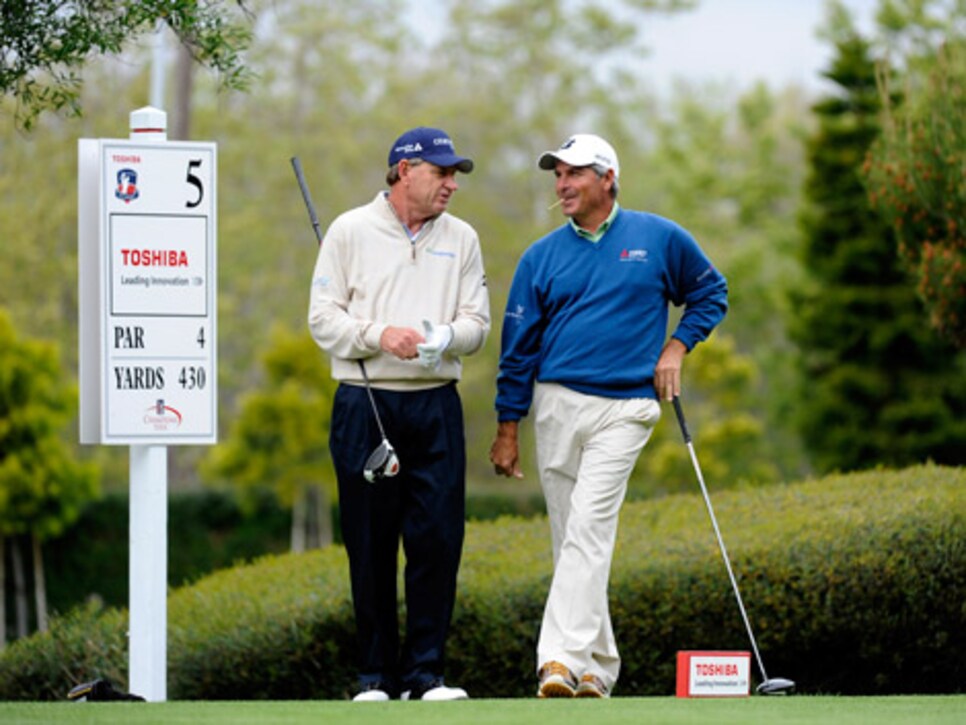 *Price and Couples will be going head-to-head at Muirfield Village in 2013.
The affable Price, a three-time major champion, confirmed a story first reported in the Nov. 28, 2011 edition of Golf World Monday that he was offered the captaincy in 2007 for the '09 Presidents Cup at Harding Park in San Francisco. Price, however, turned it down so that longtime friend Greg Norman could serve first.
Norman, of course, remained captain for the 2011 matches in Melbourne, Australia.
"It was a two-fold, and maybe a three-fold, decision on my part," Price, 55, explained Tuesday afternoon at Muirfield Village. "First of all, that was back in '07 when they came to me, and that was my first year on the Champions Tour, and I wanted to play a little and concentrate on my game a bit.
"Second thing is, Greg was an established player long before I was, and he is older than I am. So I thought protocol dictated that he should be the captain ahead of me. I thought that was a really important thing. Plus, I didn't want to be the captain and have there be some extra agenda going on (in the media). I didn't want them asking, 'Oh, does Commissioner [Tim] Finchem have a problem with Greg that he didn't ask him first?' You know what I'm saying? I wanted a clean slate."
There was some discussion in the media that if Couples was brought back, then perhaps Norman should get a third try as well, especially since both are past winners of the Memorial Tournament at Muirfield Village. But even Norman admitted at Royal Melbourne last fall that Price was due to be the next leader of an International team that has won only once since the Presidents Cup began in 1994.
"I got an e-mail from Greg two days ago, a very nice e-mail wishing me the best of luck. That was very kind of him," Price said. "This is such a huge honor for me. I am so looking forward to it - and I don't look forward to too many things right now. The big thing is I want that buzz for the players. And then, you know, I want to win."
Price said he is taking under advisement several suggestions that Norman made following the American victory at Royal Melbourne, including asking for four captain's picks instead of two to fill out the team. But it's simply too early for him to comment on what his plans are, even if he has been thinking about this day for nearly five years.
"There are a lot of things I'm going to look at," he said. "But everything I look at is going to be about making this event very competitive. I want that last day to mean something. I want it to come down to those last few groups on Sunday the way the Ryder Cup often does. How do we get to that? Well, that's what I have to figure out."