The Loop
Captain Davis Love III: 'It's a new business model...2016 will be a collaborative effort'
PALM BEACH GARDENS, Fla. - Davis Love III was officially introduced as the 2016 U.S. Ryder Cup captain Tuesday, the consensus choice to carry out a new game plan best described by using a term George Orwell coined: Groupthink.
"I'm here with the same goal I had in 2012 but not as the same captain," said Love, 50, who becomes the eighth man to lead multiple U.S. teams - and the second in a row after Tom Watson's unsuccessful bid last year to revive American fortunes in the biennial competition that Europe has come to dominate. Bristling under Watson's autocratic style, the U.S. team lost 16 1/2 to 11 1/2 at Gleneagles, in Scotland.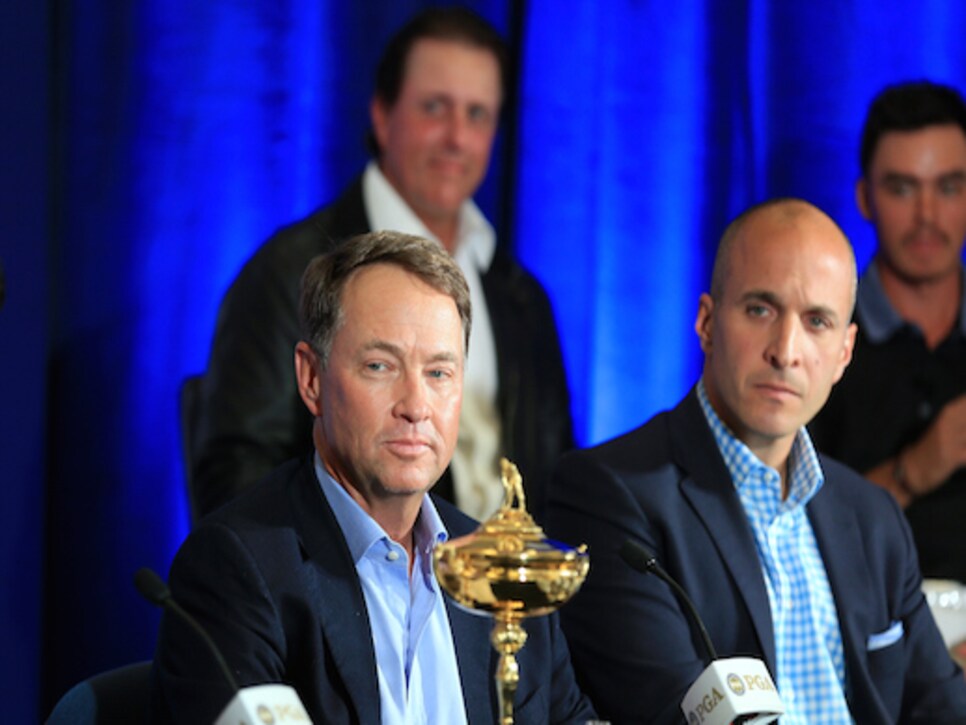 "It's a new business model, a new team building model that comes from being given an opportunity by the PGA of America to come together and use all of our veteran experience to build a new team culture and consistent plan for the future," Love added. "So 2016 will be a collaborative effort of many individuals from the task force, past Ryder Cup Captains, veteran players of the Ryder Cup to create the best environment for our team to be totally prepared to compete at Hazeltine National."
Known for his consensus building as a player representative on the PGA Tour Policy Board, Love was given a second chance to captain the U.S. team after his 2012 term ended in a stunning American meltdown the final day at Medinah Country Club. Europe stormed from four points behind in singles to hand the U.S. perhaps its most bitter setback among a litany of disappointments the last 20 years.
Europe has won eight of the last 10, prompting the PGA of America to form a task force in which PGA officials joined with former Ryder Cup players and captains. The 11-member task force, which included Love, Phil Mickelson and Tiger Woods, eventually settled on Love as the perfect choice to oversee sweeping changes to how the U.S. will approach the Ryder Cup in 2016 at Hazeltine National in Chaska, Minn. - and beyond.
"In my 20 years I've had 10 captains that have brought 10 totally different viewpoints," said Mickelson, who holds the record for most Ryder Cup appearances. "Some have been great, some haven't, but they have been random from year to year. As a player that's very difficult to decipher those leadership styles. We have got to have continuity.
"By having past captains involved, having [potential] future captains as current vice captains, we will have everyone working together sharing information to have continuity from cup to cup."
Love already selected one of his four assistant captains, introducing Minnesota native Tom Lehman on Tuesday. Lehman also was on the task force and captained a 2006 U.S. team that lost by a record-tying nine points. Of the other three vice captains, one will be a former Ryder Cup captain and two will be former players presumably with the potential to be captains in the future.
Interestingly, Mickelson, 45, and Woods, 39, both former PGA champions and near locks to be Ryder Cup captains eventually, will be at Hazeltine even if they do not qualify for the team. They join Love and PGA officers Pete Bevacqua, Derek Sprague and Paul Levy on a Ryder Cup committee that is an outcrop of the Ryder Cup task force.
Sprague, president of the PGA, said that the committee will be a part of the U.S. leadership during the Ryder Cup that also will include Love's four assistant captains.
"We want to be another resource for Davis to lean on," Sprague said. "If they're not playing [Mickelson and Woods], we want them to be engaged."
As for there being too many cooks in the captain's galley, Sprague was adamant that at this point the PGA wants to err on the side of getting as many heads together as possible. "The one thing that was evident to us in the task force meetings was that the PGA of America needed to do a better job of embracing what we call the Ryder Cup family. We need to get the whole family there to help out."
Another thing that was evident to the task force was the need to bring back Love. "It was one of things that we all agreed on," said Rickie Fowler. "We all felt very strongly about that."
"We wanted somebody that is well-liked and respected who does not have such a strong ego to where he won't listen to a number of different viewpoints," Mickelson said. "But also, he's going to be under a lot of scrutiny so somebody that is confident enough to take on the scrutiny that comes about in 2016.
"When you look at how unselfish he is, when you look at how much he's willing to take the hits but give other people the credit. And you look at laying a blueprint for the next 20 years and building the foundation for the future Ryder Cups and the continuity from year to year, passing on that knowledge, sharing that knowledge of being involved in the next Ryder Cup and the Cup after that … there's only one guy that fits that bill."
That the task force - which also included Fowler, Jim Furyk, Steve Stricker and Raymond Floyd - selected the captain is one notable change; the PGA president selected the captain previously with prerequisites that the candidate be a past Ryder Cup player and a major champion.
Other changes announced Tuesday had to do with the process of team selection. The PGA reinstated eight automatic bids based on a slightly altered points system and has delayed the four wild-card picks until later into the season to ensure that the players showing the best form can be selected. One spot will stay open until after the Tour Championship.
But the central message was that American individualism had no place in the future organizational matrix of the U.S. Ryder Cup mission. Well, maybe that's not exactly true. "The captain is still going to have to make decisions. The captain is still going to have to make a speech," Love said. "But everything else should be covered.
"It's a different approach. Little things need to change and the best way to do that is to get more people involved," he said. "We do that at the tour. We have 16 player representatives and that filters it down to four [players on the policy board] that filters to the commissioner. I think the process we've had so far has been incredible, the amount of input involved. I just hope I can transfer the excitement we've had since December to the team we have next year. But I promise that we're going to have a lot more fun, and we will be a lot more prepared.
"Our team will trust each other, and we will have a shared vision."
Sharing success would be good, too.