The Loop
Captain Couples: Tiger needs to play more
HARRISON, N.Y. - Tiger Woods still has an important booster in his bid to be selected as a captain's selection for the 2011 United States Presidents Cup team - U.S. skipper Fred Couples - but there is a caveat.
Couples really wants Woods - who is 28th on the American points list and didn't qualify for the PGA Tour playoffs - to play some more golf between now and the Presidents Cup, Nov. 17-20 at Australia's Royal Melbourne GC.
"From what I see, he's looking to turn it [his game] around quicker but not playing much golf," Couples said. "He may read that and say, 'Screw him.' I mean, he's my favorite player. But to get better, you gotta play."
Speaking at Westchester CC, site of this week's Constellation Energy Senior Players Championship, Couples said his public plea follows communication he has had with the Woods camp urging the former No. 1 to get some competition in prior to the Austalian Open the week before the Presidents Cup, which he already is scheduled to play.
"I really want him on the team based on my opinion that he's been the best player for 10 straight years," Couples said. "I don't think you can push him down because he's not playing maybe as well as 20 other guys that could be picked. A couple of times I've been picked for a Presidents Cup or a Ryder Cup, and sometimes that's just the way it falls. I've talked to [agent] Mark Steinberg about him playing [additional tournaments]. We're going to figure out a way that we can get this done. He can't just show up the week before in Australia. I have made it clear that whoever I picked will be playing the Australian tournament the week before. But I need him to play more than just there. There's quite a few tournaments after the Tour Championship."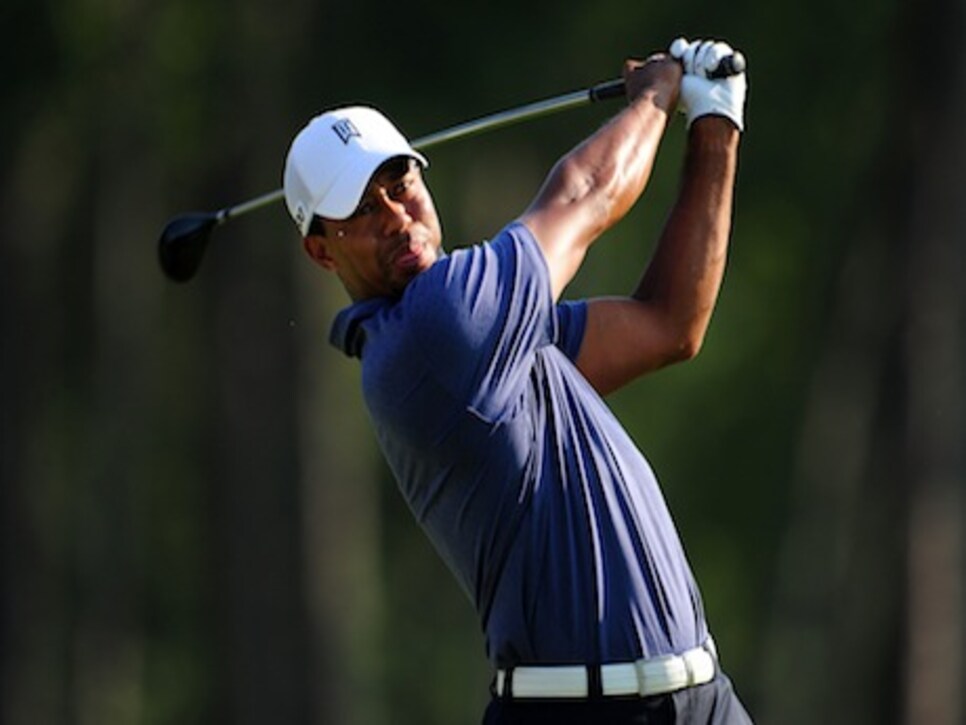 Like many people, Couples watched last week's PGA Championship as Woods struggled to rounds of 77-73 and missed the cut at Atlanta Athletic Club. Couples contends Woods' light schedule because of injury and other factors in 2010 and 2011 - a total of 20 PGA Tour events - is a huge reason, but not the only reason, for his lack of form.
"I'm not a golf teacher, but I am a student of how people can perform," Couples said. "I think he's lost some confidence and, just as an outsider, I think he's under a lot of pressure and it's not as much fun to play under pressure. People like Lee Trevino said pressure is losing $20 bucks when you've got $5 in your pocket. [Woods] has got hundreds of millions of dollars. But he wants to be the best player around and he's slowly losing that grasp. And it's hard for him - or anyone - to turn it around."
As for Woods' slim playing schedule, Couples compared it to the busier calendar of other stars. "How about Luke Donald and Dustin Johnson and Steve Stricker?" Couples said. "They're playing 25 a year, almost three three times as many. They're going to be better. I just don't know how he can sit there and think his game is going to improve [without playing more]."
To Couples, Woods doesn't necessarily have to play great if he adds additional tournaments to his schedule (there are four PGA Tour Fall Series events during October: Las Vegas, San Martin, Calif., Sea Island, Ga., and Lake Buena Vista, Fla.) in the run-up to the Presidents Cup, just that he needs to play. "I'm the captain, and he wants to be on the team," Couples said. "This is my chance to hold my rank above him one time. And I'm going to do it. Look, he has carried this tour for a long time. If somebody looks at it wrong, if I end up picking him, which I probably will, they would be crazy. He doesn't want to go there and lose. He hates to lose. So he's going to do his best. But I've got to push him to play a little bit so he'll do a little bit better."
Regarding surprise PGA Championship winner Keegan Bradley, who is currently 18th on the American points list, Couples offered praise but no guarantee that he would make the 25-year-old one of his two captain's selections. "I firmly believe that the way he's playing, he's going to play his way on the team [on points]," Couples said. "And that would be, for him, the safest way of getting on this team. If he doesn't make it, he's got a great shot at being picked."
It seems that Woods has a better shot at getting a nod, in much the same vein as International captain Greg Norman picked an off-form Adam Scott two years ago amid howls from many that he was making a bad choice.
"Adam was struggling a little bit, and Tiger Woods has been struggling," Couples said. "But Tiger has been the best player - not just a great player - forever. People say he doesn't intimidate people any more. I just think he would be great to have on the team. [It would be] a great boost for him. I don't think he's going to hurt the team. If anything, he'll help the team. He may call up and say, 'I'm not ready.' But I doubt that."
If Woods is willing to do what Captain Couples asks, it seems far more likely that Couples will be the one placing a call to Woods to tell him he is on the U.S. team.
Is asking Tiger to play in Fall Series events too much? Can he prepare on his own for the competition? Join the conversation on our partner site, GolfWRX.com
](http://www.golfwrx.com/forums/topic/506207-fred-couples-he-cant-just-show-up-the-week-before-in-australia/).