The Loop
Cantlay, Kraft set to say hello in U.S. Amateur final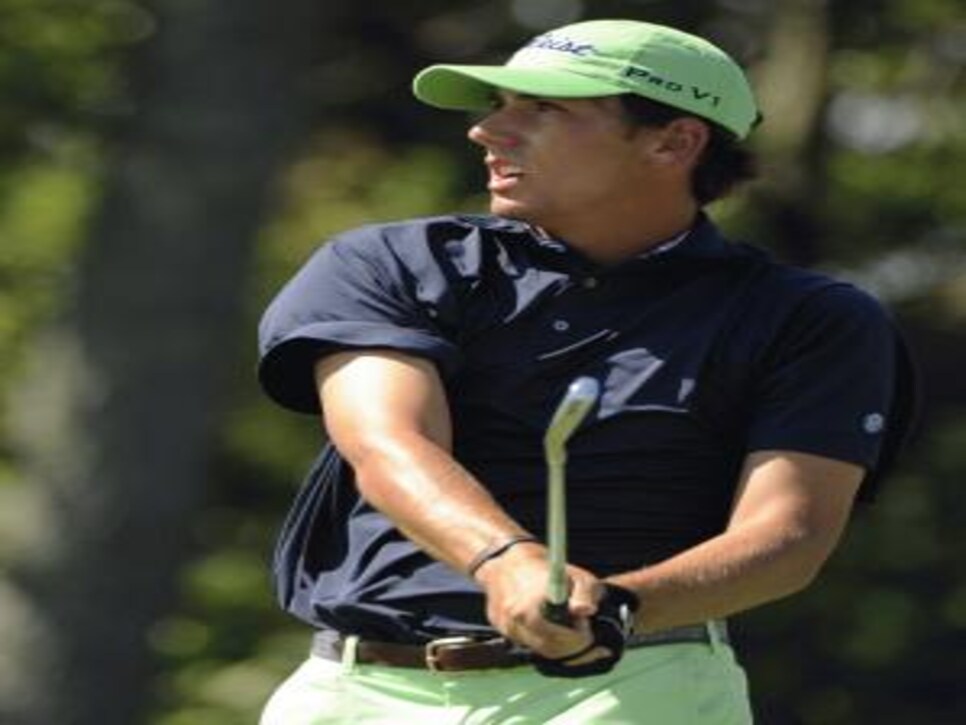 ERIN, Wis.—Patrick Cantlay and Kelly Kraft have never played in the same pairing in a golf tournament. Come Sunday at Erin Hills GC, they'll be together in one of the biggest rounds of their young golf lives.
Cantlay's 4-and-3 victory over Jordan Russell and Kraft's 3-and-1 triumph against Jack Senior during Saturday's semifinals action at the 111th U.S. Amateur sets up the 36-hole finale between a rising UCLA sophomore who has captured the golf world's attention this summer and a SMU golfer (above) who wrapped up his college career this spring and was hoping he could capture the attention of somebody at the USGA this summer, preferably a person on the Walker Cup selection committee.
Unlike two of his four previous matches, in which he had to overcome late deficits to advance to the next round, Cantlay didn't need any late rally in his showdown with Russell. That's not to say the match was over early. It actually was a see-saw affair at the outset, the two players exchanging wins on each of the first seven holes, Cantlay claiming the odd ones, Russell the even.
The pattern changed, however, on the par-4 eighth, a 487 yarder playing into a slight wind. Cantlay's tee shot hit the fairway but his second shot with a 3-wood went over the green, giving him a trick pitch down a slope running away form him. Still, he was in better shape than Russell, whose drive found the left rough, forcing him toe use an iron advance his second, only to hit it in the right rough. His third made it to the green, but some 35 feet from the hole. While Cantlay couldn't get up and down from back of the green, Russell's three-putt for double bogey gave Cantlay a 2-up edge.
"Every day around that middle portion I've been kind of flat," Russell said. "But that double on the eighth I think was a turning point."
A two-putt par on the 11th from Cantlay gave him a 3-up lead when Russell couldn't get up and down from behind the green. Cantlay pushed it to 4 up on the 14th when he hit green at the par 5 in two and made birdie while Russell was in a greenside bunker in 2 and had to settle with a par.
Cantlay (left) closed out the match on the 15th in impressive style. Russell hit his approach on the short par-4 to roughly five feet, but then Cantlay followed it up by hitting his inside Russell and have the birdie conceded for the win.
Reaching the finals of the U.S. Amateur is just the latest of an impressive list of accomplishments by Cantlay since getting to the semifinals of this event last year at Chambers Bay. Cantlay won four college tournaments during his freshman year with the Bruins, earning national player of the year honors. He then finished T-21 at the U.S. Open, earning low amateur honors at Congressional CC. He then proceeded to finish T-24 at the Travelers Championship (shooting a second-round 60), T-20 at AT&T National and T-9 at the RBC Canadian Open. For good measure he also won the Southern California GA Amateur and was runner-up at the Western Amateur.
"Definitely this summer has prepared me better than I was prepared last summer for this tournament," Cantlay said. I didn't feel nearly as nervous as I did in the semifinal last year. I think that has something to do with all the tournaments I've played in.
"I like his demeanor more than his game," said Russell when asked about an aspect of Cantlay's game that impressed him. "Just the way he handles himself is so professional."
As for Kraft, having a hot putter continued to be his calling card while playing Senior. While making just three birdies on the day, the 21-year-old from Denton, Texas, managed to hole several par putts to win holes, preventing Senior from ever getting an momentum.
One of those was on the third hole, where Kraft took the lead for good on the day. He extended his advantage with a birdie on the 11th, getting to 3 up. While Senior won the 12th with a birdie, his chances at a comeback win ended when Kraft made an eagle on the par-3 14th, hitting his second shot to roughly six feet. When the two halved the 15th and 16th with pars, Kraft has his victory.
"You know when you get on a roll putting kind of like I did today, it just feels like you're going to make every 15, 20-footer that you look at," Kraft said. "It's pretty easy then."
Today's wins earned both players a likely invitation to next year's Masters and an exemption into the U.S. Open. For Cantlay, it will fit into his college/amateur schedule quite nicely. For Kraft, however, it throws a wrinkle into his plan of turning professional this fall and entering PGA Tour qualifying school.
"It definitely has a good possibility of changing, now with the Masters and stuff," Kraft said. "That would be pretty special."
Kraft's victory also makes for an interesting twist regarding the selection of the final three players for the U.S. Walker Cup team. If Kraft can beat Cantlay Sunday, he'll no doubt earn one of the spots, leaving the short list of candidates that includes 2010 NCAA champion Scott Langley, 2011 NCAA champion__John Peterson__ and 2011 U.S. Junior champ Jordan Spieth wondering who might be the odd man out.
If Kraft loses to Cantlay, he has still left the selection committee with an interesting choice. Kraft, a three-time Conference USA player of the year, stayed amateur this summer specifically to try and make the Walker Cup team, but knowing it was a bit of a long shot. Nevertheless, he loaded up on events, playing in nine tournaments and winning the Trans-Miss and Texas Amateur.
"It would be fantastic if I got picked, but even if it doesn't happen it's been a cool summer," Kraft said. "I've really enjoyed doing all this one last time [before becoming a professional]."