The Loop
Can Dustin Johnson be a great one, too?
Dustin Johnson's challenge, once he officially joins the Family Gretzky, is whether he eventually will be identified the way the family patriarch is, whether he can be a great one, too.
Johnson, 29, already is better than most, the latest evidence coming in the dead of night in the U.S. He won the HSBC Champions in Shanghai, China, by three strokes overnight, prevailing over a top 10 that included Ian Poulter, Sergio Garcia, Justin Rose, Rory McIlroy and Graeme McDowell.
The victory was his eighth on the PGA Tour and extended the number of seasons in which he has won to seven (the HSBC Champions is part of the 2014 schedule), winning in each year of his PGA Tour career.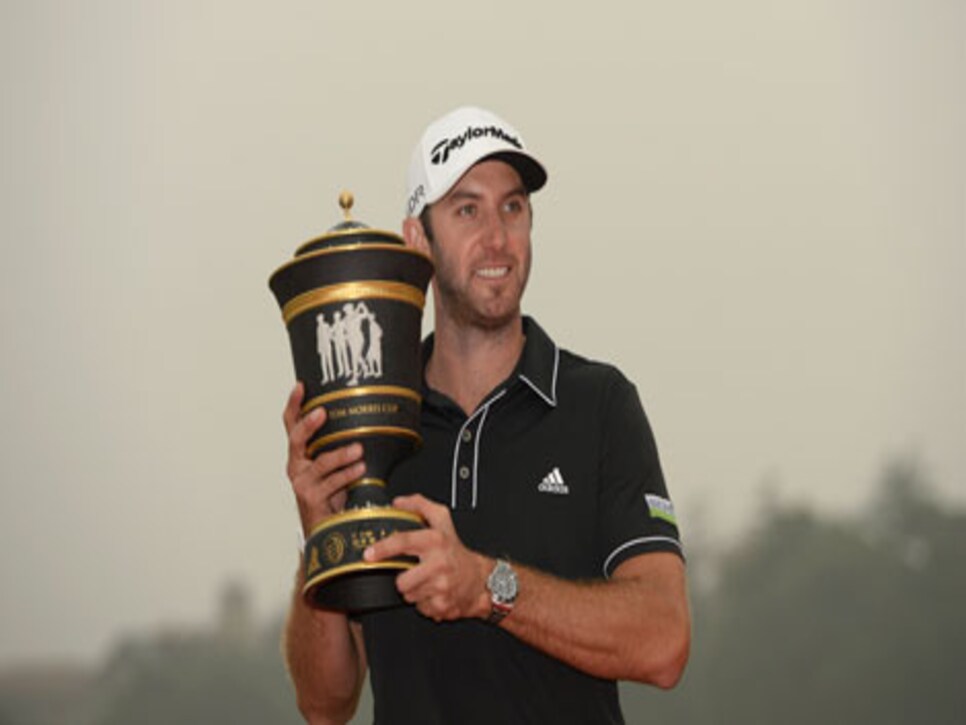 The statistic is impressive on the surface, portending superstar status, but is marginally less so beneath it. He began the week 23rd in the World Ranking, a number based on performance. If talent were the measure, Johnson would be a fixture in the top 10. His is still potential not entirely fulfilled.
Johnson, who is engaged to Wayne Gretzky's daughter Paulina, tends to drift in and out of greatness, as he did at the outset of 2013. He won the Hyundai Tournament of Champions, then played seven straight tournaments without finishing in the top 10, missing the cut in two and withdrawing from a third.
The pattern was evident in Shanghai, too. He had six birdies in seven-hole stretches in rounds two and three, including five straight birdies in the latter, when he opened a six-stroke lead. Then he hit his tee shot into the water at 18, eventually cutting his lead in half.
In the final round, his indifferent play on the front nine invited all comers into the mix, one of them, Poulter, joining him atop the leaderboard. He was toying with them, as it were. He found another gear, and played a five-hole stretch in five-under par, including a pitch-in eagle at 16 and a birdie at 17 to coast into the winner's circle.
It is the stuff of legend, or would be were it to occur at more frequent intervals. If Johnson ever inserts consistency into his repertoire, major championships might begin to creep onto his resume. But they're not won with the flick of an on-off switch.
The tandem of maturity and patience should help. "It takes a lot to learn that," Johnson said. "I wish I would have had some of that a few times a few years ago."
It was evident on Sunday, when the lead slipped away momentarily. "I was swinging well and putting well," he said. "I knew if I stuck to my game plan and played the course how I wanted to play it it was going to come.
"This is probably my biggest win, with the field and the tournament, a World Golf Championship. Hopefully, it's better things to come."
The key for Johnson is to emulate his future father-in-law, the Great One, and bring it every night, or in Johnson's case, every week. If he can beat this kind of field this handily, greatness seems destined to follow.