The Loop
Can anyone top the Alabama men? Not in the first spring college poll
It took me a couple glances to make sure I wasn't seeing things. No, that number on Golfstat was right. The Alabama men had shot a 45-under 819 to win the Puerto Rico Classic on Tuesday, beating a hard charging Georgia Tech squad by four strokes.
And so running totals added another number:
Consecutive victories since the spring: 10 11
Starts until talk of being the greatest college team of all-time surfaces in earnest: 2 1
My favorite stat of all was the fact that in the Crimson Tide's four victories last fall, the team shot a combined 32 under par.
All this information only affirmed the results of the first spring edition of the Golf World/Nike Golf men's Division I coaches' poll -- voting closed Feb. 21 before the tournament began -- in which Alabama retained the No. 1 ranking, earning 18 of 19 first-place votes.
[Ljava.lang.String;@23dd58b3
Here are some other interesting tidbits from the first poll: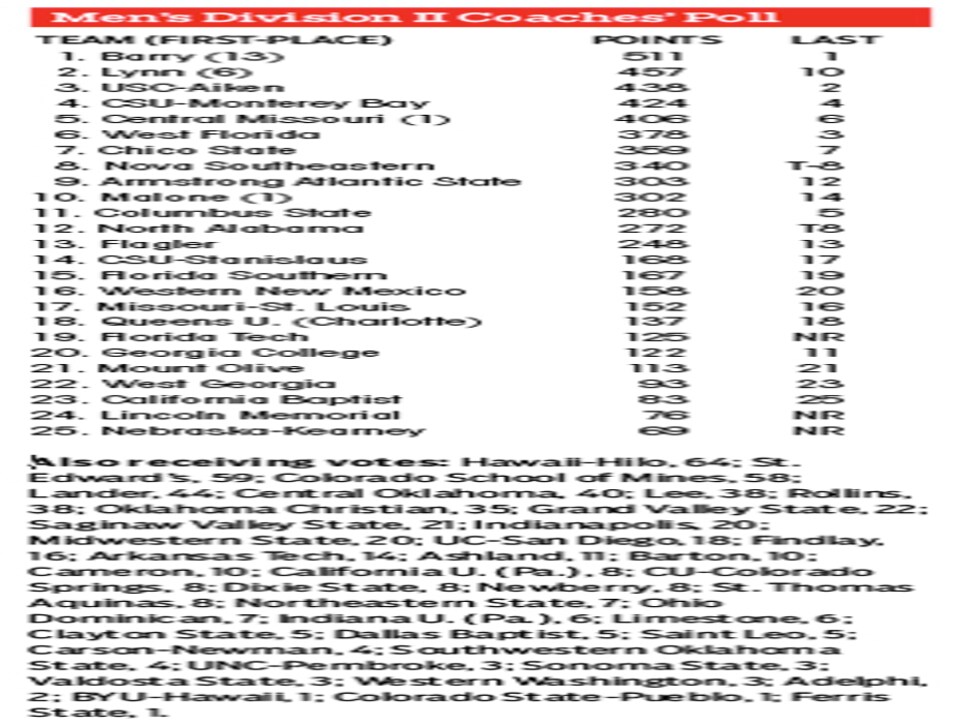 Barry remained the No.  1 program in the first spring edition Division II poll. The Buccaneers earned 13 of 21 available first-place votes after starting the spring semester with a runner-up finish at the Matlock Collegiate Classic. In the fall, Barry won two team titles to move into the top spot.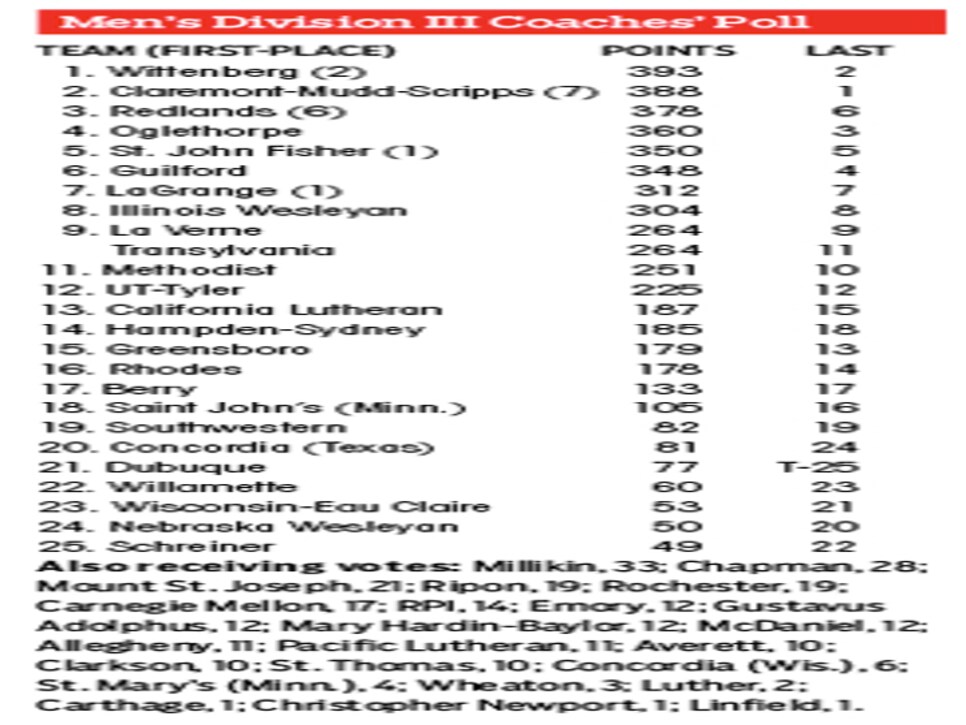 Wittenberg, ranked No. 1 for a portion of the fall semester, returned to the top spot in the men's Division III poll. The Tigers play for the first time since the winter break next month in South Carolina after finishing no worse than second in four starts last fall.
Previously top-ranked Claremont-Mudd-Scripps dropped one spot to the No. 2 ranking. The Stags finished third and second in their first two events of the spring semester. Still, they did earn seven of the 17 available first-place votes.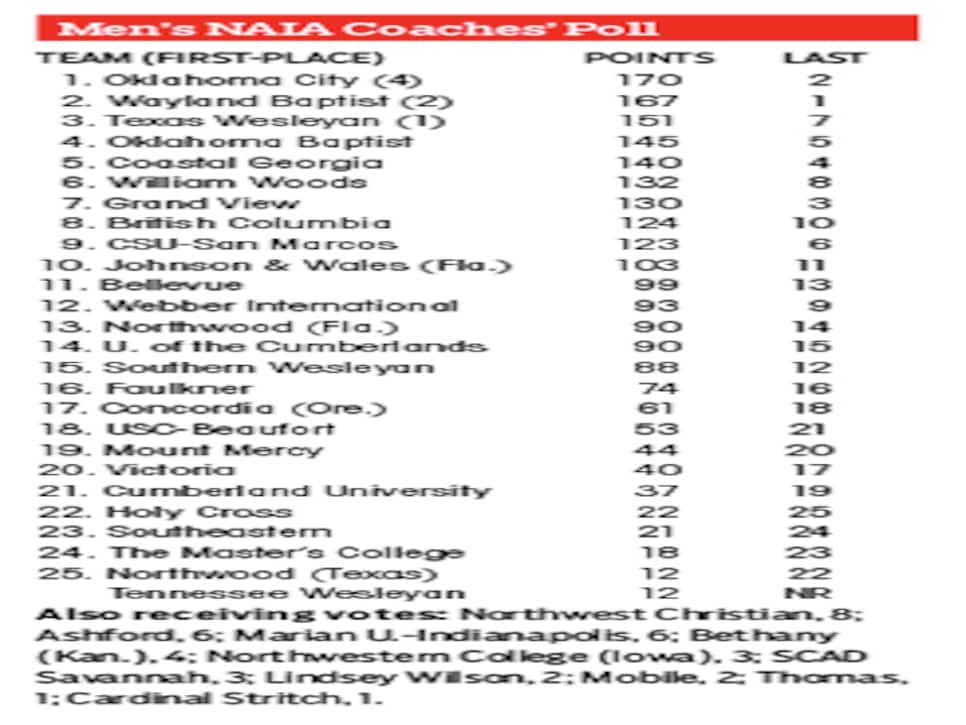 Oklahoma City, fresh off a victory to start its spring campaign at the Claude Jacobs Invitational, rose to the No. 1 spot in the men's NAIA poll. The Stars had two victories in the fall semester and earned four of the seven available first-place votes.
Previously top-ranked Wayland Baptist dropped one spot to the No. 2 ranking. The Pioneers finished third at the Claude Jacobs, 14 shots back of Oklahoma City, but still grabbed two first-place votes.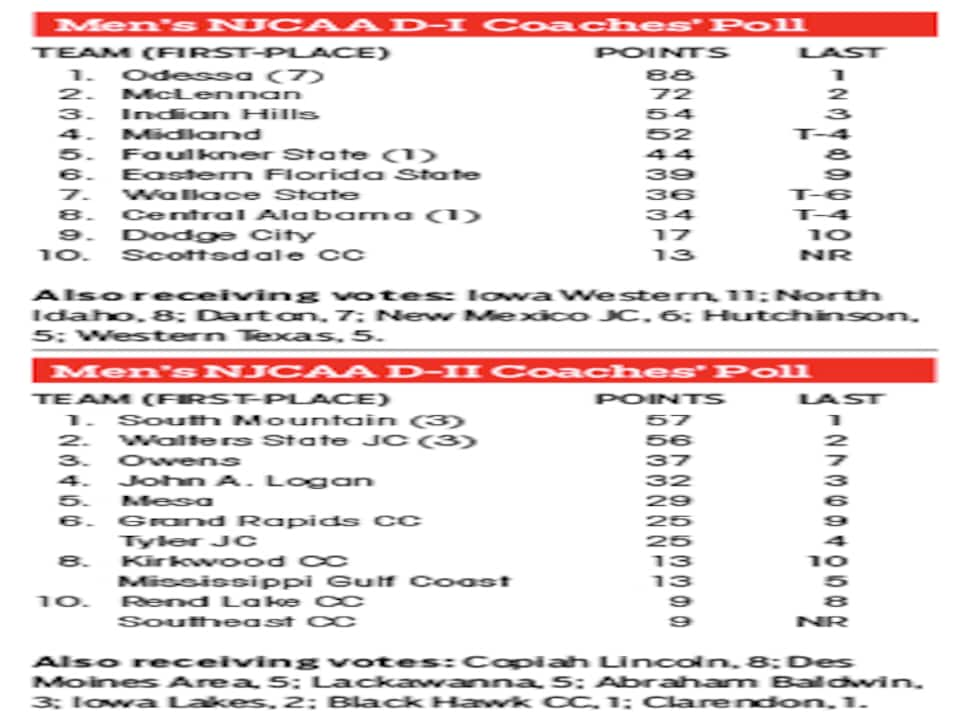 Odessa and South Mountain remained atop their respective divisions in the NJCAA coaches' polls. Odessa earned seven of nine first-place votes to top the D-I ranking while South Mountain claimed three of six first-place votes to hold its ground in Division II.