Swing analysis
Want to hit high rockets? Then learn this transition move by Cameron Young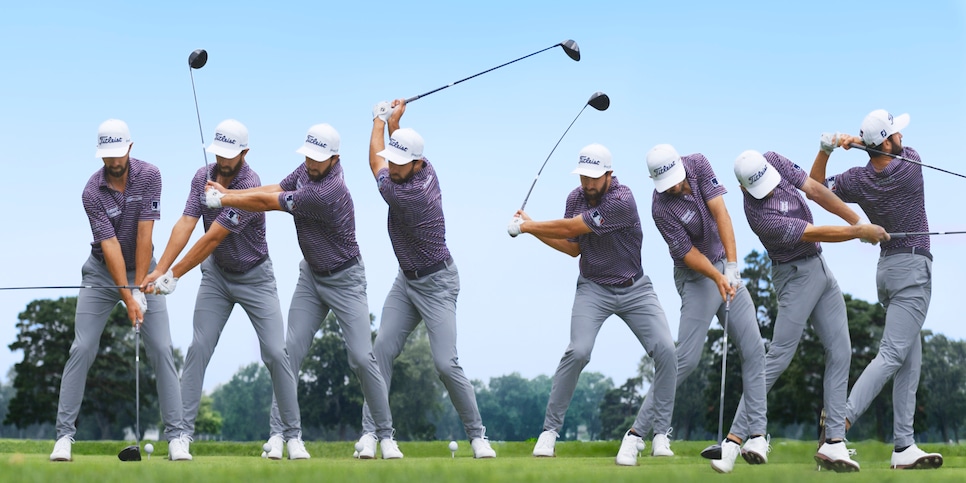 Photographs by Dom Furore
Cameron Young's power was on full display at this year's 150th Open Championship at St. Andrews. Needing an eagle on the 72nd hole to catch his playing partner, Cameron Smith, Young unleashed a 349-yard moonshot that landed 18 feet from the hole, setting up an eagle that temporarily tied him with Smith. Only a difficult two-putt birdie from the Valley of Sin by Smith kept Young from a playoff.
One look at Young's freakishly athletic backswing will tell you he's a bomber—his arms and hands practically touch the sky, creating an enormous amount of width. But it's Young's unusually long pause at the top that receives the most attention, a move that his father and only swing coach, David Young, calls a bit deceiving.
"It's not like he's coming to a complete stop," says David, the head professional at Sleepy Hollow Country Club in Scarborough-on-Hudson, N.Y., for the past 20 years. "He gets the lower body working toward the target while he pins his arms, club and upper body back, which makes it look like he's standing still. There's no conscious effort to pause."
The path Young's arms take during the latter half of the backswing and first part of the downswing also helps accentuate the look of a pause.
"He's worked hard on not having a lot of re-routing during the transition, so the clubhead comes down not too far from where it went up," David says.
"I like it when my hands are coming a little more from the inside than what's totally natural," Cameron says. "I naturally have a little bit of over the top, so I try and put myself in a position where, when I turn, my hand path doesn't get too far outside, which keeps me more neutral."
After the FedExCup Playoffs, the rookie ranked second on the PGA Tour in strokes gained/off the tee, third in driving distance (319.3 yards), fourth in clubhead speed (123.7 miles per hour) and first in hang time (6.9 seconds).
That he's able to hit the ball so high and far is a product of his long arms and high hands at the top, his ability to keep his head and chest behind the ball at impact, and the sequence with which he uses his legs on the downswing, David says. As Young's hips begin to unwind, his knees sink toward the ground, preparing his legs to push hard against the ground. This pushing action is evidenced by the fact his left foot nearly leaves the ground after impact.
"All that lowering and loading of the legs allows Cameron to generate tremendous force as his lead leg straightens and the clubhead releases down and through, which helps create more speed," David says.