Callaway's Chrome Soft Balls Are Winning Over Golfers
Steve Sokol couldn't believe his eyes. After striping five 7-iron shots with his own ball during Callaway's Golf Ball Challenge at Great River Golf Club in Milford, Conn., the 39-year-old college golf coach tried the Callaway Chrome Soft X ball for the first time and saw instant improvement. "My launch angle increased a little bit and spin rate came down, which'll help in the wind," says Sokol. "But I was most impressed by the added distance."
That afternoon, he took his new find out on the course. "It's one thing to compare launch monitor numbers side-by-side," adds Sokol. "Everyone wants to pick up distance. But this ball delivers everywhere. After all, if you can't do what you want around the greens, it won't do you any good."
Don Tanana, 69, had a similar takeaway after testing the Chrome Soft at The Patterson Club in Fairfield, Conn. "Some brand loyalty builds up over time with golf balls," says Tanana, a 6.3-handicap index. "But the Chrome Soft is a really good, all-around ball. It gets up easily, flies straight and feels soft. I can feel it on the driver face much more than my current ball."
Sokol and Tanana were among 250 golfers, the majority of whom were single-digit handicaps, who took part in the challenge at 10 clubs throughout the Northeast this summer. Golfers recorded five solidly-struck 7-iron shots using either Callaway's Chrome Soft or Chrome Soft X and five shots with the premium ball they currently play. (The 7-iron was chosen for testing because most players hit it consistently.) The Foresight Sports GCQuad launch monitor captured ball speed, launch angle, backspin and carry distance for every shot.
The Callaway duo fared quite well in the independent third-party test. Sixty-six percent of participants experienced faster ball speeds and 76-percent hit longer 7-iron shots with Chrome Soft or Chrome Soft X than with their current balls. "This further confirms what we continue to see with both Chrome Soft models," says Jason Finley, Callaway's Director, Golf Ball Product and Brand Management. "Golfers often tell us how great the performance is and how once they try it, they immediately see and feel the difference. More golfers mention how it's changed the way they play the game: They love the distance gains they see, the way the ball flies through the air, and how soft it feels, and the forgiveness that they get from the soft compression."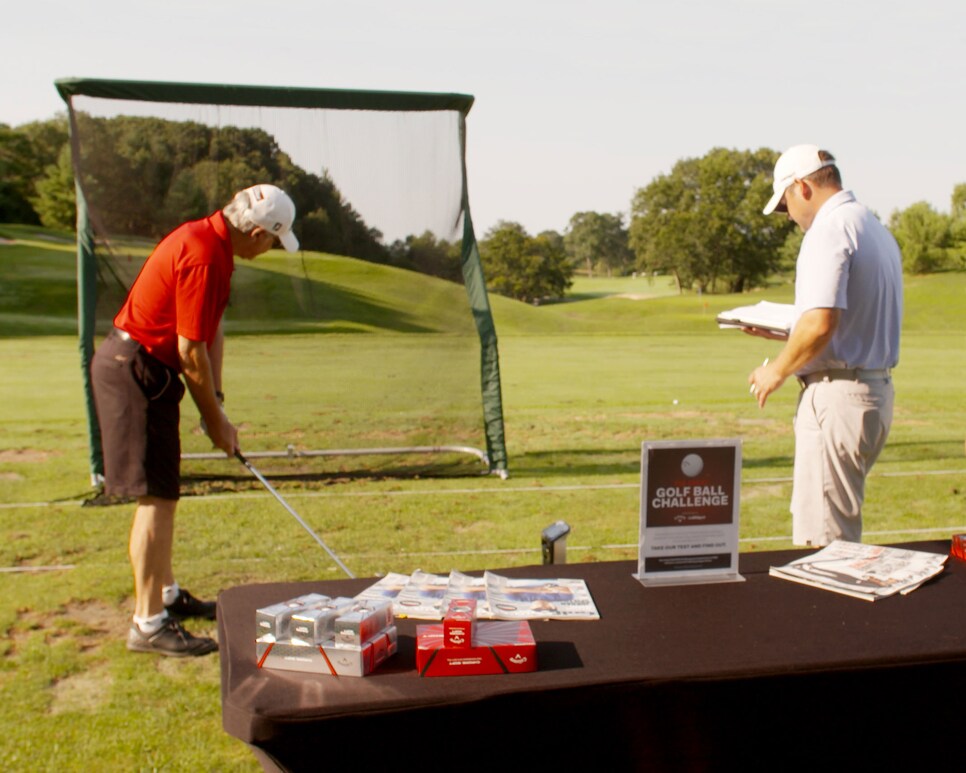 It's no surprise, really, considering the four-piece balls were totally redesigned from the prior version. The Dual SoftFast rubber core is now infused with graphene, a carbon-based nano-particle. Located in the ball's outer core, graphene enables the company to use a larger, soft inner core that promotes "high launch and low spin off the tee for long distance," says Dr. Alan Hocknell, Callaway's Senior Vice President of Research & Development. "It also allows us to use an even softer urethane cover [the company's softest one yet] to increase shot-stopping spin around the green."
Interestingly, nearly 90 percent of the players in the Golf Ball Challenge tested the Chrome Soft (comparatively softer feel; higher flight; lower spin on full shots) while the others went with Chrome Soft X. Either way, the performance boost in this challenge reflects what's happening in the marketplace: According to Golf Datatech, in July, the Chrome Soft family had a 10-percent jump in market share (on- and off-course combined) from July 2017.
Golfers are quick to buy a $400 or $500 driver. Yet, relatively few of them test new balls despite using one on every shot. It's time for your challenge—see what a new ball can do for you.