News
Callaway's latest irons and hybrids return to Big Bertha's original super game-improvement intent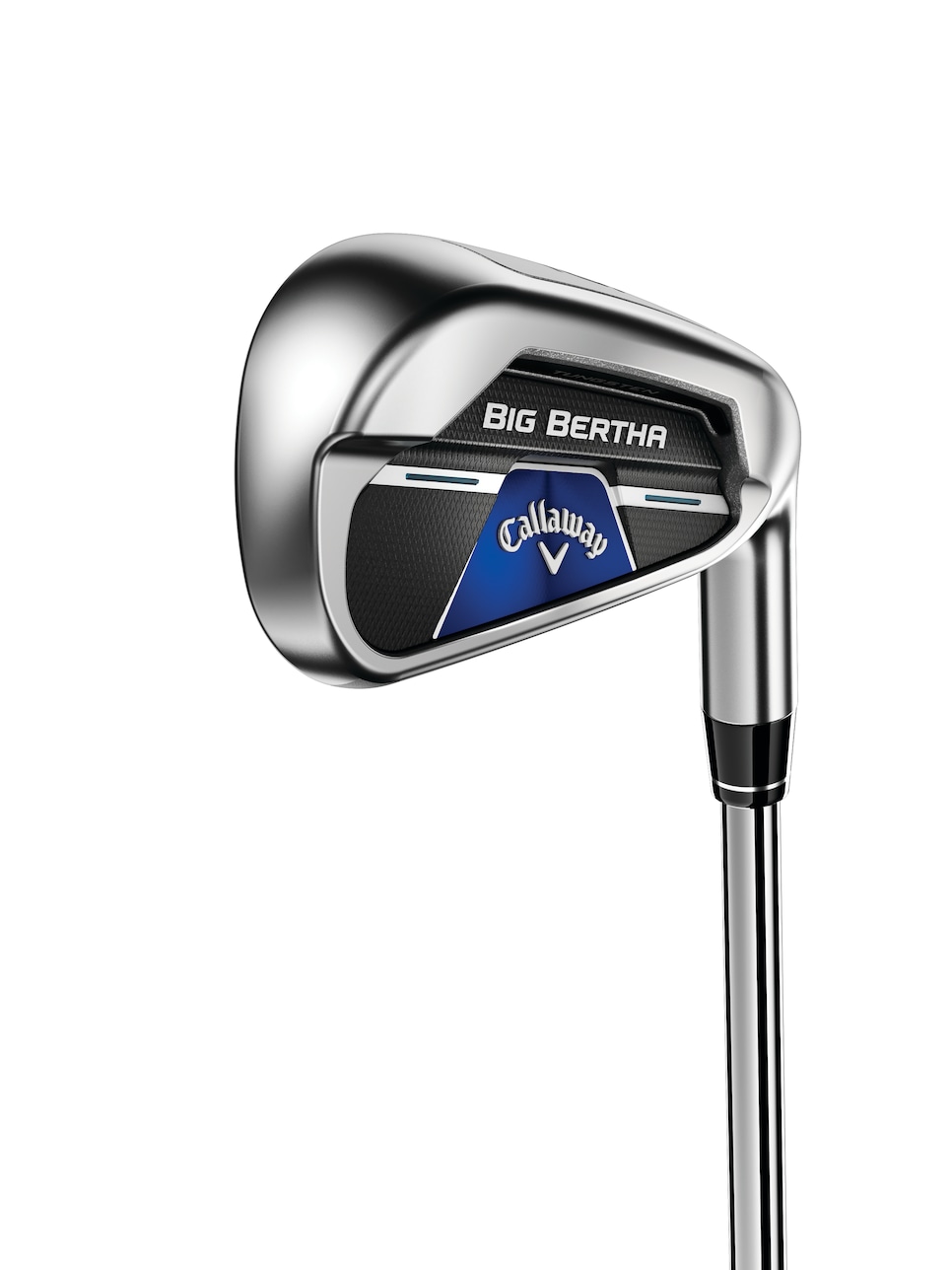 Sometimes a product line is so successful, its longevity leads to some iterations that stray somewhat from its original intent. Callaway's introduction of its Big Bertha B-21 irons and hybrids aims to rectify that.
"We maybe drifted away from the Big Bertha heritage in the last few models; haven't displayed the super game-improvement technology as much," said Dr. Alan Hocknell, Callaway's senior VP of R&D.
Not that Callaway would be alone in that. Many companies that have debuted super game-improvement irons over the past few years have worked hard at trying to hide the forgiveness factor in a sleeker package, the feeling being some golfers might shy away from irons that screamed chopper.
Hocknell and his team tossed that thinking aside with the Big Bertha B-21. "We took a proper super game-improvement iron stance here with wide soles, wide toplines, large faces, large offset—the things that make it easier to make contact with the ball more reliably," he said. The thinking makes sense. Whether they want to admit it or not, players in this category play golf in a manner in which every swing is often a random event. "We expect people to use a large portion of the face so we're trying to activate ball speed across a large portion of that face," said Hocknell.
Still, whether it's a developing golfer, one with a rusty swing or simply one less skilled, Hocknell says there are some known characteristics they typically struggle with and designers can target their technology to focus on the issues they commonly have.
Those issues also are common to many players: distance, forgiveness and launch. To address distance, the irons feature a new flash face cup design driven by artificial intelligence that produces a different face design for each loft—the first time a flash face cup has been used in a Big Bertha iron. Tungsten weighting is also used out on the toe area as well as with a visible tungsten energy core. The weight in the toe area helps move the center of gravity more in line with the center of face while the tungsten energy core sits low in the sole and rear of the iron to move the CG back and down to assist launch without adding loft. The company's urethane microspheres are present as well. Urethane with microscopic glass bubbles with air inside help produce a pleasing feel at impact. An active face wants to vibrate and that can lead to poor sound and feel. The microspheres damp out that vibration.
"Big Bertha has always been about innovation and where we have introduced our most significant technologies first," said Hocknell. "It's a fun area to design in really, because we're targeting advantages for golfers in the market who really need the most help. It's a thrill to see the final product in the golfer's hands because it can be transformational for them."
The stock shaft is the company's proprietary RCH shaft in three weights: 55, 65 and 75 grams because as Hocknell said, "We're not just targeting slower swingers." The steel option is the KBS Max CT80 in steel although multiple no upcharge shaft options are available. Golf Pride Tour Velvet Soft is used for the grip. Cost is $900 in steel; $1,000 in graphite (set of seven).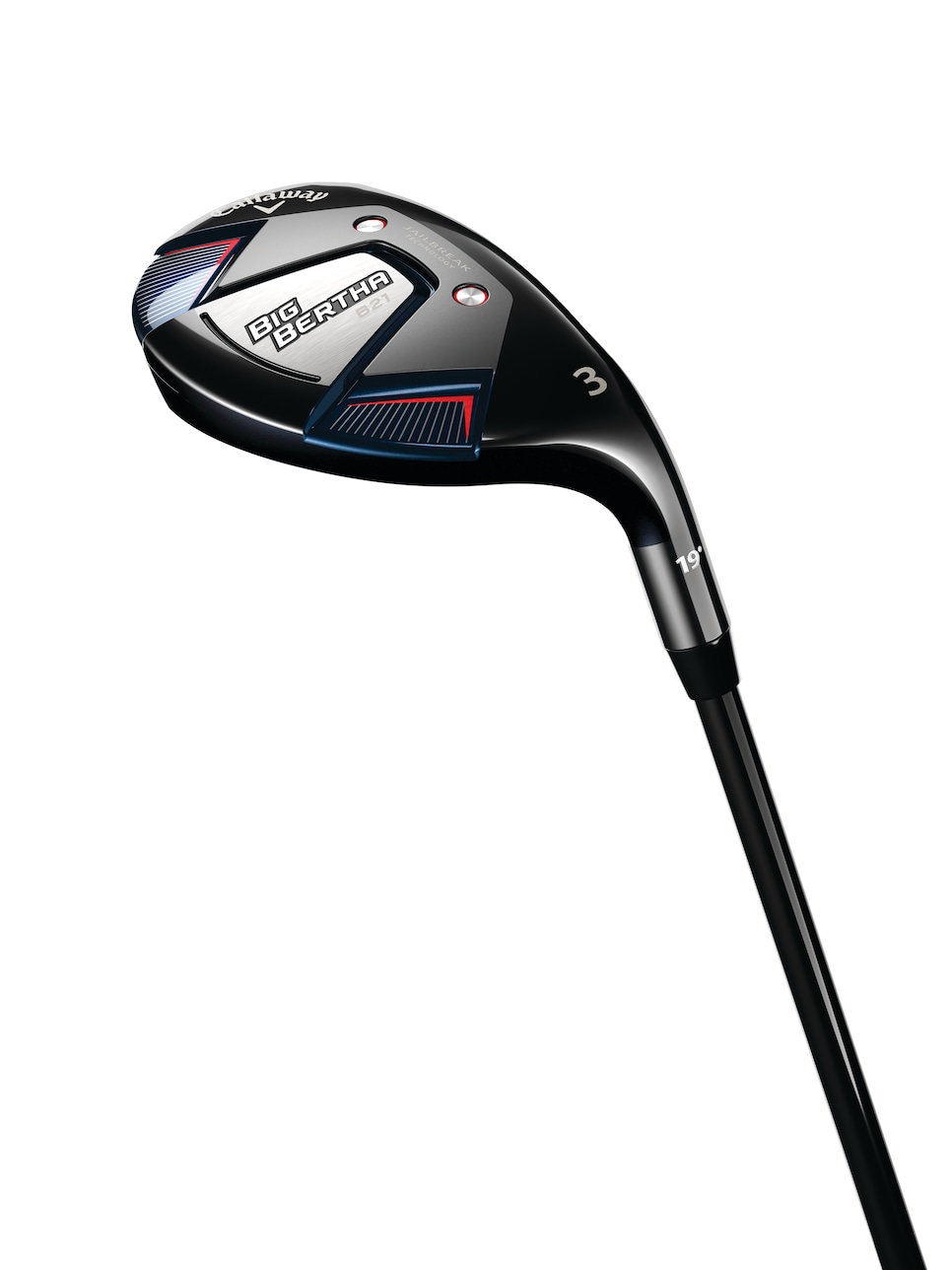 Although the Big Bertha B-21 irons will address a lot of player needs, it's well known golfers turn to hybrids when they run out of distance gapping or the long irons become too difficult to handle—or even the middle irons for that matter. Still, like SGI irons, hybrids come with their own challenges, specifically, they are a relatively long club which can lead to inconsistent contact.
With impacts on hybrids being all over the face, Callaway addressed those types of impacts by using a springy A.I.-designed flash face in tandem with its jailbreak bars to enhance speed all over the face. To mitigate mis-hits, a larger clubhead brings a moment of inertia benefit and generous tungsten weighting (over 70 grams) help optimize the center-of-gravity location for better launch. To achieve this, a carbon crown is used to reduce weight in the crown and move it lower and deeper.
The fixed-hosel hybrids also employ a generous amount of offset in order to easily blend with the Big Bertha B-21 irons for a mixed set. "We see a lot of players in this category have three or four hybrids mixed in, which is why we go all the way to the 8-hybrid," said Hocknell. "That's a fun club that reliably gets the ball over water and over sand traps. It helps some players do something they can't otherwise do very often. It can also be a good chipping club."
Callaway's RCH 65 graphite shaft is the stock offering as is Golf Pride's Tour Velvet Soft grip. Price is $250 graphite, available Sept. 10.