Equipment
Callaway Rogue driver family expands on the ideas of ballspeed and forgiveness with intricate upgrade of 'Jailbreak' technology
The new Callaway Rogue metalwood family and its approach to maximum forgiveness and ball speed may appear to be as obvious an improvement in driver design as there could be—who wouldn't want longer and straighter? But in practical terms making a more forgiving driver with better ball speed along with complementary fairway woods was an intricate—and not so obvious—exercise.
The collection of three drivers and 11 fairway woods hit new marks for both on-center and off-center hit ball speeds, as well as moment of inertia (stability on off-center hits).
The key component that the Rogue family borrows from last year's successful GBB Epic driver is its "jailbreak" technology, where internal bars join the crown and sole to stiffen the body. The idea is that by stiffening the body, more energy is transferred into the flexing of the face and thus, in turn, to propelling the ball forward. In the era of launch monitors at retail, improving ball speed has been the paramount focus of Callaway's drivers, beginning with last year's top-selling GBB Epic.
The improvement to the jailbreak feature on Callaway's Rogue drivers, which come in standard, low-spin SubZero and heel-weighted Draw versions, includes subtly shaving the mass of the bars by 25 percent by reshaping them into an hourglass form.
"If we are going after forgiveness, if we are going to make the improvements we're talking about," said Callaway's director of metalwoods research and development, "we knew getting a couple grams out of that jailbreak system was a key part of that."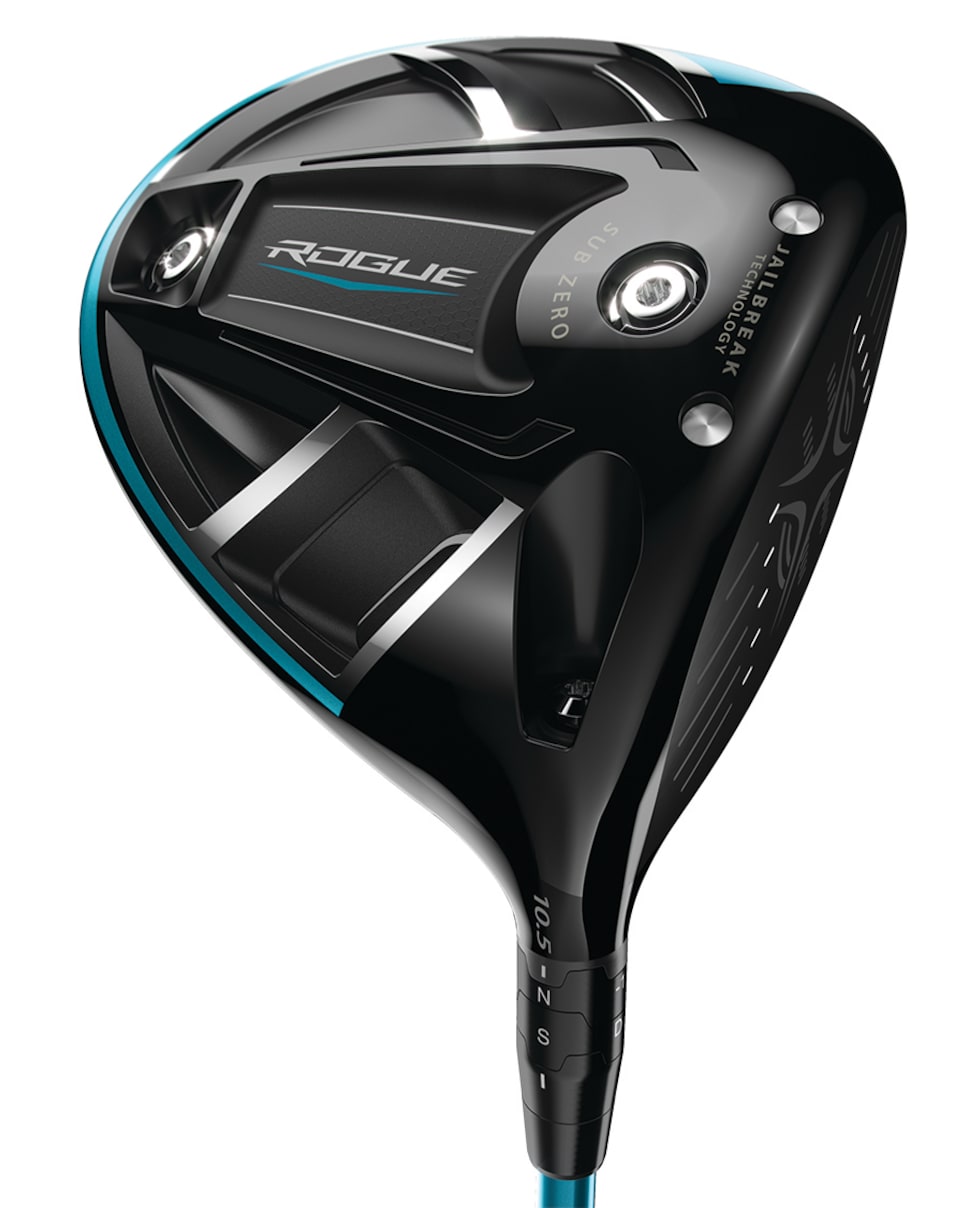 With less weight in the bars that means more weight can be redistributed to the perimeter for more forgiveness. But Callaway's team learned a lot more about the idea of stiffening the body and how it contributes to a more flexible face.
"More wasn't always better, stiffer wasn't always better," Gibbs said. "It wasn't just make the body as stiff as possible, it was that there was some sort of relationship between the stiffness of the body and the stiffness of the face. Getting that relationship right was the key to making it work."
What the stiffening bars allowed designers to do was better understand how thin the face could be. That led to a new "X-face" variable face thickness design that selectively thinned out the face by analyzing 107 different impact locations.
"With the added stiffness of Jailbreak," Gibbs said, "you can make the face significantly thinner so we've gotten a lot more aggressive on which portions of the face are thinner." Gibbs said that research included a new understanding of where and how the face is stressed at impact, and, perhaps more importantly, where it's stressed less and less often.
The Rogue drivers feature the largest triaxial carbon crown in company history, and that crown is less than 0.6 millimeters thick, thinner than it's ever been. Callaway's engineers are keen on triaxial carbon because it's 65 percent lighter than titanium.
That allows for the Rogue drivers to feature a significantly more stable overall structure than the company's past drivers, Gibbs said. That includes a 16 percent increase in overall moment of inertia compared to the XR16 from two years ago and a 7.5 percent increase compared to last year's GBB Epic.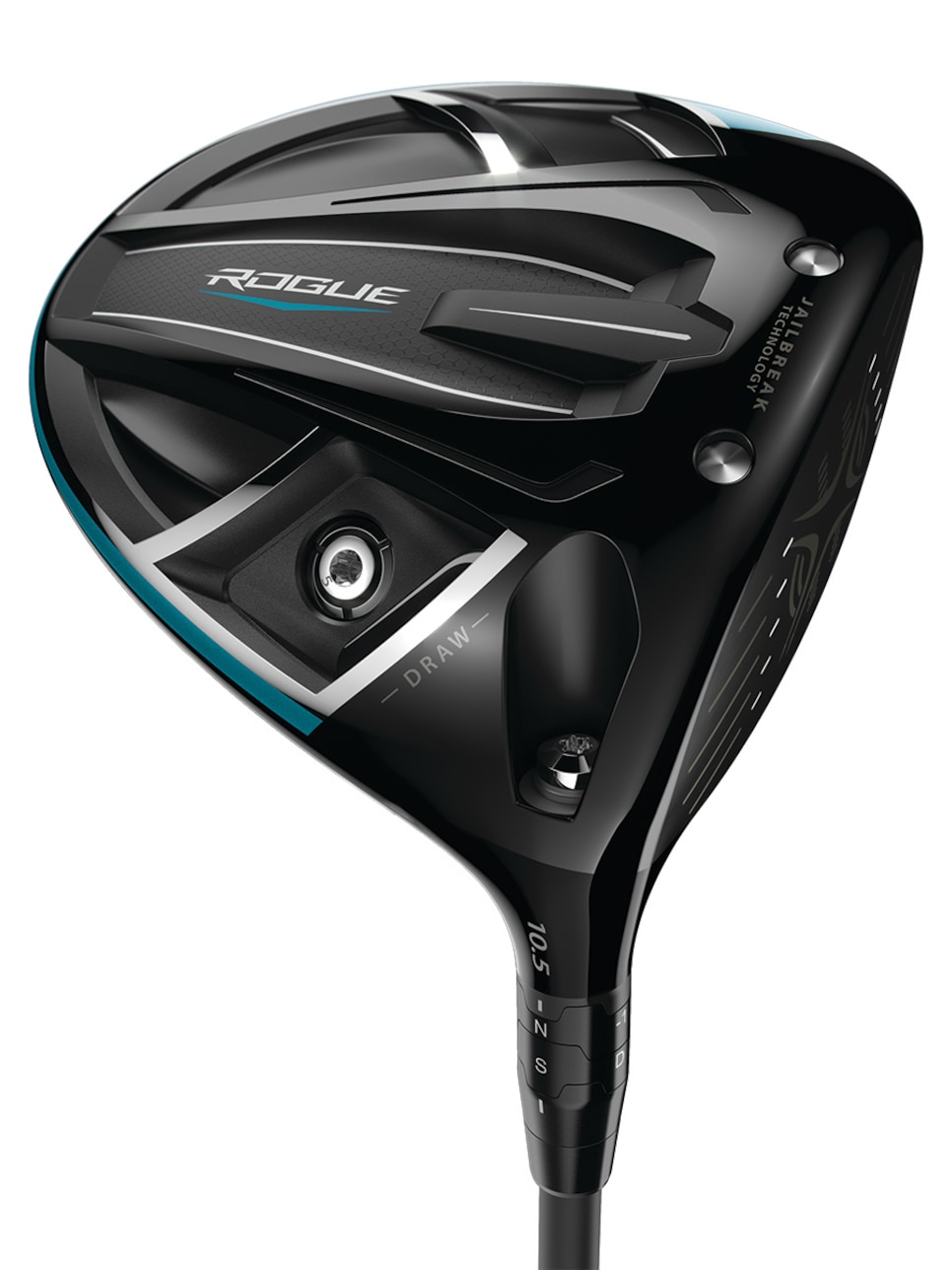 The three drivers include the company's first true draw driver in nearly a decade, as opposed to adjustable weight drivers like the Epic, which had a sliding weight in the rear perimeter.
"We saw in Epic a lot of golfers tended to move that weight to the heel so we really wanted a dedicated draw version," Gibbs said. "This has a significant amount of weight in the heel but it does so without using a closed face or a super upright lie angle or an offset hosel or a funky shape. It's got a very clean look at address. In fact it looks exactly like the standard version from address."
The Rogue drivers include new aerodynamic shaping developed in partnership with Boeing, including what Gibbs called "very subtle control of shaping of the surface" of the trip step toward the front of the crown.
The Rogue Sub Zero version includes front and back ports that accommodate 14- and 2-gram screw weights. The Rogue driver family also features a broader commitment to fitting with an array of shafts that run from 40 to 80 grams, including Aldila Synergy and Quaranta and Project X EvenFlow and HZRDS Yellow.
The Rogue metalwoods, which include two versions (standard and the lower-spinning Sub Zero), mark the first fairway woods to include the jailbreak structure. Unlike on the driver, the rods are made of stainless steel, but they work in conjunction with Callaway's proven cupface construction, where the face extends with a lip that wraps around the crown and sole.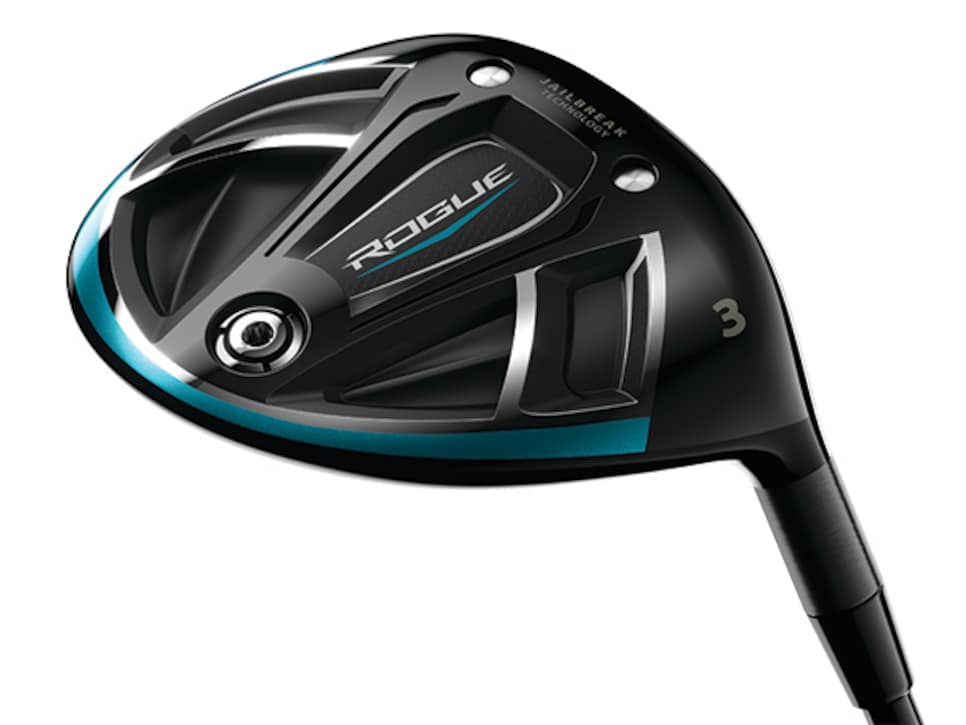 "Ultimately, it was really the synergy between those two technologies that allowed us to get the gains in ball speed and distance," Gibbs said.
The center of gravity on the Rogue fairway woods is more forward than it's been in the past, but Gibbs said both models are the same size (about 170 cubi centimeters on the 3-wood) to make each version forgiving and easier to launch.
While neither model features an adjustable hosel, between the standard and Sub Zero models, there are more options 11 than in last year's Epic line (nine) and 2016's XR16 woods (seven). The Rogue line of fairway woods loft ranges from a 13.5-degree strong 3-wood to a 25-degree 11-wood. In fact, a closer inspection reveals five different possible 3-wood options with different lofts and lie angles (13.5 and 15 degrees on the standard and Sub Zero and 17 degrees on the standard).
The Rogue drivers, each with Callaway's adjustable hosel that allows for independent lie angle and loft changes of plus-two to minus-one degrees, will be available for pre-sale this Friday and are slated to arrive in stores Feb. 9 (9, 10.5 and 13.5 degrees on the standard and Draw versions; 9 and 10.5 on the Sub Zero; $500). All three Rogue drivers will be included in the Callaway Customs program, which includes custom paint fills and grip selections. Rogue will be part of Callaway Customs beginning in March.
The Rogue fairway woods will be offered in the following lofts: 13.5, 15, 17, 19, 20-degree "Heavenwood," 21, 23 and 25 degrees in the standard version; and 13.5, 15, 18 degrees in the Sub Zero model ($300).