Women's clubs
Callaway's Big Bertha Reva women's clubs: What you need to know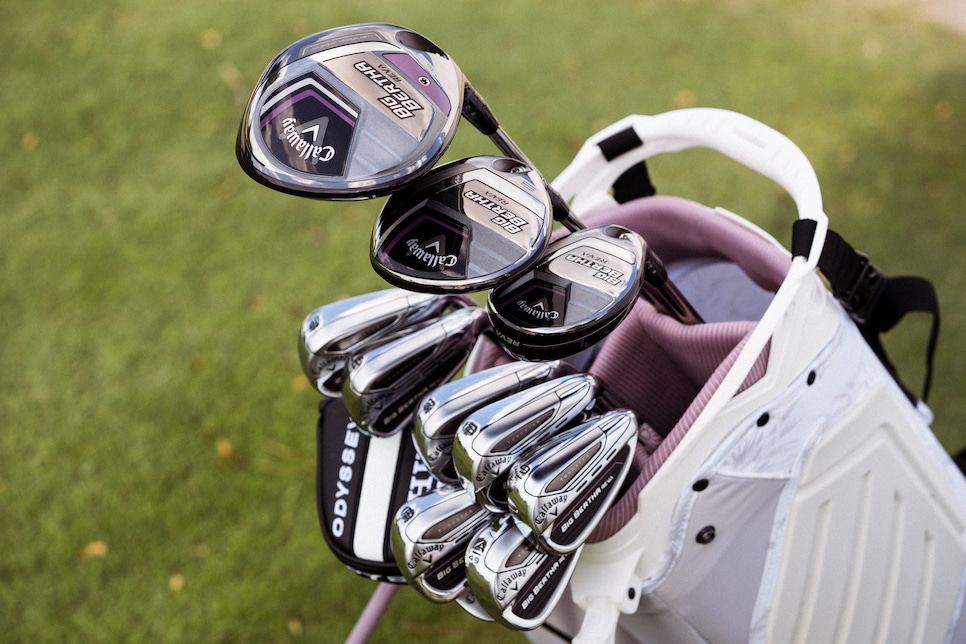 WHAT YOU NEED TO KNOW: Callaway's Big Bertha Reva is a full line of driver, fairway woods, hybrids and irons designed specifically for women with a tremendous amount of input from the Women's Task Force at Callaway.
AVAILABILITY/PRICE: April 28. Driver: $500; fairway woods: $300; hybrids: $250; irons: $1,200 (5-iron through sand wedge)
THE DEEP DIVE: Far too often in the past golf clubs designed for women were not so much designed for them at all, but rather were simply a lighter version of a men's model with a different color scheme. Referred to as "shrink it and pink it," it's not that such clubs won't work—they often will if fit properly—but Callaway's latest iteration of its Big Bertha Reva line for women was created through an earnest effort to dissect the swing of the female golfer and design clubs specifically for them.
Kim Johnson is the lead on the Women's Task Force at Callaway and is passionate about the project. "We have a lot of different opinions based on a lot of consumer insights. We've done a ton of research with LPGA players all the way to women who are just starting in the game. … This is a more aspirational product. This is the product for women who are ready to upgrade, ready for real technology that is specifically designed for them."
The Reva driver ($500) features an XL face with a large sweet spot that was designed using artificial intelligence and includes a lightweight version of the company's "Jailbreak" technology. The driver comes in three lofts, 9, 10.5 and 12 degrees, but with a triaxial carbon crown that allows for weight savings to boost the moment of inertia to help mitigate ball speed loss on mis-hits as well as position weight to help promote a high launch.
For the fairway woods ($300) feature a large head size, but a shallow face and more loft to help get the ball in the air. The carbon crown, Jailbreak technology and A.I.-designed faces are all part of the package, as are lightweight shafts. For lofts, the fairways are available in 3-, 5-, 7- and 9-woods along with a Heavenwood offering—a useful club for those seeking more height with their fairway woods. For those seeking to dial in their fairway woods even more, the 3- and 5-wood have an adjustable hosel.
The hybrids ($250) go all the way up to a 9-hybrid and feature a head shape with offset to help fight the slice. A high-strength 455 steel cupface with Jailbreak tech provides plenty of face flex with each loft having a face designed uniquely for that loft through A.I. Internal tungsten weighting is used to optimize the CG location for a high launch while assisting stability on mis-hits.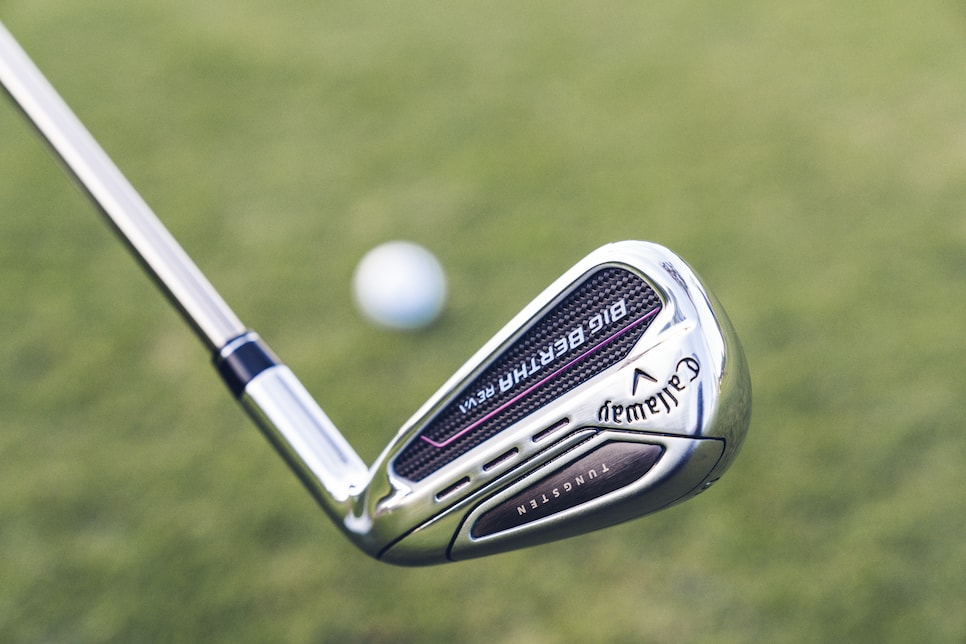 "You're seeing more hybrids in the women's game," said Johnson. "We're seeing more replacements in the 4-, 5-, and 6-hybrids, they're easy to hit, they're nice to look at and they're forgiving...I love the adjustability, and that we're taking it up to a 9-hybrid, it just gives women more options."
The Big Bertha Reva irons ($1,200 for 5-iron through sand wedge) have A.I.-designed cupfaces to produce higher ball speeds. Staying true to the Big Bertha iron heritage, the clubs boast offset along with wide soles and toplines to inspire confidence and help get the ball in the air. Tungsten is used both externally (up to 11 grams) and internally (up to 35 grams) to further give launch a boost.
An earnest effort indeed.