You want a daunting task?
Launch a luxury car (and a brand) aimed for people that can almost always afford to make decisions for reasons that don't have much to do with money.
They can buy whatever they want—so they do.
The folks at Hyundai figured, rightly, that not every well-heeled potential luxury sedan buyer wants to pull up to the valet with another Mercedes, BMW, Lexus or Audi, so they started from fresh paper to draw up something younger, fresher—and, yes, less expensive.
You might remember Hyundai's first foray into higher-end cars. We wrote about the original Genesis in 2008—when it joined the stable as the model one click nicer and bigger than the Sonata. A bigger full-size brother, the Equus, showed up in 2009. Both proved the South Korean company could make a car that didn't feel out of place when compared to its luxury German and Japanese competitors.
But a big part of swaying luxury car buyers is giving them a complete luxury experience—from the showroom to the service department. So Hyundai spun off Genesis into its own brand—like Toyota did with Lexus—and hired away designer Luc Donckerwolke from Lamborghini to give the first new flagship sedan a ration of non-stuffy zip. There's no shortage of passion, either. To explain the sedan's design language to our table, Donckerwolke whipped out a pen and sketched out the concept on the back of a menu. It looked fast even in 2-D, next to the roast duck.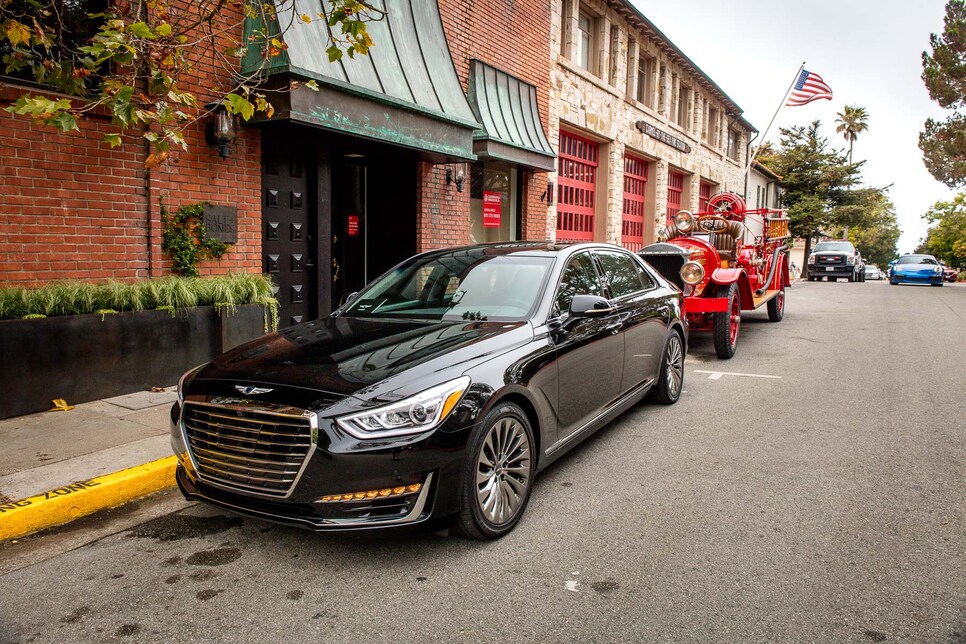 To see the strategy in real steel, we took a pre-production G90 (shown here in black) out for a week of shakedown in the same habitat as that 2008 review—at the Pebble Beach Concours d'Elegance. If you want to see how rich people respond to a new luxury car, you won't find a more suitable location. The Concours and the events surrounding it make up the most astonishingly exclusive vintage car show on the planet—culminating with the Sunday display of the rarest and most desirable models throughout Pebble's 18th fairway. And if that hole falls into the water this Sunday (August 20), Forbes would have to comprehensively rewrite its list of billionaires.
When the total value of the 200 collector cars on plushy manicured ryegrass surpasses $500 million, you can only imagine what kind of cars the folks owning that kind of hardware drive around every day. None of them would be ashamed to be seen in the G90. It punches very much above its $70,000 sticker.
In the original Genesis, you could find rough edges where bits from the rental-car-parts bin invaded the luxury car space. There's no such disconnect in the G90. The backseat area is big enough to carry two NFL offensive linemen in the luxury 700 pounds of human making a combined $20 million would have a right to expect.
We drove a circuit starting in San Francisco and heading through Napa Valley to Pebble Beach, and the G90 is a pleasure no matter where you sit. The quiet, sedate backseat experience and thoroughly predictable driving manners are every bit on par with the car Genesis obviously benchmarked—Lexus' LS 460. But the handsome G90 comes without the Lexus' controversial pinched beak and leaves about $10,000 in your pocket on similarly equipped models. A comparable Mercedes S-Class or BMW 7-series will set you back $30,000 more.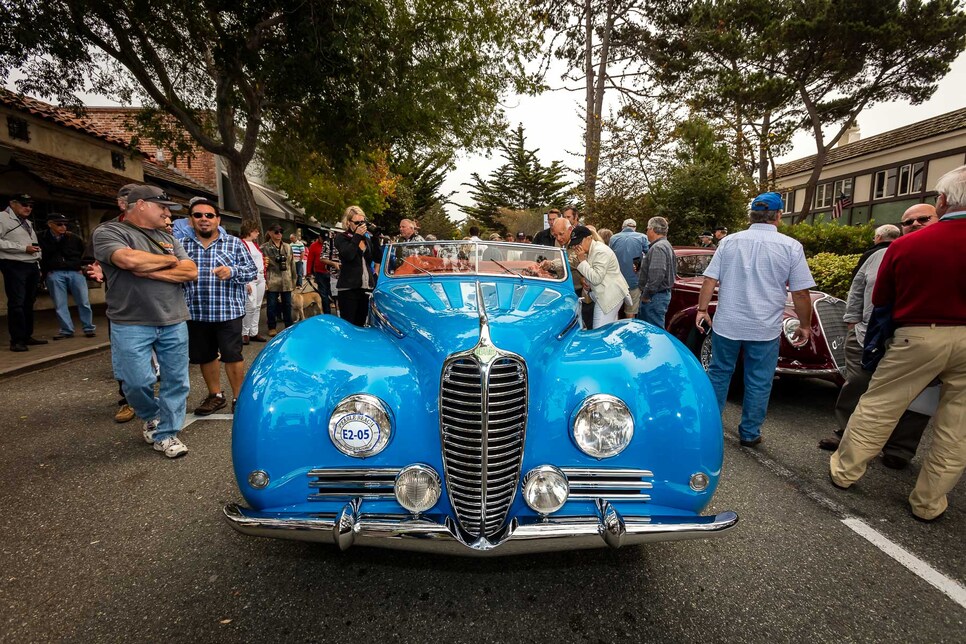 Unlike the folks at Porsche, Genesis doesn't bait-and-switch stripper cars with highly-optioned ones, either. You can choose between two engine options—a quicker, less-thirsty turbocharged 3.3-liter V-6 or a more powerful 5-liter V-8—and rear-wheel or all-wheel drive. That's about it. Every version comes loaded with double-layered glass, fully adjustable heated rear seats, real wood trim, a 12-inch high-definition touch navigation screen and a binnacle between the front seats that can recharge your smart phone wirelessly.
Quietness is de rigueur in this category, and the G90 is appropriately silent—even when the turbo on the smaller-displacement motor kicks in. On the back roads leading to the Blackbird Winery in Napa, it made for a rolling, floating Bluetooth soundstage with zero ambient road or engine noise. You won't find it in the official Genesis literature, but it's just as easy to fall asleep in the backseat of the G90 as it is to accidently get a hey-we're-all-of-a-sudden-going-a-super-quiet-70 speeding ticket.
Genesis is clearly hoping to attract to the G90 both full-size luxury buyers and people cross-shopping loaded midsize sedans like the BMW 5-series, Mercedes E-class and Audi 6-series in the same price range. And if pro football legroom isn't a requirement for you, a compact sports sedan is coming soon, followed by a coupe and SUV. After all, they're going to need to fill all the sleek new standalone Genesis dealerships they're hoping to spread in the next five years.
Demographically speaking, you can bet that one of those stores will end up somewhere around the Monterey Peninsula. Driving around Carmel-by-the-Sea this week is like dropping in on one of Jay Leno's fever dreams. Just sitting at a traffic light is like watching an episode of Jerry Seinfeld's "Comedians in Cars Getting Coffee." We saw two $2 million, 1,000-horsepower Bugatti Veyrons at the same intersection. Considering Bugatti only made 450, it must have really sprained the individuality nerves of the rich guys driving them.
At least they were different colors.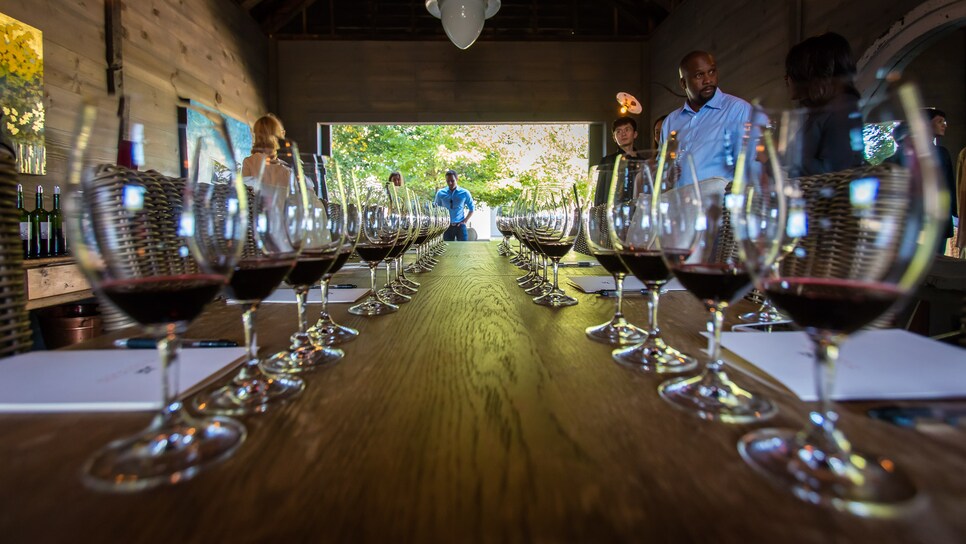 Even if you don't have 70 large to spend on a new luxury car (or $10 million on a one-of-a-kind Best in Show winner like last year's 1936 Lancia, you can get a slice of that life this weekend for less than $1,000.
Pebble Beach proper will be occupied with vintage metal and glass, but twist a few arms on the Monterey Peninsula and you'll hear heresy—namely, that Spyglass Hill is a tougher, more-satisfying test at two-thirds the price of its famous (and harder to get on) sibling. You don't even have to sacrifice the oceanfront scenery. The front nine tumbles down the dunes to the Pacific, and you return through the old-growth trees of the Del Monte Forest.
Play Spyglass Saturday with a caddie for less than $500, and use the change to spring for the $375 ticket to the Concours Sunday. This year's lineup is especially pulse-racing—Ferraris as far as the eye can see, with emphasis on race winners and bespoke one-off cars. Skip the eye-wateringly expensive concessions ($20 breakfast and $15 glasses of champagne) at Pebble and save your appetite for a trip into Monterey and Restaurant 1833. You can sit around the fire pit on the patio or inside the funky converted circa-1833 adobe home and enjoy the peninsula's most formidable wine and cocktail list and "local fusion" like Red Thai Dungeness crab.