10 Rules From Mark Calcavecchia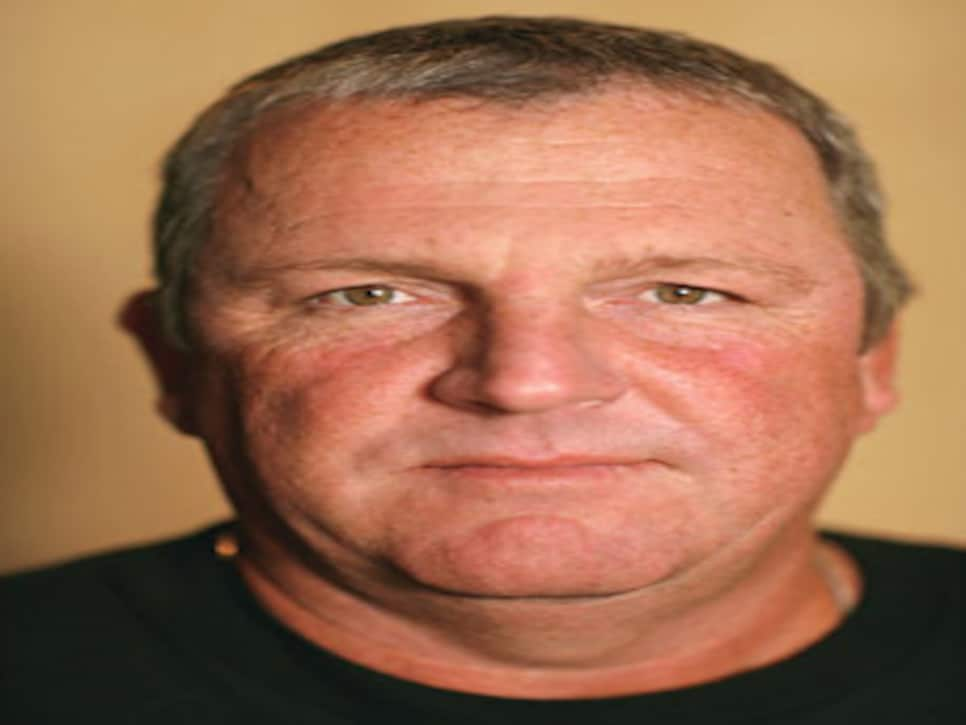 I'm 48 and weigh about 240 pounds. That's 25 pounds heavier than I was at 25, and believe me, it's no fun looking in the mirror with my shirt off. But the extra weight around my middle hasn't hurt my golf swing at all. In fact, it might be an advantage, because when I get to the top of my backswing, I don't have to consciously shift my weight to my left side. I just let gravity take over, and allow my weight to "fall" back to the left. It's also a plus when putting in windy conditions: I almost never get blown off balance. That happens to the skinny guys all the time.
2. Pamper your hamstrings and hips
The hamstring muscles get shorter and tighter with age, and if you don't address that, you're going to have problems. They can cause your lower back to tighten, and the next thing you know, you've got some physical issues. It can mess up your posture and even affect the way you walk. I stretch my hammies every single day. Your hips are really important, too. The right exercises to keep them in shape are all over the Internet, and you should look them up and do them. This all might sound odd coming from a guy who has had a pair of surgeries on each knee, but I'm telling you, the hamstrings and the hips are probably more important.
3. Match play is your friend
In my singles match at the '91 Ryder Cup, I led Colin Montgomerie 5 up with five holes to play. My game fell apart, and I lost the last five holes to only halve the match. Having the train leave the tracks like that is a horrible experience that happens to most golfers sooner or later. If I were in that position today, I honestly don't think I'd collapse like that.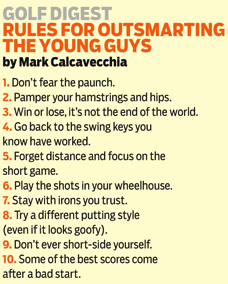 You'll always get nervous before and during an important round, but over time you gain perspective. You learn that in match play, a horrible hole costs you only one hole -- no big deal. You learn that pars win a lot of matches. You learn that the other guy is at least as nervous as you are, and if he's young, maybe he's never been there before. And you learn that, win or lose, it's not the end of the world.
4. Go back to good advice
Young guys seem to love beating balls. Maybe they believe they'll improve because they deserve to, based on the time they put in. Maybe they've heard too many Ben Hogan stories. I don't know. But not many young guys practice well, and it's an area where older players can get a big advantage. We all eventually discover that the same lousy swing tendencies crop up over and over. We also find out, by trial and error, what we need to do to fix ourselves. Older players should focus on recalling the swing keys that have worked for them over the years, and roll them back out. Know what you're going to work on before you go to the range, and tackle that goal with your brain as well as your body. You hear a lot of talk about "experience." Well, it doesn't apply only to the course. It goes for coming away from the range with something to show for it.
Last time I looked at the stats, my driving average was 283 yards. That's popcorn distance. I rank 140-something in driving, and it hurts, because I used to be pretty long. But losing yards as you get older is a fact of life, and you'll never hear me complain about it. If you find yourself thinking how much better you'd be if you hit it as far as the big hitters at your course, that negativity will hurt you. Distance is important, but you've got to convince yourself that it's overrated. You won't be far from the truth, because not many guys at the amateur level hit their pitching wedges 150 yards from the rough like the guys do out on tour, so accuracy still counts for something. Work on the areas you can control, like putting and the short game. They'll level the playing field for you.
6. Greed is a terrible thing
I'm not only talking about going at sucker pins or trying to squeeze an extra five yards out of your 7-iron instead of going with a smooth 6 -- although they both qualify. It's also attempting shots that aren't in your wheelhouse just to see if you can do it, like trying to clear a tree when you're a low-ball hitter, gambling on a flop shot from thick rough or trying insane carries over water. You know better. Golfers open the door to big mistakes with their desire to be stimulated. They get greedy for that extra little rush golf can give you when you play beyond your capabilities, get lucky and succeed. Young guys tend to be impulsive, but experienced players get their rush by signing for a low score at the end of the day.
7. Stay with irons you trust
My garage is full of putters that I've fired for misbehaving. But changing your shafts or switching to a different iron design is another matter. I've used the same Dynamic Gold X-100 steel shafts since just after high school, and my irons are within the same Ping line I've used for ages. I don't fool with my sand wedges, either; I've used the same models since 1984. When the grooves on my L-wedge wore down a few months ago, I bought a replacement on eBay for $190.
You still should try new drivers, hybrids and fairway woods, because they're improving all the time, and you can adapt to them pretty quickly. But if you like your irons and wedges, stay with them. Switching toa new set can be a risky move.
8. Try a different putting style
When I came down with a mild case of the yips a few years ago, I tried all the usual remedies. I putted cross-handed, split-handed, then tried the long putter. Those styles helped my yips but didn't cure them. I'd watched Chris DiMarco putt great with what's known as a claw grip, but I couldn't bring myself to try it. It looked goofy, and I didn't see how I could putt that way. I put off trying it for a couple of years, and I regret that, because when I finally did go to the claw, I went from being one of the worst putters on tour to one of the best. It saved my career. The moral is, if you think a radical putting style might help, don't let pride or stubbornness stop you from trying it.
9. Know the perils of architecture
Until about 10 years ago, if the flagstick was stuck near the edge of the green and I missed on that side, it was no big deal. I was usually able to flop the ball up there close. That isn't the case today. Thanks to modern architecture and technology, greens have become so fast and firm that getting "short-sided" is almost an automatic bogey.
Some of these situations are very subtle, so here's a little advice. If the flag is in the front of the green, always leave the ball beyond the hole -- a downhill putt is better than a short pitch with no green to work with. If you can barely reach a par 5 in two, think hard before going for it, because a 60-yard pitch can be preferable to some of the tough spots around the greens today.
10. Learn to deal with slow starts
What little patience I have was tested at the 2005 U.S. Bank Championship. After a so-so opening round, I started the second round by bogeying three of the first five. I was disgusted, and when I saw my wife, Brenda, in the gallery, I called her over: "Pack up, and make the plane reservations so we can get out of here fast when this nightmare is over."
Brenda reminded me that my cousins and a good part of my mom's side of the family were following me. "You need to get your act together and make some birdies like you know how," she said. I proceeded to play the next 13 holes in eight under. I made the cut and ended up tying for seventh place.
Since then, some of my best rounds have come after a lousy start. It's human nature to get down when you start off bad, and young players especially let this happen. They ruin their chance for a big comeback. Hang in there, and you'll be surprised by how many times you end up turning it around.