The Loop
Calcavecchia embraces early start en route to 69
SANDWICH, England -- Mark Calcavecchia would like to thank R&A chief executive Peter Dawson for being a good listener. When the 1989 British Open champion was in one of the first groups off the tee during the Open at St. Andrews in 2000, he made a point of telling Dawson that he appreciated the pairing, saying he was an early riser and that the just-after-dawn start was a benefit to him.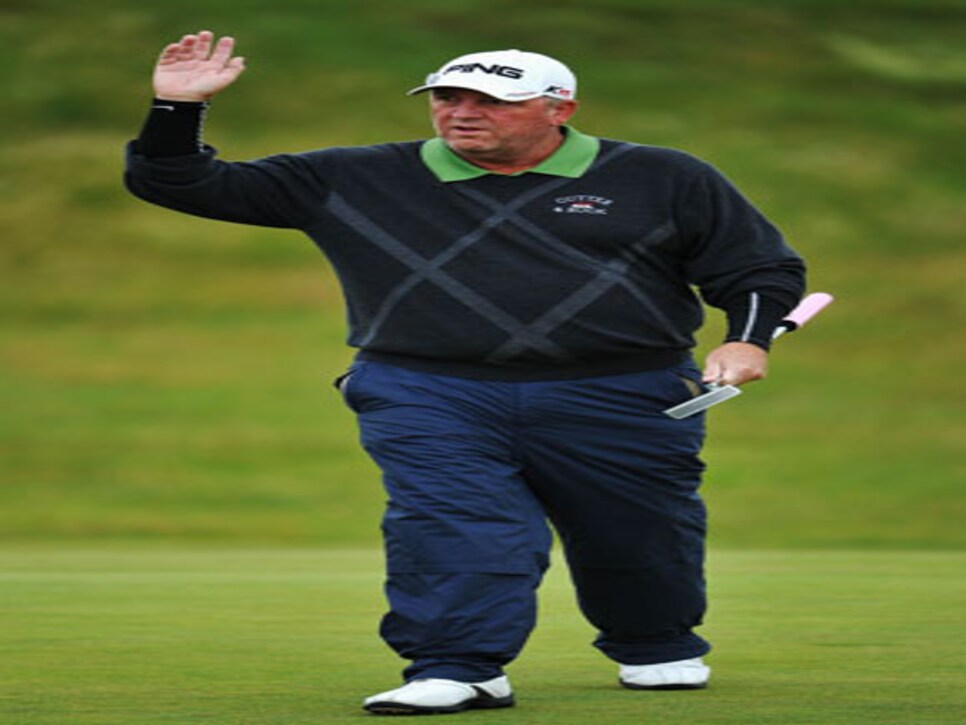 Sure enough, Calcavecchia was in the second group off the tee at 6:41 a.m. Thursday at Royal St. George's and enjoyed the familiar surroundings, shooting a one-under 69 and likely securing a top-10 placement after 18 holes.
"I don't have a problem getting up early," said the 51-year-old from Tequesta, Fla. "And it can be a good weather advantage."
It's not the first time Calcavecchia has gotten off to a solid start by being out at first light. Two years ago at Turnberry, he was in Game No. 1 Thursday morning and cruised to a 67. A year ago at St. Andrews, on the course that Calcavecchia admits is his least favorite on the British Open rota, he was in the first threesome on Friday morning and shot a 67 that put him in second place after 36 holes when wicked winds howled that afternoon.
[__*(Related: These golfers surprised everyone by capturing the claret jug.)
](http://www.golfdigest.com/golf-tours-news/british-open/2011-07/photos-british-open-unlikely-winners#slide=1)
At Royal St. George's Calcavecchia made birdies on the challenging par-4 fourth and the generous par-5 seventh to turn in two under. After a bogey-birdie exchange on the 11th and 12th, he posted pars until failing to get up and down from right of the green on the par-4 18th for one last bogey.
Making Calc's play all the more impressive, perhaps, was his lack of practice on the links course. Arriving in the U.K. Tuesday afternoon, when winds howled at 25 miles per hour, he decided against playing any holes on the course, instead hitting some balls on the range. Come Wednesday he was scheduled to play a 7:50 a.m. practice round with Steve Stricker, Jerry Kelly and Mark Wilson but when fickle weather again arrived at the course, Calc's partners were MIA on the tee.
"I was stuck there by myself, behind two foursomes," Calcavecchia said. "Do I want to be out there by myself for 5 1/2 hours on a practice round? No. So I played 1, 2, 9, 17 and 18."
Why is it that Calc has had such success of late (at least during the early rounds) at the Open Championship?  "I've always told everybody this is my favorite tournament of the year," said Calcavecchia, who won his claret jug at Royal Troon 22 years ago. "I just get fired up coming over here. Even if I hadn't won the thing once, I would have told you it's my favorite. ... Just coming over here, the atmosphere [is great]. The links golf, the wind, the weather, the bounces, the fans. Everything about it I love."
Calcavecchia admits that part of the attraction of the event is also the fact it's the only major that the now essentially full-time Champions Tour player gets to compete in. "I miss the other majors. I am not in any of the other majors anymore and I miss playing in them."
Unless he's "infirmed" come tournament week, Calc insists he will be over for the Open every year until his exemption as a past champion ends in 2020. That said, he has one more request that he hopes Dawson will listen to.
"I'm kind of hoping they squeeze in Royal Troon one more time before I'm done."