The Loop
Calc continues quest for first Champions Tour win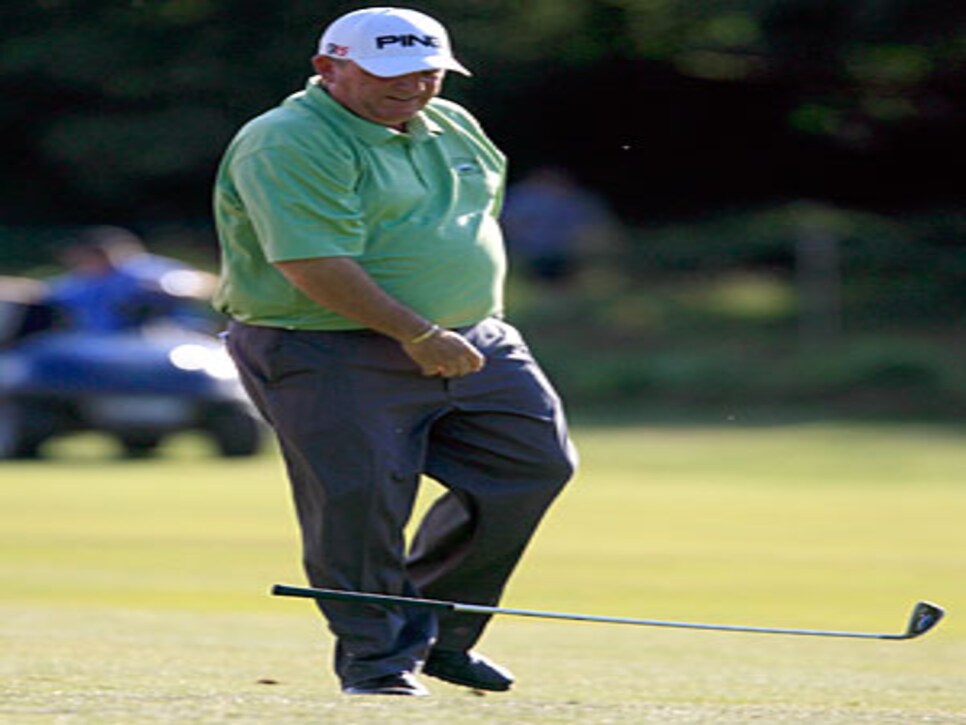 TOLEDO, Ohio -- It's not a foregone conclusion that golfers with formidable résumés on the PGA Tour will -- at the very least -- taste victory on the Champions Tour, but the odds certainly are with them.
Of the players who won at least 10 times on the PGA Tour, turned 50 since the senior circuit began in 1980 and played a minimum of 20 tournaments with the 50-and-over crowd, only seven have not won at least once on the Champions Tour. Ben Crenshaw, with 174 senior appearances, has the longest drought, followed by Calvin Peete (158), Curtis Strange (94), Mark McCumber (91), Hal Sutton (53), Mark Calcavecchia (26) and Corey Pavin (24).
While Crenshaw practiced hard at the far end of the Inverness Club range Tuesday afternoon in preparation for this week's U.S. Senior Open, the sweet-putting Hall of Famer is 59. A victory, however popular it would be, isn't likely to happen at this stage of the likable Texan's career.
More intriguing is when the relative senior newcomers Calcavecchia and Pavin will break through and if it could be at this week's major championship. Each of the 51-year-old former major champions (Calcavecchia at the 1989 British Open, Pavin at the 1995 U.S. Open) has been a leader-board presence on the Champions Tour. Over two seasons, Calcavecchia has 13 top 10s in 27 starts, Pavin 13 in 26 starts. They were also key figures in last week's Senior British Open at Walton Heath GC, Calcavecchia finishing second to Russ Cochran and Pavin T-3.
Of the two, Calcavecchia's futility is more intriguing. Calcaveccchia was tied for the lead last Sunday coming to the par-3 ninth, where he four-putted from 15 feet, missing two tiddlers. "The four-whack on the ninth hole," he said later, "those usually hurt you." For Calcavecchia, the scenario at Walton Heath was eerily similar to the Regions Traditions in May. There, he led by six shots after 47 holes, and by two after 65 holes. He shot a final-round 75, missing the Tom Lehman-Peter Senior playoff by four strokes. In England, Calcavecchia had a three-shot lead through 48 holes before driving poorly and making a messy triple bogey that tightened things up going into the final round.
"I think I lose my faith in myself faster than I lose my concentration," Calcavecchia told reporters in England. "Once I hit a couple of crooked drives - I could hit 20 perfect drives in a row [and then if] I hit one dead left and one dead right, I'm screwed. I can't regroup. I can't find it. ... Obviously it's a mental problem. I'm trying to do the same things. It's just not working. If I was missing them all in the same direction, I could work with it. But it's like Tiger always said: Once you start missing it both ways, it's trouble."
As Calcavecchia noted at the Tradition, he rarely was a stone-cold closer on the PGA Tour, where he won 13 tournaments. It was a point he reiterated at Walton Heath. "I wish I could do better golf," he said. "I wish I could be really boring and just kind of hit fairways and make a bunch of pars at times. I always keep it interesting."
Calcavecchia, who could only manage a few comments after his closing 75 at the Tradition, is trying not to beat himself up so much mentally when he has a costly lapse, "kind of have more fun with my collapses now and not take it so serious." No doubt, though, the more tournaments he plays on the Champions Tour, the greater the burden to win.
However, he shouldn't despair just yet, with two of his peers offering testimony that it can take a while. Nick Price needed 39 tries to win on the Champions Tour. Mark O'Meara broke through in 2010 on his 58th attempt, teaming with Price to claim the Liberty Mutual of Legends of Golf. Eleven tournaments later, O'Meara won his first individual senior title at the Constellation Energy Senior Players Championship.
One thing is certain: Calcavecchia will have a lot more fun if and when he does win than in trying to make light of another Sunday when a tournament slipped away.
(Photo: Phil Inglis/Getty Images)