News
Caddie remains in critical condition, labor dispute wreaks havoc on broadcast and Rory downplays heart irregularity: What you missed this weekend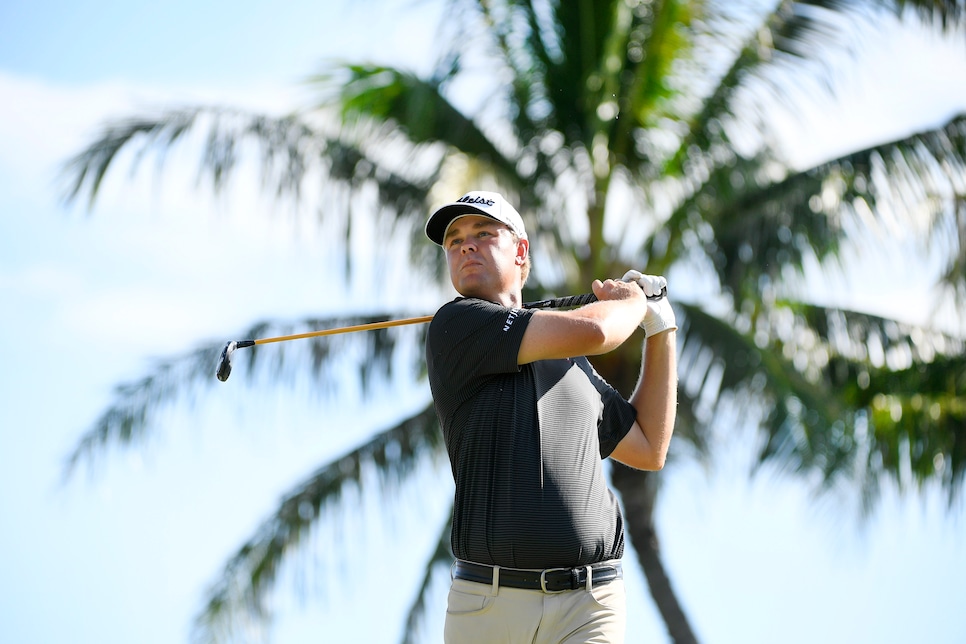 Welcome to the Dew Sweeper, your one-stop shop to catch up on the weekend action from the golf world. From the professional tours, trending news, social media headlines and upcoming events, here's every golf-related thing you need to know for the morning of Jan. 15.
Kizzire comes on top in six-hole playoff
In a tournament strife with news outside the ropes, Patton Kizzire and James Hahn made the most of their time in the spotlight Sunday afternoon. The two battled in a six-hole playoff, the longest sudden death on the tour since 2012, with Kizzire ultimately finding the winner's circle as the sun faded on Waialae C.C.
"It wasn't necessarily pretty," Kizzire said, "but it was nice to come out on top."
That it went to extras was something of a production in itself. Hahn began his day five shots off the lead but vaulted up the board thanks to an eight-under 62, while Tom Hoge, the 54-hole leader, doubled the par-4 16th and missed birdie attempts on the final two holes to miss the playoff by a shot.
But it was Kizzire, who posted a 68 on Sunday, that left with hardware following Hahn's par miss on the 17th.
It's Kizzire's second win of the young season, and his fifth top-15 in seven starts.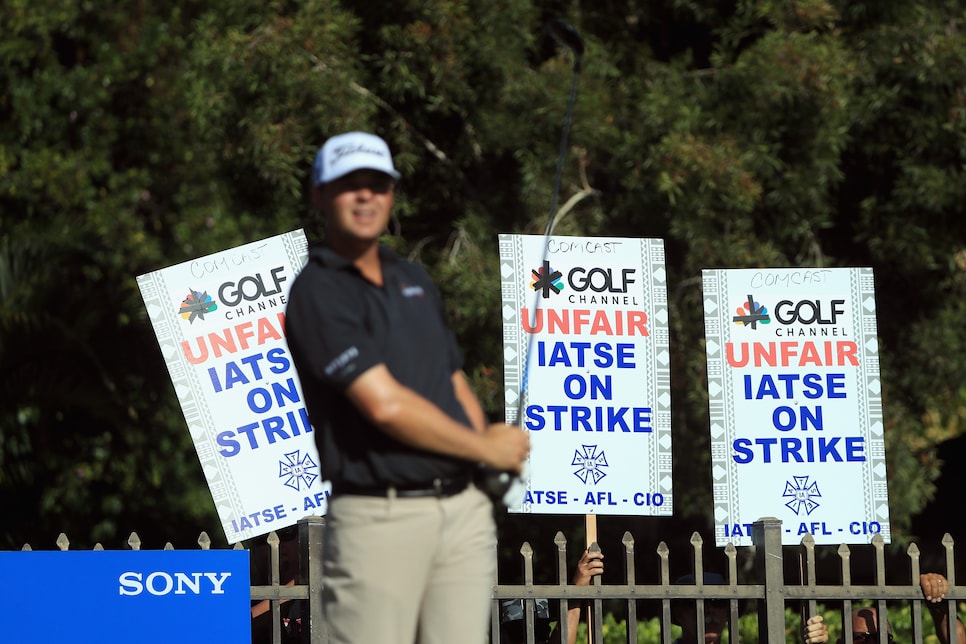 Labor dispute wreaks havoc on Golf Channel broadcast
No, Golf Channel wasn't experimenting with a Jason Bourne-like "camera purposefully shaking" viewing experience on Sunday. Due to a strike by the International Alliance of Theatrical Stage Employees, the network was missing union video and audio workers during the final round of the Sony, as well as at the Web.com Tour's Great Exuma Classic.
The Golf Channel scrambled to put together a skeleton staff in Hawaii, with a crew at the network's Orlando studio taking over commentary duties. Given the circumstances, the Golf Channel still managed to provide a relatively clear encapsulation of the action. Nevertheless, the broadcast was extremely raw, with the coverage's limited mobility and technical elements jarring.
And it may not be the last time we see such a spartan presentation. A source said that a lawyer for the union, one that represents 390 total Golf Channel workers, flew to New York on Sunday to try to push the stalled talks along. According to the Associated Press, a meeting between the two sides was scheduled for Tuesday. If no resolution is in place, similar issues could manifest at the CareerBuilder Challenge, which begins on Thursday.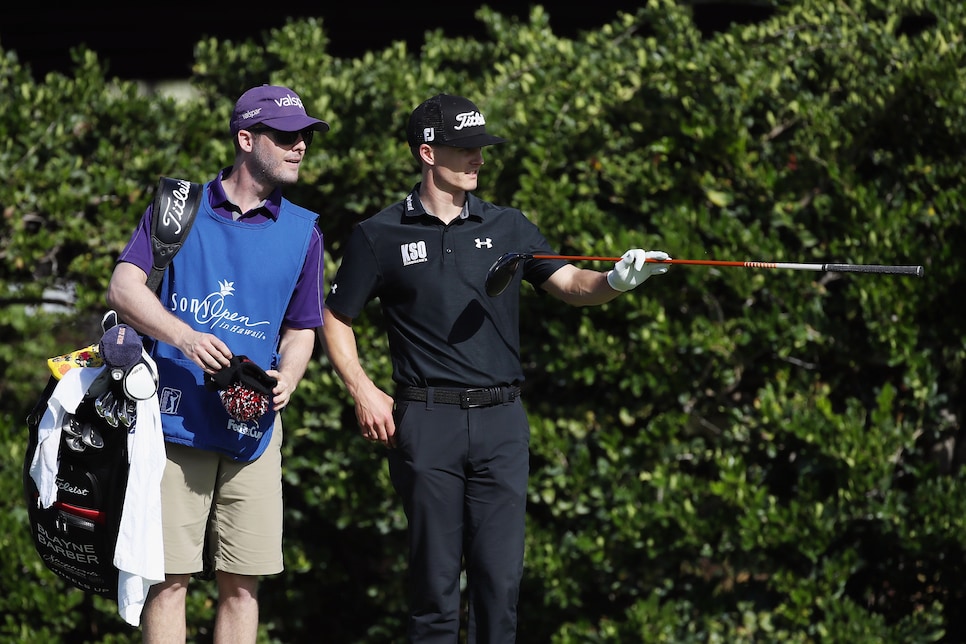 Caddie in critical condition after collapse
Cory Gilmer, caddie for Blayne Barber, remains in critical condition following a collapse on Friday night. Gilmer allegedly fell and hit his head, and is in the neurological intensive care unit at a local hospital. Providing an update Sunday morning, Barber said Gilmer is at least not regressing.
"He's responsive to the extent that he's in pain, and he said his last name, asked about his friends, asked the nurse to pray for him," said Barber, who visited Gilmer before teeing off in the final round of the Sony Open in Hawaii. "But when I was there this morning, he's essentially unconscious. The nurse opened his eyes for him and kind of pointed him towards us, and he didn't know we were there or whatever."
According to Barber, the doctors are most concerned about Gilmer's swelling. Barber planned to return to the hospital following Sunday's round.
"Just keep praying for him," Barber said. "They can't do anything about the swelling, [the doctor] said. It kind of has to happen naturally. So he's there. He's just kind of in a lot of pain and dealing with that."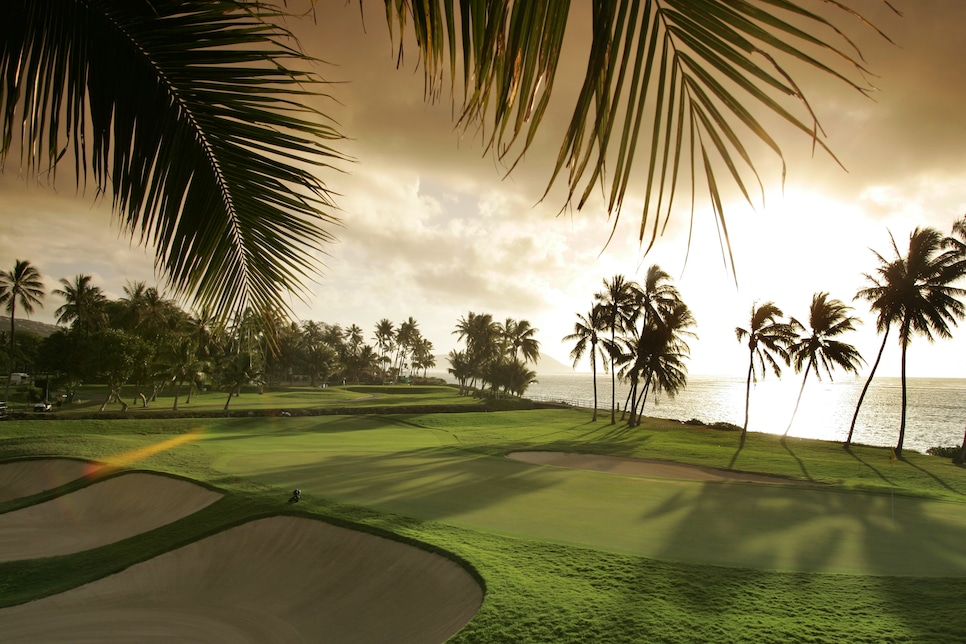 Tour players caught in Hawaiian missile alert panic
The Hawaiian swing is supposed to be a relaxed affair for PGA Tour players and their family. On Saturday morning, it was anything but.
Just after 8:00 a.m., those in the Aloha State received an emergency phone alert reading, "BALLISTIC MISSILE THREAT INBOUND TO HAWAII. SEEK IMMEDIATE SHELTER. THIS IS NOT A DRILL." A banner was also displayed on TV screens warning that a missile "May impact on land or sea within minutes." Although a second message was sent out indicating the alert was a false alarm, there was a 38-minute gap between correspondence, an interval that spawned its share of panic.
An anxiety evidenced by many on social media, including tour players.
"I kind of thought if we had a car maybe drive as far away from town as possible," said Jordan Spieth. "We were inside away from the windows trying to gather information."
Charles Howell III got confirmation from a Navy friend that it was a false alarm, although count him among the initial confused.
"At breakfast you could hear the collective [buzz] of [everyone's] phones," Howell said. "I kind of froze. We didn't know what to do. We sort of looked at one another. Part of you thinks you grab a MaiTai, go to the beach and grab a front-row seat. Part of you thinks what are you going to do?"
However, once word of the false alarm spread, a few were able to provide some levity.
Rory downplays comments on heart irregularity
Rory McIlroy's 2017 was plagued by an equipment change and injury woes. However, it turns out that McIlroy's health issues weren't confined to his ribs.
Speaking with the Telegraph's James Corrigan, the four-time major winner revealed that doctors discovered an irregularity with his heart.
"I have a flat T-wave and I'll have to get an echo [cardiogram] on my heart every six months and an MRI scan every year," McIlroy told Corrigan. "I suffered a really bad viral infection in China 18 months ago, and they told me that's the reason that I have this thickening of my left ventricle and there's a bit of scar tissue. For now, I just need to stay on top of it and have to stay fit. Hey, I was planning on doing that anyway."
However, feeling that his comments were being sensationalized, the 28-year-old clarified his remarks on Instagram.
"It's really not that big of a deal and nothing to worry about, apart from getting an annual check up, like you should do anyway. I feel there's been a big reaction to it in the media which there really shouldn't be."
McIlroy is finishing up a four-month break from competitive golf, the longest of his career. He will make his return at the Abu Dhabi HSBC Championship this week. He's also expected to play in the Omega Dubai Desert Classic, and make his first career appearance at the AT&T Pebble Beach Pro-Am.