The Loop
BYU completes its third round first at the NCAA Women's Championship
The NCAA Women's Golf Committee let out a collective sigh of relief a little past 8 p.m. local time Thursday at Eugene (Ore.) Country Club, as BYU's five players got in their "third round" of the NCAA Women's Championship, less than 12 hours before the official first round of the tournament gets underway.
The Cougars posted a 10-under 298 score, led by Kendra Dalton's two-under 70. And yes, they're the leaders in the clubhouse.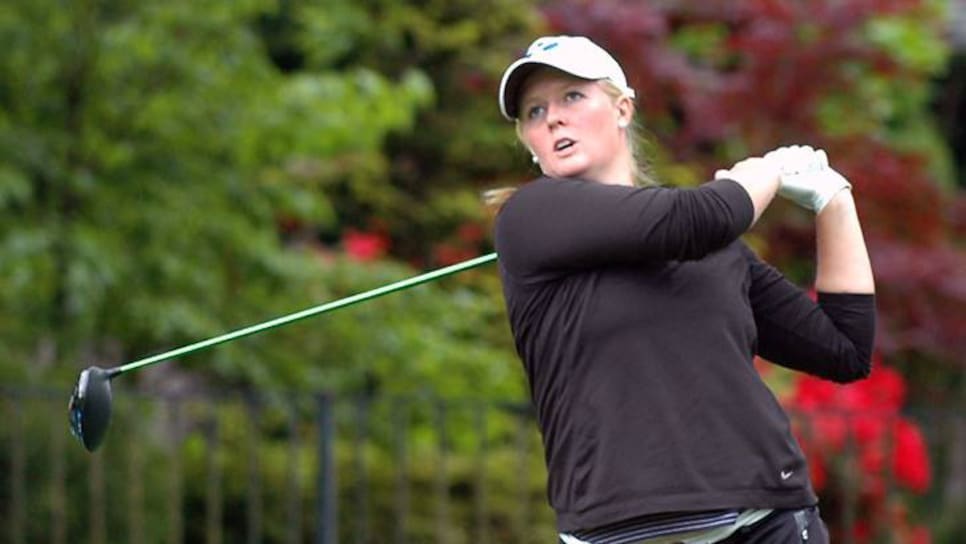 That they finished play with no delays and before darkness was a victory of sorts for those involved in running the championship given the unique logistical challenge they faced. To accommodate BYU coach Carrie Roberts' squad, which qualified for nationals for the first time since 2007 but could not play the scheduled third round at Eugene C.C. on Sunday due to the school's long-standing religious practice of not competing on the Sabbath, the NCAA Women's Golf Committee allowed the golfers to play that round after the entire 24-school field completed its schedule practice round on Thursday.
With all teams beginning the practice round at 9:30 a.m. in a shotgun format, the course was cleared and third-round holes placed in time for BYU to start play at 4:05 p.m. The team went off as five singles, with a rules official accompanying each player to serve as a walking scorer.
"Playing by myself was a unique experience," Dalton (above) said. "It's definitely something I've never done in a tournament before. I like to play fast so I think it helped me to get in a groove and play one shot to the next. The course is in fantastic shape. It was a lot of fun to play."
Making the task a bit more ominous was a forecast that called for rain. While some precipitation fell as BYU played the front nine, players had good conditions to complete their round.
The other BYU scores included a one-over 73 from Lea Garner, a 76 from Alex White and a 79 from Rose Huang. The team dropped Brooklyn Hocker's 81.
"I thought we fought hard today," Roberts said. "Kendra's two-under par 70 was very impressive as was Lea's 73. We are looking forward to tomorrow. I expect we'll be a little bit sharper."
Among those in the crowd watching were a handful of coaches and assistants from the other programs hoping to get a early look at house the course play beyond what they saw in their practice rounds.
BYU's tee times for Friday's first round start 8:36 a.m., when the team competes in threesomes with Ohio State and Texas.
The question that remains unclear is whether BYU will gain an advantage from having played the round on Thursday, ahead of the rest of the field, or whether it becomes a disadvantage. Since the Cougars has posted its score, they will have to sit and wait out how other teams play on Sunday (when the forecast calls for a 70-percent chance of rain) to see if they are one of the 15 schools that survive the 54-hole stroke play cut.