Memorial Tournament
Bryson DeChambeau misses the cut and his game remains a frustrating 'mystery'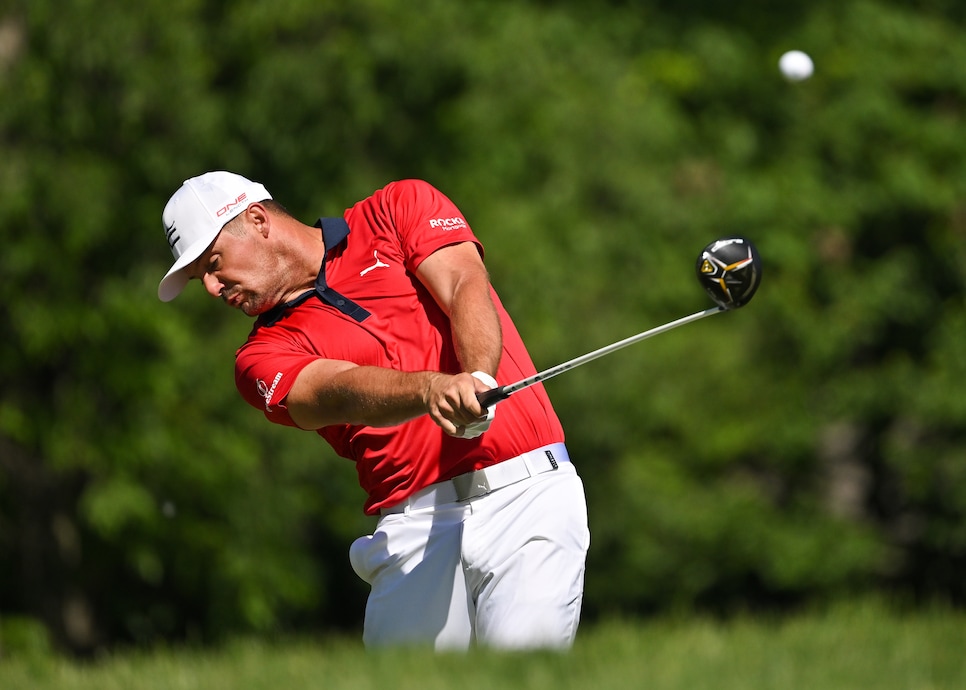 Bryson DeChambeau tees off on the 18th hole during the second round of the Memorial Tournament.
Ben Jared
DUBLIN, Ohio — Bryson DeChambeau wasn't expecting much when he decided to tee it up in this week's Memorial Tournament, his first event since undergoing hand surgery just after the Masters. The fact that he was disappointed tells you how much he struggled at Muirfield Village Golf Club.
At least no one called him Brooksie. Ah, a silver lining.
That's good because he had a few names to pin to his own chest. The most prominent would be "confused." The player who won the 2020 U.S. Open and seven other PGA Tour events, including the 2018 Memorial, the so-called Mad Scientist who adds barometric pressure to his equations on effective yardage to a target, is thoroughly discombobulated.
"My golf swing is a wreck," he said Friday after posting an altogether sloppy five-over 77, his worst score in 20 rounds at Jack Nicklaus' prized layout. He missed the cut with lots of room to spare at nine-over 153. "I need to work a little harder with it. Just didn't have anything out there. Attitude is great. I love being out here again and returning to compete, but it sucks playing bad golf. So it's just trying to climb the mountain top again."
It might be a long climb.
Friday's tour of Muirfield Village included five fairways hit, seven greens in regulation and a cumulative strokes gained/tee-to-green average of -8.322, which ranked 116th in the field of 119 when he signed his card. He ranked 101st off the tee in the second round, which has to gnaw at a player who has expressly sought to conquer the game through sheer power.
DeChambeau, 28, wouldn't blame his troubles on his repaired left hamate bone, which he had surgically repaired April 14 in Dayton, Ohio. Not once did he feel pain swinging the club, even when lashing through the thick bluegrass rough that might be the equal of what players will encounter in two weeks in the U.S. Open at The Country Club in Brookline, Mass. That was another plus.
But mechanically, he is just lost. That simply does not compute.
DeChambeau, who has dropped to 24th in the world, said he is trying to recreate the motion that carried him to plenty of success in 2017-18, when he felt his game was most consistent and repeatable. He won five times in that period, including consecutive FedEx Cup playoff events. Having cranked up his clubhead speed and beefed up his body, he said, shouldn't hinder the process of finding that form again.
"That was, like, magical to me, where I just felt like I was invincible," he said. "Every day, I could have the same exact shot no matter what, no matter the conditions, under the pressure, no matter nothing. I've been trying to create some motions that are repeatable back from 2017 and '18 and I can't find it. It's crazy. Like, golf is a weird game where, yeah, swings a little different, speeds a little different but the motion through impact should be relatively the same. I just can't get to a place where it's similar every single time through impact, like I used to do. And so, just trying to get back to those feels, and I've been in and out of it, but it just doesn't stay."
When he triumphed in the U.S. Open at Winged Foot with a dominating performance, DeChambeau talked about going down certain "rabbit holes" to improve, but he could always get back to square one and not lose his original swing.
"Yeah, deep down a lot of rabbit holes, and none of them are solidifying any stable manner," he said. "And what I mean by that is just, it's just not coming to a consistent base. So like, for example, I'll try and swing it more inside out for me to get it to draw more, and the ball will cut. And I'm like, that just doesn't make sense. I swing it more inside out, I feel like I do, but the divot's to left and I'm like, 'OK, there's a huge misconception between my perception and reality' and so I can't resolve those two. So, it's a bit of a mystery and very frustrating because my whole life I've been able to consistent drawers and control it and now for some reason I can't."
To hear DeChambeau talk this way, to hear the frustration in his voice, is discordant with his cock-sure demeanor of a few years ago. In 2019, as defending champion of the Memorial, DeChambeau returned to Muirfield Village for media day, and he presented a lengthy dissertation on his approach to playing the game. Standing in front of a chalk board set up on the driving range, the brainy California native listed a number of factors that he considers—including things such as air density, elevation change and wind vector—before hitting a "basic" shot of 150 yards.
He might venture down rabbit holes, but his mind tends to hover in the stratosphere.
At least his round was played in relative peace in a pairing with 2020 Memorial winner Jon Rahm and congenial Irishman Shane Lowery, the 2019 Open champion. A year ago, he was in the midst of a strange feud with four-time major winner Brooks Koepka, mostly being played out on social media.
Things got edgier during last year's Memorial when Koepka, who is getting married to longtime girlfriend Jena Sims this weekend in Turks and Caicos, took to Instagram to offer free cases of Michelob Ultra (for which he serves as a spokesman) to fans who had chanted "Brooksie" while DeChambeau was playing and were subsequently escorted from the premises.
The two men appeared to mend fences in September as they helped the U.S. Ryder Cup team to a record victory over Europe, even sharing a hug in the post-round press conference.
"I've had better times in my life," DeChambeau said, considering the last 12 months. "I'm very grateful and appreciative of where I am. I would never complain one bit, but it's definitely there's things in the back that have been difficult for me, and again, I'm appreciating where I'm at, and continuing to just work hard."
He was going to hit the range immediately after the interview in hopes of connecting the swings he made on the course to his practice session to not lose the "sensations" he had just experienced. The opening round of the 122nd U.S. Open is in 13 days, not much time to prepare.
By then maybe he can jettison one sensation. "Yeah, it's no fun playing golf like this," he said.