The Loop
Media: 'Tiger tees off...and you can't watch it? In 2013?'
Augusta National once permitted only the back nine of the Masters to be televised, a point of contention for many, including the media. One writer attempting to pin a hypocrisy charge on former Augusta chairman Jack Stephens asked him whether he watched the Super Bowl.
"Fourth quarter," Stephens replied, without hesitation.
The point is that it's futile to belabor Augusta National's legendary stubbornness, though we'll do so anyway. Television viewers only saw Tiger Woods, No. 1 in the World Ranking and a four-time Masters champion, play only three holes in the first round on Thursday, because he teed off four hours, 15 minutes before the ESPN telecast began.
On Masters.com's Amen Corner live channel, meanwhile, Woods was first shown hitting his second shot from the right rough at the 11th hole, three hours, eight minutes after his round began.
As Jason McIntyre, the editor in chief of The Big Lead, noted on Twitter: "wait. so Tiger tees off in 10 minutes and you can't watch it ... anywhere? in 2013? seriously?"
Seriously. At least CBS' Nick Faldo had the opportunity to view all of Woods' round. He was asked by Jim Nantz for his assessment of Woods' play.
"The strategy has been very important, the safety after last year," Faldo said. "He hit in the trees at one and two [in 2012]. Playing with a 3-wood there [Thursday]. A couple of pushed iron shots, generally that's all very fixable."
Woods shot a two-under par 70, the fifth time he has done so in the first round of the Masters. He won three of those, Nantz noted.
Brandel Chamblee is among the more thoughtful and insightful analysts in golf, and early in Golf Channel's seven-hour marathon "Live at the Masters" run-up to ESPN's telecast, he weighed in on Phil Mickelson's dissatisfaction with a softer and slower Augusta National.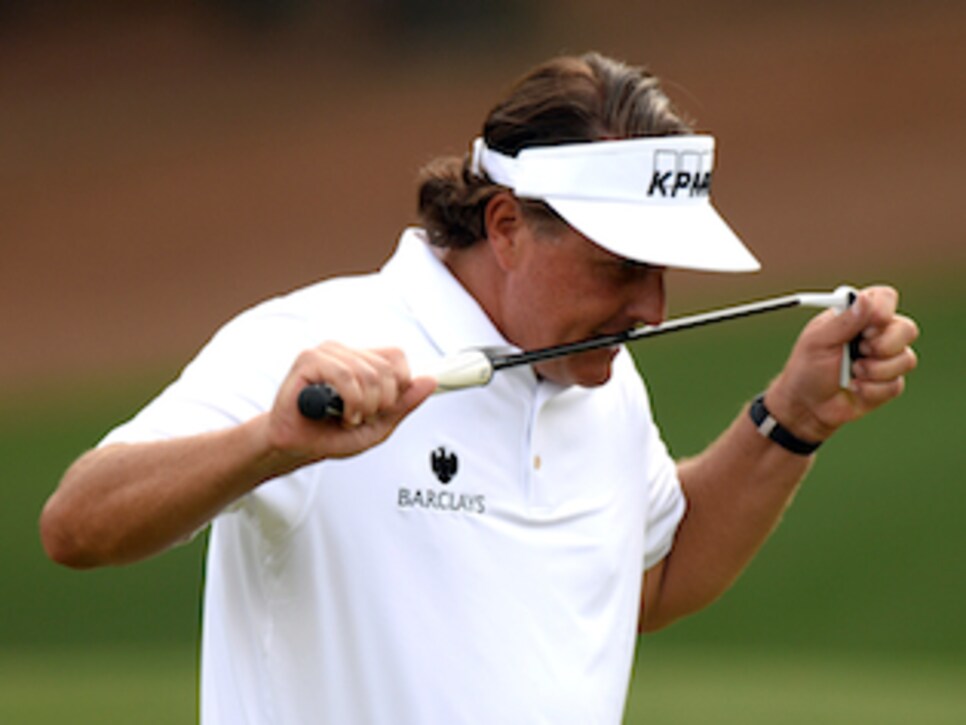 "I think part of the reason he's upset with the way this golf course is playing is that he can't play the golf course the way he used to play it for a couple of different reasons," Chamblee said. "One, it's set up a little slower and a little bit softer. Two, and I've been alluding to this, it's a big issue as you get older, Phil Mickelson is not quite as long as he used to be. For the first time in his career in 2011 he finished outside the top 10 in driving distance [at Augusta]. He was 16th. Last year he was 25th. His clubhead speed has gone from 120 miles per hour to 117 to 116 and now he's slower than that. He's hit it shorter than he ever has."
'I'm giving the course way too much respect'
Mickson's opinion post-round hasn't changed. In an interview with ESPN's Tom Rinaldi, Mickelson said this:
"It's just not the way I think of Augusta. It's been five or six years like this. Those top right pins on 16, you never used to be able to fly it up there and stick it within a foot or two of its divot. It's just extremely soft, and and because of that you have 45 people at par or better. My mindset has got to change. I'm giving the course way too much respect. I've got to attack these pins because the ball's just sticking. Tomorrow I'm going to do that."
Does Augusta allow broadcaster humor?
Faldo had fun with Bubba Watson's menu choices at the champions dinner Tuesday night.
"I was a little stunned that we didn't get a coloring book with the menu, as well," Faldo said. "We had chicken, we had mashed potatoes, corn, and mac and cheese. And my daughter Emma was gutted that she wasn't there, my nine-year old.
Steve Elkington, having fun at Mickelson's Phrankenwood driver:
"Can Philly Mick pick up a driver from the pro-shop at the turn.... Dude was 40 behind his partners on the 8th...."
"Maybe Phil forgot those little tees with the paint brush bristles....that's a good 3 yards right there....#Masters #frankenshank"