The Loop
But what is Conor McGregor's F--k You suit REALLY saying? Aside from, you know, F--k You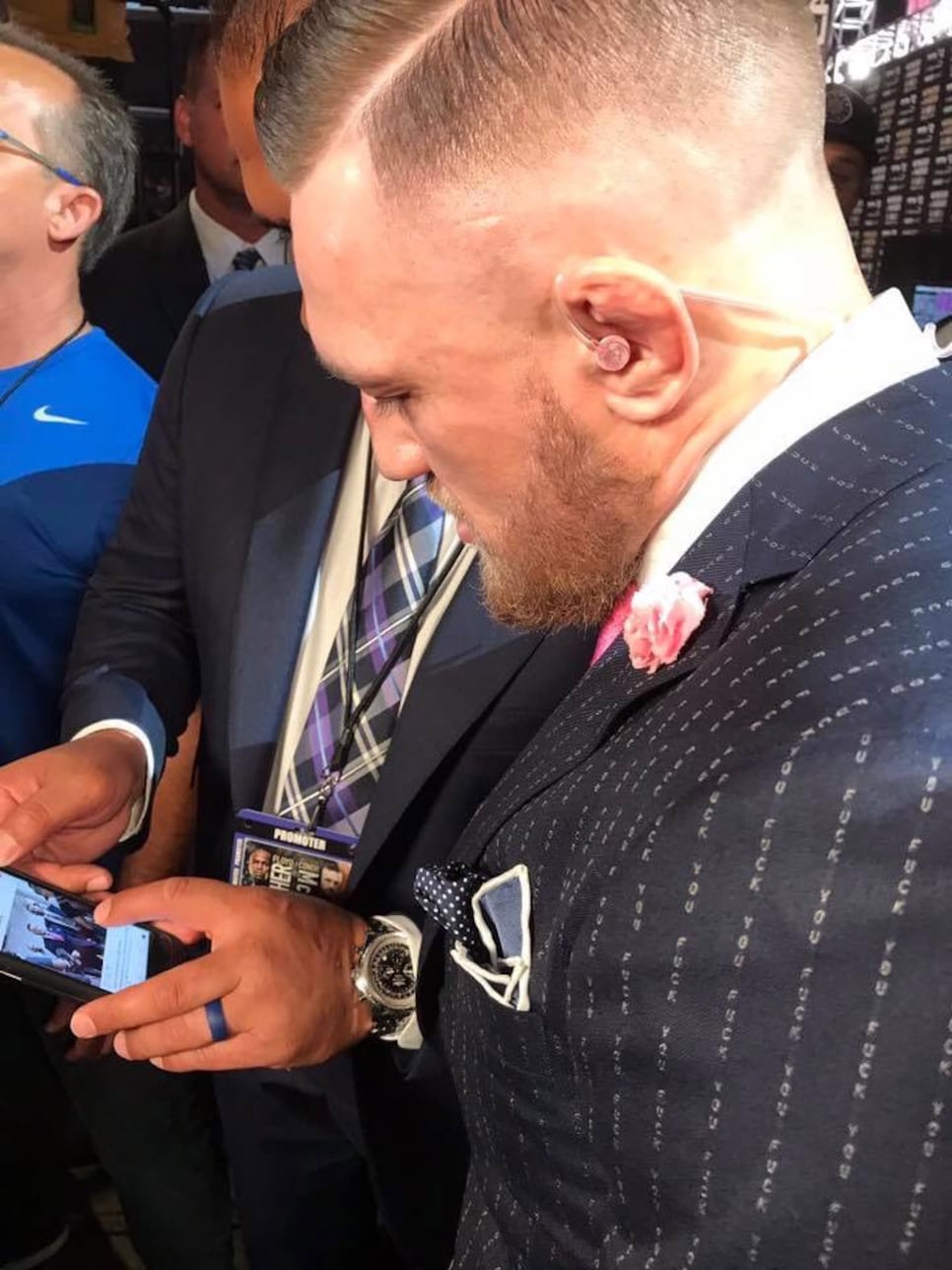 You, your former-law-enforcement neighbor and Instagram know Conor McGregor for two reasons: His skill at physically knocking people's heads off their necks Tom and Jerry-style and his ability to look outlandishly stylish enough doing it that he's graced the cover of magazines published by our Conde Nast brethren who know a thing or two about clothes.
Yet even the MMA champ's well-documented sartorial history — enabled by the kinds of mall budgets normally associated with comical supervillains — wouldn't have been enough to prepare the internet for the suit he wore to the first of a series of press events/"Mean Gene" Okerlund interstitials promoting his fight with Floyd "Money" Mayweather on Aug. 26. Zoom in, and you'll notice the pinstripes are built from words that you generally don't find repeated in small fonts on high-end menswear. It's a startling and obviously viral shot at his opponent, and holy s**t is it working.
But what else was the notorious shit-talker saying in this, the first of four hype-building appearances that will hopefully grow more and more unhinged? And how did Mayweather and his highly-favored status counter? Our expert psychological evaluation follows:
Background: Arrived to the fight's first media event clad not only in the F—k You Suit, which you're gonna see a lot at next year's proms, but a sharp pocket square, hot-pink tie and equally pink lapel flower. (It should be noted that the F—k You Suit was expertly cut, in the exact manner you'd expect from a GQ Style cover model.) Exactly zero other people on this planet could pull off a mix of pink flowers and personally insulting tailoring, and I could live to be 200 years old and never obtain that confidence. I would barely wear a shirt that says "Could You Kindly Move to One Side So I Could Pass My Grocery Cart?"
What It Really Means: No, really, f—k you.
What McGregor Is Really Saying: Sir, I may not have your 49 Ws and Bond-villain paydays/tax bills, but once my MMA career is over I can do anything, assuming my bones still work. Also, f—k you.
Floyd "Personal Branding" Mayweather
Background: Showed up to the media event/shit-talking clinic wearing a cap with the number 48, a reference to his iconic 2015 victory over Manny Pacquaio. That fight still holds Earth's record for most pay-per-views sold: 4.6 million, though experts say Mayweather/McGregor could top 5 million, especially if people keep sewing in insults. Mayweather also rolled in with his customary TMT sweatshirt, an unveiled reference to his loyal roster of trusted lifetime friends, and mostly the galactic paydays he's banked over the course of his 49 wins.
What It Says: I have a lot of f--king money.
What it Really Means: No, really, I have a lot of f--king money.
What Mayweather Is Really Saying: You, sir, may have cross-platform popularity and a personality especially well-suited for today's lively media landscape, but no one has ever out-boxed me and you can't use your elbows.