Ryder Cup
Ryder Cup 2021: Why players were warned of not breaking this rule at Whistling Straits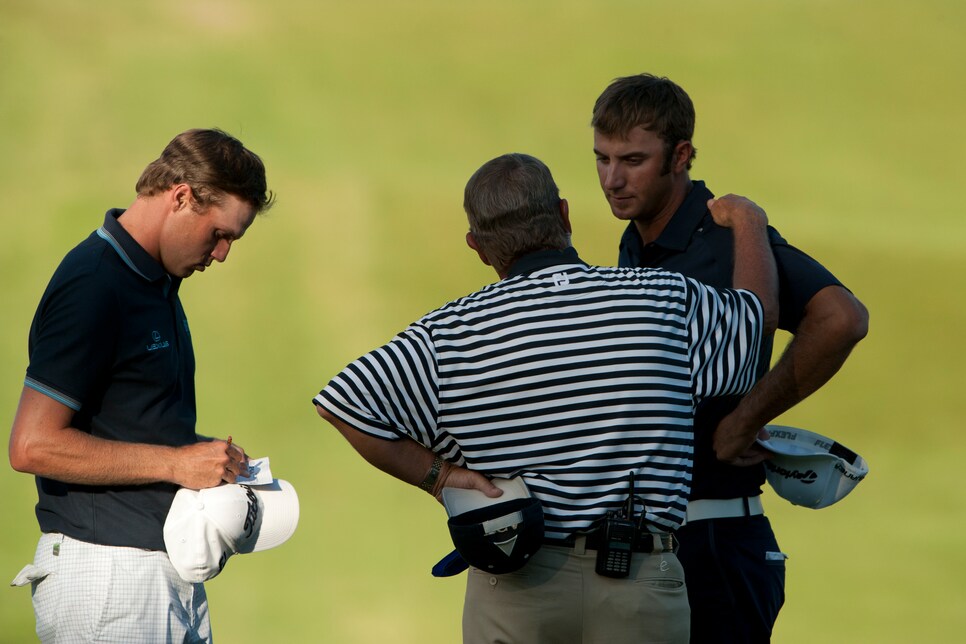 Montana Pritchard/PGA of America
Whistling Straits has hosted three PGA Championships in its young life. Still, with all respect to winners Vijay Singh (2004), Martin Kaymer (2010) and Jason Day (2015), the player most associated with the Wisconsin course may be Dustin Johnson and the infamous moment he grounded his club in a bunker he believed was a waste area at the 2010 PGA. It's a mistake the PGA of America desperately hopes to avoid at this week's Ryder Cup.
American and European players were greeted with a friendly reminder prior to arriving in Haven, Wis., that the bunkers—all 1,012 of them—at Whistling Straits will, indeed, be played as bunkers:
"All areas of the course that were designed and built as bunkers (Rule 12) will be played as bunkers during the Ryder Cup," read the notice. "Bunkers inside the gallery rope line will be raked each morning prior to play and touched up again between sessions. Rakes are provided for the caddies allowing bunkers to be smoothed as a courtesy to other players and for care of the course. During play, footprints, indentations, vehicular damage or uneven surfaces may develop. However, whether inside or outside the gallery rope line, relief without penalty is NOT allowed for interference by any of these alterations to the surface of the ground, whether or not smoothed."
While these are the same guidelines that were in play in the previous PGAs at Whistling Straits, this is a departure from the 2021 PGA Championship, also run by the PGA of America and also played at a Pete Dye design (the Ocean Course at Kiawah), where all sandy areas were played as waste areas, allowing players to ground their clubs. The Ryder Cup note ends by imploring players to consult a referee should there be any question.
At the 2010 PGA at Whistling Straits, on the 72nd hole of the tournament, Johnson played his second shot from such an area that had been trampled through by spectators. Before hitting the ball, he grounded his club. He thought he made a par on the hole, which would have gotten him into a playoff with Kaymer and Bubba Watson, but then was informed that by grounding the club, he actually committed a two-stroke penalty. That week all sand was defined as bunkers.