From the Magazine
The easy fix to help you handle bunker shots from awkward lies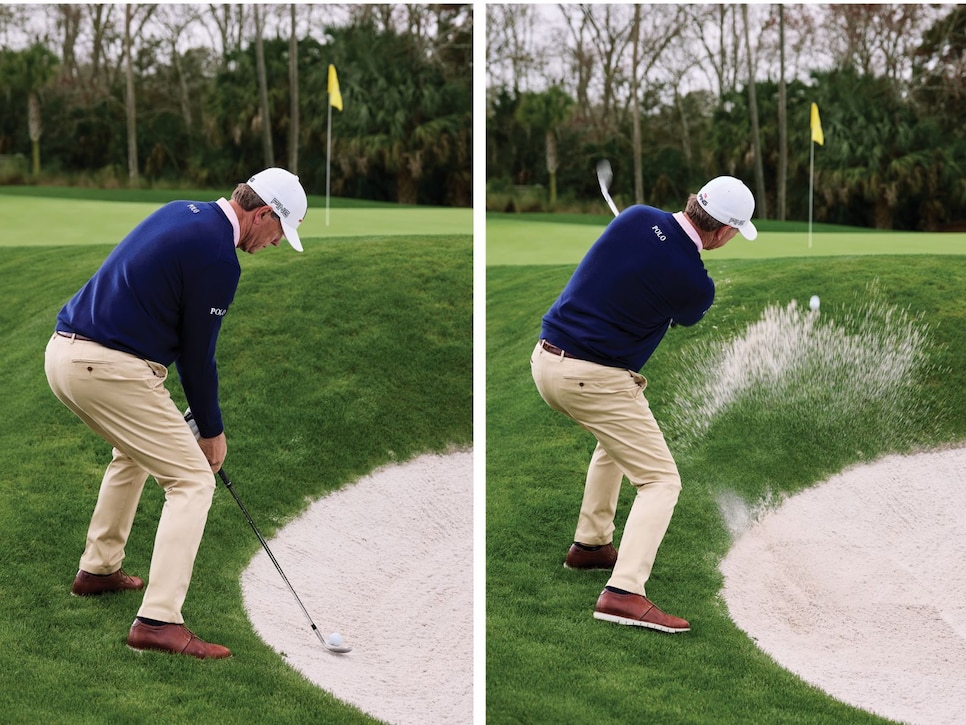 Photograph by Jensen Lawson
Like most Pete Dye courses, TPC Sawgrass has a lot of closely mowed areas and contours around the greens. Miss your approach shot in the wrong spot, and the ball might funnel into the inside edge of a bunker, leaving you with a very awkward sand shot like I have here.
How do you deal with this lie? First, adjust your stance to make sure you can enter the sand behind the ball just like a typical bunker shot. To do that, open your clubface slightly before taking your grip, and aim left of where you want the shot to go (above, left) because the ball will tend to shoot out to the right. Now this is important: Add some extra flex to your knees and bend forward from the hips until your chest feels like it's over the ball. This will position more weight over your toes, helping you maintain your posture and distance to the ball, which is crucial to making sure you don't hit this shot fat or thin. If you don't set up this way, you'll be forced to adjust your posture during the swing in the hope of saving the shot. That's really difficult to do.
With the right setup, all you have to do is keep both knees flexed while making a slightly steeper swing along your stance line (above, right). You'll be able to slide the clubhead through the sand and under the ball and blast it out somewhere on the green. Any putt for par is usually a good outcome from this lie. —With Dave Allen
TODD ANDERSON, a Golf Digest Teaching Professional, is the director of instruction for the PGA Tour Performance Center at TPC Sawgrass in Ponte Vedra Beach.