Courses
Giving Back To The Givers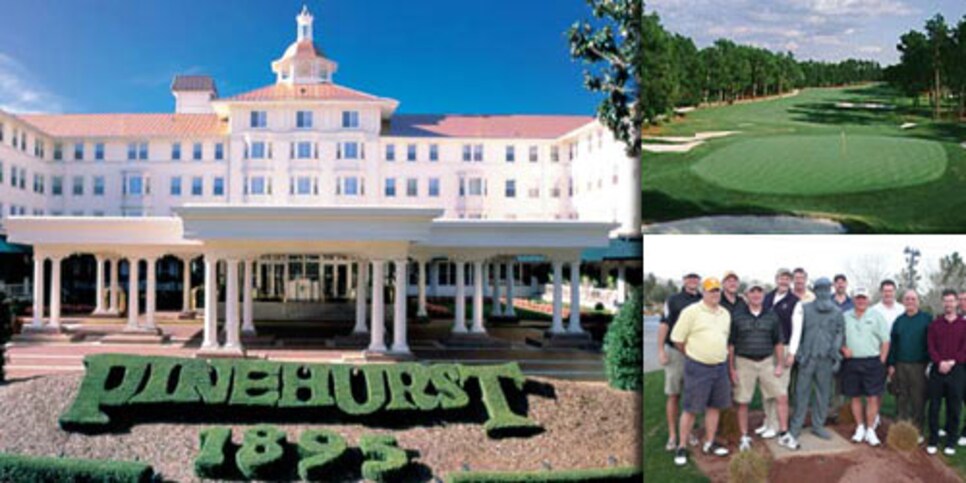 They're selfless, dedicated, creative, organized, tireless and they can be a little freaky when it comes to control. They're Type-A buddies-trip planners, and we take them for granted.
Golf Digest, with your help, is giving back to the givers. In 100 words or less, tell us why the buddy who plans your regular golf vacation is deserving of a three-day, all-expenses-paid pampering at Pinehurst this summer. (Yes, you can nominate yourself.)
We'll pick six winners from your essays and treat them to three rounds of golf, caddies, spa treatments, gift bags, drinks and meals at the storied resort -- an estimated value of over $3,000 per winner.
Pinehurst, with its historic lodging, its eight golf courses catering to all levels of ability, its multiple dining options and world-class spa, all covered by shuttle service or bike, makes it the ideal staging ground for this trip-planner celebration.
Golf Digest will fly the six winners to Pinehurst, where they'll stay for three nights (July 16-18) and play three different courses at the resort: No. 6, 4 and the U.S. Open venue, No. 2.
Senior Editors Pete Finch and Matt Ginella will interview all six planners in search of the common fabric of the perfect trip. For example, why do they go where they go? How many buddies is too many? Where do they go for nightlife (and for that matter, has anyone been arrested)? Golf Digest will publish the results in a future issue of the magazine.
Good luck. We'll see you at the Carolina.