Courses
Buddies in Ireland: Travel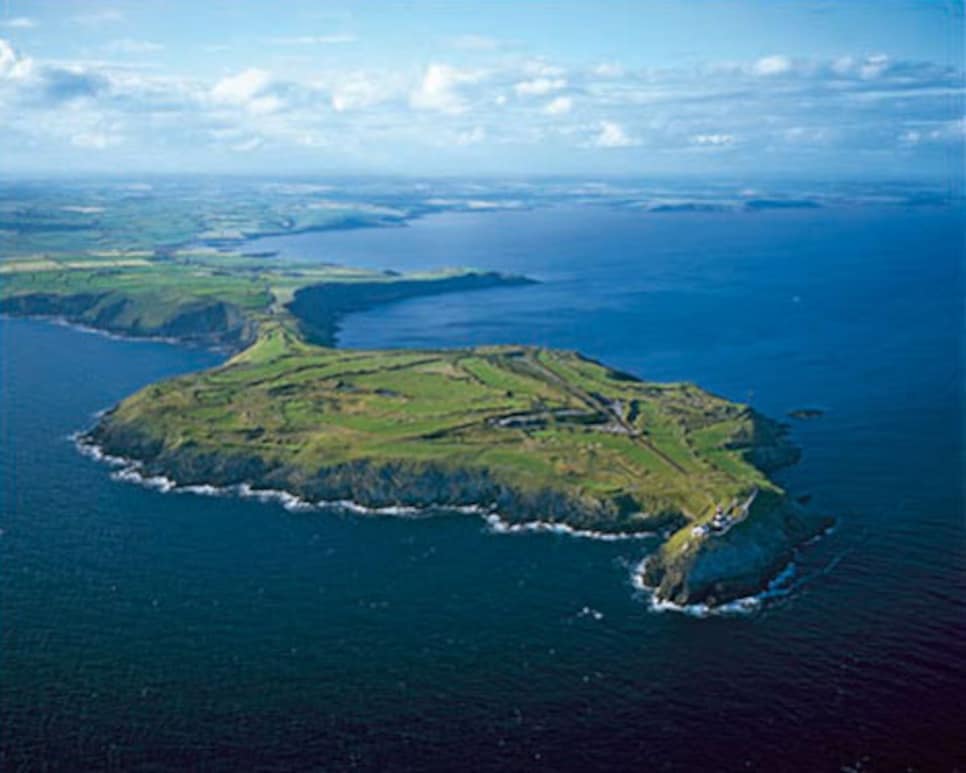 OLD HEAD: It's easy to figure out how the course off the southern coast got its name.
The Ryder Cup has put Ireland on display. Now it's your turn. Perhaps you've always wanted to play the great links, lose yourself in the moody, ever-changing landscape, and drink Guinness with the locals in a real Irish pub (now thankfully smoke-free). Perhaps you are one of the roughly 40 million Americans who have some Irish blood, and you'd love to visit the land of your ancestors. Perhaps you've heard that Ireland's economic boom of the 1990s means that itinerant golfers can now get wireless broadband, decent coffee and great food. Perhaps you're attracted by the pace of life, the friendly people, the great "craic." Whatever the reason, go you must. Because it is in Ireland that we seem to become who we were meant to be. How do you go about planning your trip? Follow these steps.
1. Who is on the team? Is this a trip with your regular golf buddies, or would you rather fly solo? (The three stories in this section feature a foursome, a twosome and a onesome.) Are spouses coming too? Each kind of group comes with pluses and minuses. Traveling alone is easy, you can please yourself, and you'll meet many more people, but it appeals only to a certain kind of adventuresome spirit. Big groups—ideally divisible by four—offer great camaraderie but are hard to organize. The inclusion of spouses will likely impose different parameters on the trip. How to decide? Close your eyes, imagine you're at the airport waiting to leave, and see who shows up.
2. How long to go for? The longer the better. With pressures of work, family and money, it might be hard to do more than a week. But it would certainly be a shame to go all that way for less than a week. So a week it is.
3. When to go? You're looking for an Ireland that's going to be fairly warm (May to September), not too wet (it will surely rain, but March to July is the driest period), and not too busy (not July and August). You could arrange your trip to coincide with one of many of Ireland's festivals, fairs and "fleadhs," like the Kinsale Gourmet Festival, the Lisdoonvarna Matchmaking Festival or Puck Fair in Kerry, where a goat is crowned king. But you're going for the golf, no? So let's say the first week in June. Pick the date now—once it's on the calendar it can't be dislodged. Get commitments from the rest of your party—anyone on the fence should be kicked off.
4. Where to go? Three main golf destinations are featured here: Kerry and the Southwest, the Dublin area, and the North. There are, of course, others, like the as-yet undiscovered (at least by Americans) rich golf coastline of Donegal, Sligo and Mayo. Do you want to base yourself in one place (such as Killarney, Dublin or Portrush) or make it a marathon road trip, staying at a different place every night (like the Golf Digest trail from Lahinch to Old Head)? We suggest picking one or two bases for the week, especially if you have nongolfers in your group. Three nights in each place will allow you to get to know the hotel/BB concierge or owner, the local pub, the town and the golf courses—repeated return trips to a favorite layout can be much more satisfying than mindlessly checking off as many courses as you can. Play a mixture of famous, high-ticket courses and lesser-known local favorites. Leave time for that unscheduled nap, trip to a ruin or speedy evening round on an unheralded gem that the barman tells you about.
5. How to book? There are plenty of specialist golf-tour operators to do all the work--they can often secure tee times and hotel rates that you can't. Several can be found on the Tourism Ireland website (discoverireland.com), but there are many others. It's worth spending time poking around online and seeing what's available—generally a week's golf in Ireland will cost about $2,000 to $3,000 per person, not including flights. Alternatively, you can book the whole trip yourself. Call the golf courses directly, make tee-time reservations and ask for accommodation suggestions. It might work out cheaper; it might not. Regardless of how you book it, we recommend a self-drive trip—don't get one of those embarrassing, overpriced, chauffeur-driven rock-star buses that clog up the narrow lanes. You'll have much more freedom and serendipitous adventure if you drive yourself (though an exception may be made if you're staying in downtown Dublin). Make sure you get enough vehicles—two people with clubs and luggage per midsize car is the max—and buy the insurance. The roads are small and wiggly, but they're part of the charm, and they're not crowded—indeed, the population of the whole of Ireland is far less than that of New York City, and still much less than it was before the Potato Famine of 1845-'49.
6. How to prepare? Once you've chosen your group, your dates, your type of trip, and booked it, you can do some winter reading. There are plenty of books to choose from—two lavish new additions to the canon, both filled with photography, are Where Golf is Great, by James Finegan (Artisan), and Legendary Golf Links of Ireland, by John de St. Jorre (Edgeworth Editions). Do some restaurant research—check online, e-mail your tour operator, call your hotels. Make a couple of reservations, too (a lot of places get busy in high season, especially on Thursday, Friday and Saturday nights; in smaller towns, many restaurants close early). Above all, spend the winter and spring getting into shape and working on your golf game. Develop a reliable knockdown shot. How much you enjoy your trip will depend far more on how well you play than on any other factor. If you're playing great golf, you simply will not care about the lousy hotel/weather/food/company.
7. What to bring? We're not going to tell you how to pack your bags, but here are some essentials: Lots of layers, especially T-shirts and long-sleeve shirts. Two sweaters. A really good rainsuit. Two pairs of golf shoes, with one being of the lightweight, comfy, sneaker-type variety. Plenty of socks, including thin, nylon ones to wear underneath (to prevent blisters) and thicker, SmartWool ski socks. Two pairs of rain gloves. The wetter it gets, the better they grip. Also good for cleaning glasses. A woolly hat—keeps you warm and stops your golf cap from blowing away. A good, solid umbrella, preferably the kind with a vent that lets the wind pass through. And two golf towels. Golf balls from home. The Pro V1s at some of the better Irish courses can be close to the equivalent of $20 a sleeve. Energy bars. You won't find many halfway houses or beverage carts in Ireland. ThermaCare HeatWraps. Strap one on first thing in the morning—your back will feel like it's in a hot bath, all day long. Advil. And Moleskin, band-aids and liquid bandage products such as New-Skin for your feet. Some euros to get you started (current exchange rate: $1 is about °Ë0.79), but don't go crazy, and don't bother with travelers' checks--there are ATMs in every town. Some people alert their credit-card company before a big trip to avoid the risk of their card being deactivated because of "unusual activity." Tipping: 10 percent in a restaurant is fine; for caddies, tip as you would at home. Your cell phone, for emergencies (if it will work in Ireland—check with your service provider). Or rent one at the airport. The tiniest alarm clock you can find (many sports watches have good alarms), to avoid the misery of missing a tee time because of a wake-up call that never came. A camera. The latest digital cameras are incredibly small, light and powerful. Assign one person in the group to be the official photographer for the week. Take pictures of people, up close and personal. A good book. One is plenty.
8. Last words afore ye go. Make the most of your trip. Talk to the locals. Enjoy yourself. Relax. Forget about your medal scores (you can't turn them in anyway), and instead make a match of it. Whatever happens, you'll hit some fine shots to remember, in a beautiful setting, on the trip of a lifetime, with friends.