Courses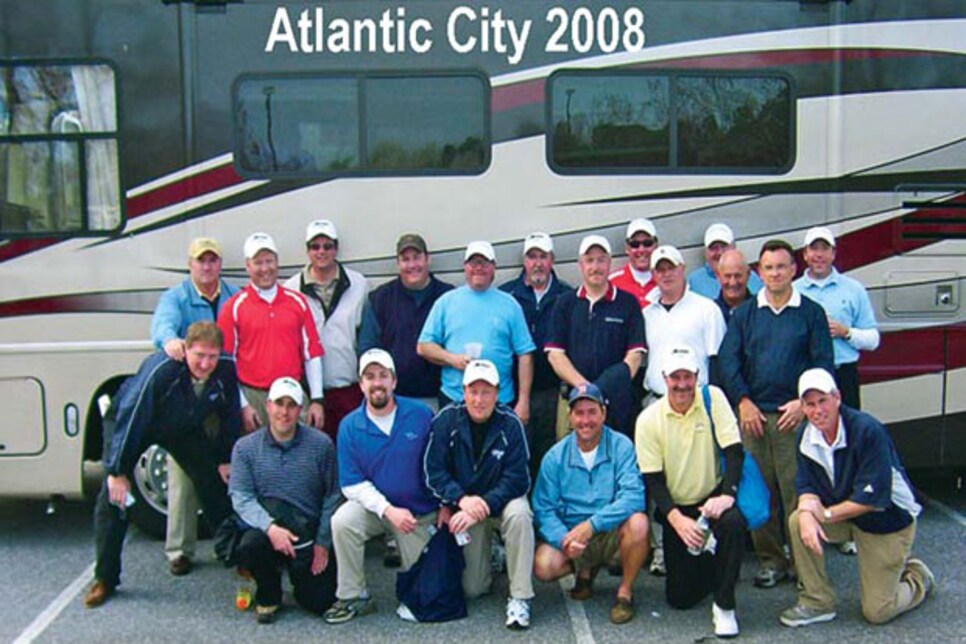 Seventh Atlantic City Classic
WHERE THEY'RE FROM: Vermont
MARCH MADNESS: Vermont to Atlantic City is a 6½-hour drive. The group takes cars and rents a van for the golf clubs and 30 cases of beer. "We play golf and gamble on college basketball," says Bruno (Zig Zag) LaCroix.
LODGING: Tropicana Casino & Resort.
TIPS ON RESTAURANTS: Diamond Jim's, P.F. Chang's, Carmine's and A Dam Good Sports Bar at the Tropicana. "It's good food, and they serve 40-ounce beers for $5," LaCroix says.
COURSES:"We've benefited from private courses opening up to the public," he says. "This year was the first time we played Atlantic City Country Club." LaCroix also recommends Ballamor and Stone Harbor. "Bring at least 14 balls in your bag for Stone Harbor," he says. "There are island fairways and island greens."
FORMAT: Team Budweiser vs. Team Bud Light in four days of Ryder Cup matches.
__MOST VALUABLE GOLFER:__Alain Gaudreault. "Big Al is in his 70s," LaCroix says, "but he's the last one to bed and the first one up in the morning. He's our inspiration."
THE DEAL: $739.93 per player includes four nights of lodging, four rounds, cigars, rental van, liquor, mixers and one day of lunch.
18th Canadian Lakes Golf Trip
WHERE THEY'RE FROM: Detroit. "Mid-Michigan is only three hours away and offers some of the best golf in the state," says Troy Feldpausch.
LODGING: "Through the website [lakesrentals.com], it's very easy to find a house that will comfortably accommodate our group of 12 to 16 for less than $200 a night," he says.
COURSES: The group stops halfway and plays The Emerald in St. Johns. "It's the perfect way to kick off the weekend," Feldpausch says. Last year the group played Bucks Run in Mount Pleasant. "The pro was willing to work with us on the rate, and that goes a long way." The next day was at Pilgrim's Run. "The pro offered us a buy-one-get-one-free deal," Feldpausch says. "We paid $65 a guy for 36 holes and a cart. As a show of thanks, several of us purchased shirts, hats, ate lunch and drank lots of beer." The next day they played The Royal at Canadian Lakes ($47) and then The Highlands ($30). "The best nine-hole course I've ever played," he says. They used to play Tullymore & St. Ives, but "they have priced us out."
THE DEAL: $460 a man includes three nights of lodging, 108 holes of golf, food, liquor, wagering and gas.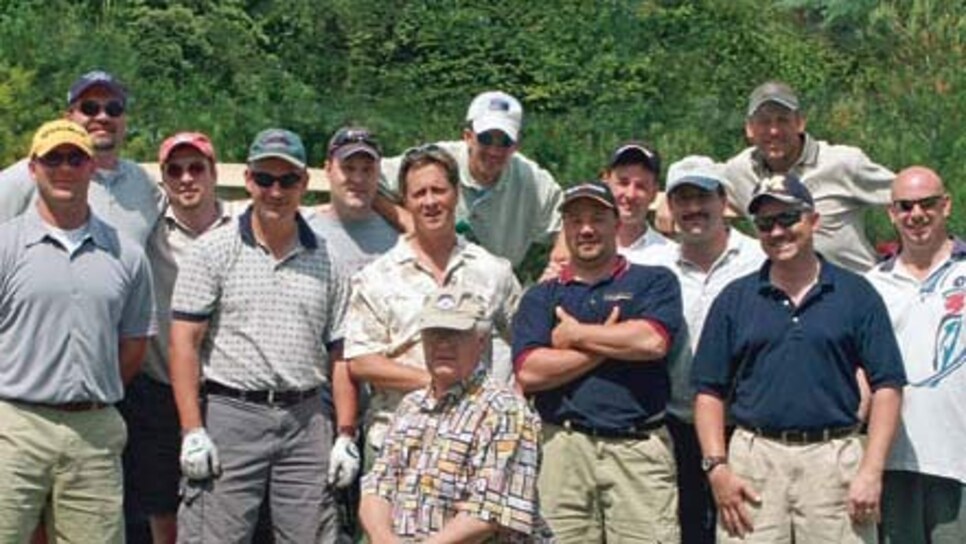 Sixth LTFC (Long-Time Friends Cup)
WHERE THEY'RE FROM: San Jose, Calif. "Most of us have known each other for 30 years," says Bjorn Isachsen.
PURPOSE OF TRIP: According to page three of the 14-page LTFC handbook: "nurture and promote lasting friendships."
WHERE THEY PLAYED NEAR WINTER PARK, COLO: Pole Creek, Grand Elk and Fossil Trace. "They were all four stars or above and less than $100," Isachsen says.
FORMAT: Low net for three rounds. Modified handicaps A combination of official handicaps and two previous years' results.
KEEPING IT CLOSE: After the first round, a player can buy himself within five shots of the lead for $3 a stroke; within three shots of the lead at $5 a stroke. The cost goes up to $5 and $10 a stroke, respectively, after the second round. "We've had guys decide not to buy back in," Isachsen says. "They get a lot of grief." Winner receives a trophy, about $400 and coordination responsibilities for the next year.
THE DEAL: The $1,500 a man includes transportation, lodging (two townhomes for three nights at Sawmill Station), four rounds, food, drinks and $50 tournament buy-in.