Courses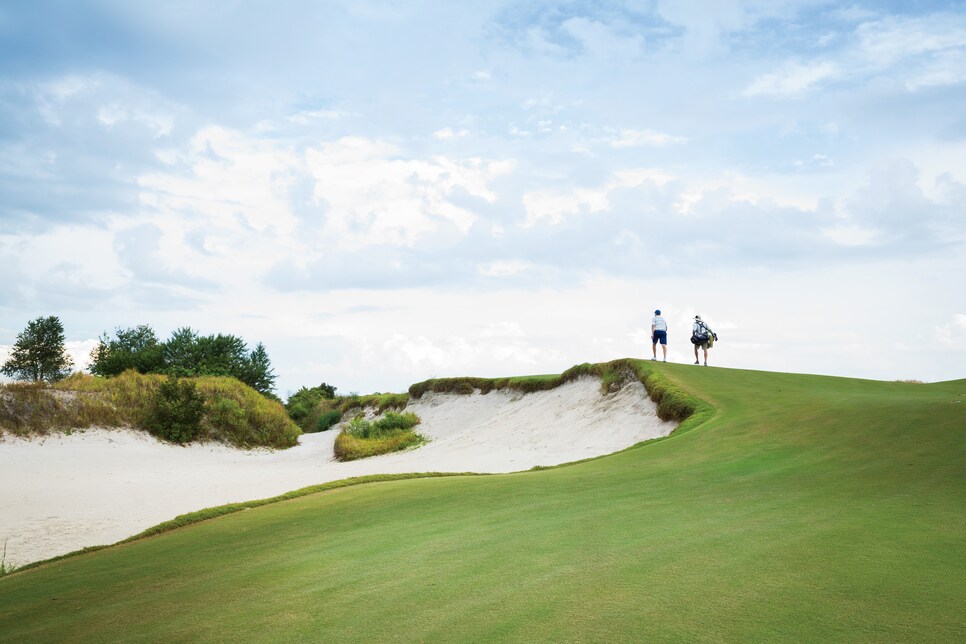 My caddie and I studied the ground as we walked. "There's one," he said, pointing to the edge of the footpath. I stared at the gravel for a long time but still didn't see it. When I'd given up, he bent down and handed me a nickel-gray shark's tooth the size of a jumbo candy corn. I was playing golf, not hunting for fossils, but the tooth was germane. The terrain we were walking on was once ocean floor. Sand and silt and dead things piled up for eons, forming thick deposits not just of ancient predator parts but also of phosphate rock. The deposits were mined for many years, beginning in the late 1800s—phosphate is an ingredient of fertilizer—but eventually the lodes were exhausted. The mining company has now turned part of the property into a golf resort. If you hang around with golf nuts, you've heard its name: Streamsong. It's a little over an hour southeast of the Tampa airport, but if you woke up tomorrow in one of the bunkers you wouldn't guess the state. "It doesn't look like Florida," said my caddie, Jack Thomas, and he was right. "It looks like Ireland," he continued—not quite right, but close.
There are two courses at Streamsong: the Red, which was designed mainly by Bill Coore and Ben Crenshaw, and the Blue, which was designed mainly by Tom Doak—three men who are largely responsible for the revival of minimally interventionist golf architecture. (Coore and Crenshaw created Sand Hills, in Nebraska, and de-modernized Pinehurst No. 2 for the 2014 U.S. Open; Doak's masterpiece, so far, is Pacific Dunes.) Coore wasn't interested when he was first approached— "The last thing Florida needs is another golf course"—but was finally persuaded to look. He was given a tour of the property, including a high vantage point on what's now the eighth hole of the Blue. Phosphate is mined by gouging enormous trenches with draglines, and the sandy "spoils" are heaped in piles that resemble dunes. The trenches eventually fill with water, and native grasses grow over the spoils. The ruined landscape, if you're of a certain frame of mind, looks like fescue-covered linksland, but with lakes. Coore had never seen anything like it. He called Crenshaw and said, "Ben, we're going to Florida."
Hey, me too! When the first frost hit Connecticut, and my wife began reminding me that there were still screens in all our windows, I knew it was time to head south. I also knew where I wanted to go, because Streamsong's two courses had just turned up at No. 1 (Red) and No. 3 (Blue) in Golf Digest's first ranking of Florida's 75 Best Public Courses, making it an ideal destination for an offseason buddies trip disguised as a work assignment. Very early one morning in late October, I flew to Tampa with three other Golf Digest staffers: Luke Kerr-Dineen, Ashley Mayo and Alex Myers.
They are 25, 29 and 32, respectively, making them close contemporaries of my children, and making me, therefore, the group fossil. But I held my own, to some extent. At dinner one night, I taught them how to use a camera to follow the World Series from our table, by taking zoomed pictures of the TV above the bar, at the other end of the restaurant—which was too far away for even them to see—and enlarging the images until even I could read the score in the lower left-hand corner of the screen. On the golf courses, though, they were in charge. All three have handicaps at the scary end of the scale. Mayo played on the women's golf team at the University of Virginia, and Kerr-Dineen and Myers hit all their clubs roughly twice as far as I hit mine. But they let me tag along.
The Streamsong golf courses are the product of a unique collaboration: The routing of the 36 holes was devised by the three designers working together. (The courses are named as they are because Coore and Crenshaw annotated the drawings in red ink, and Doak used blue.) Each team then took charge of one 18, although they swapped ideas and even real estate as the courses took shape. A couple of holes on the Red are mostly the work of Doak, and a couple on the Blue are mostly the work of Coore and Crenshaw—but no one will say which. The architectural pedigree, the scale of the property (roughly 16,000 acres) and its relative isolation (more than 15 miles from the nearest town) have led some golfers to describe Streamsong as Bandon Dunes Southeast. There are as many differences as similarities, but the comparison puts you in the right department. "The ground at Streamsong has a feeling of being alive," Crenshaw told me recently. "It's not flat, but it's not steep: It's moving."
Ashley, Luke, Alex and I played the Red course the afternoon we arrived. You hit your opening shot from an elevated tee to a fairway that seems too wide to miss, and your second uphill toward a green that seems too far to reach. Off to the left is a sandy wasteland the size of North Dakota; to the right, a semi-vertical fairway bunker that looks like a portal to another world. The hole is a par 4 on the card, but I told myself to think of it as a par 5, then as a par 6. The second is a par 5 that can play shorter, unless you ignore your caddie and the rational parts of your brain and try to cut off too much of the water in front of the tee and to the right. The view from the 14th made me think of Royal County Down—and not for the first or last time. The fairways are huge, but perils lurk everywhere. We played the Red again the next morning, and on the 15th tee one of the caddies said, "Stay right of that bunker. If you go into it, you'll be late for your afternoon tee time."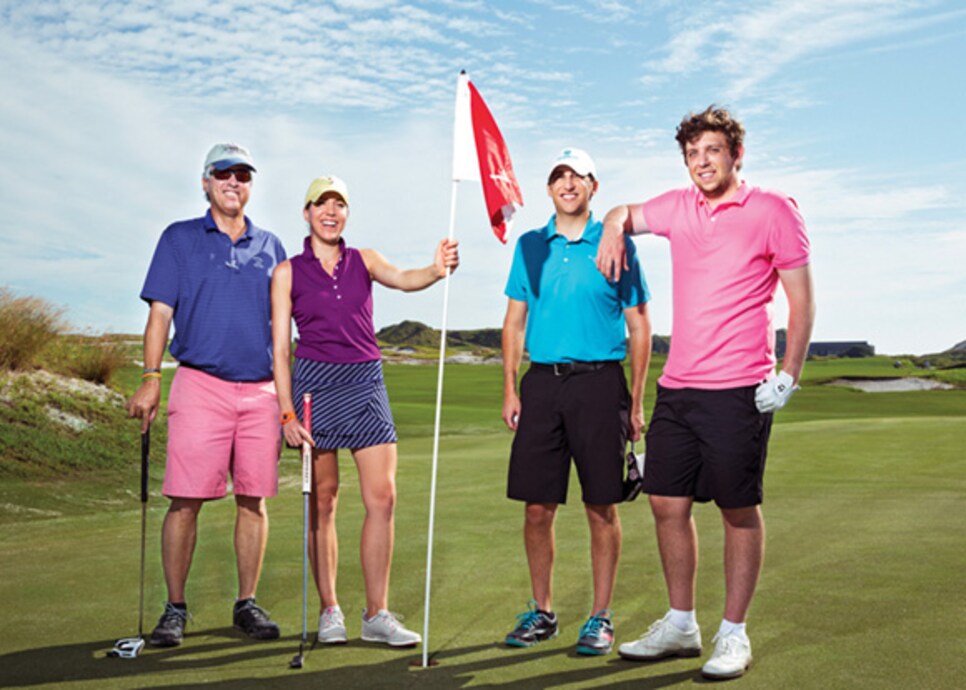 The Blue course, which we played for the first time on our second afternoon, begins with what might be the most seductive shot on either course. The tee is at the summit of the tallest spoils pile on the property, and, once you've recovered from the ascent, the prospect smooths your swing and bends even a stubborn leak into a draw. I lost sight of my ball, then realized I wasn't looking close enough to the green. The fifth is a short par 3 that might haunt your dreams if you faced it every day. The hole as we played it was just a pitching wedge, even for me, but the distance from the front of the green to the back was almost as great as the distance from the front of the green to the tee—and the whole thing runs downhill and sideways. A vertiginous drop-off in the 18th fairway adds 50 yards to any drive that makes it over the ridge at the horizon; if you come up short, as I did, you have a semi-impossible second shot but a spectacular view of the setting sun, as reflected by the clubhouse windows. The Blue finished behind the Red in Golf Digest's new ranking of Florida public courses, but in our foursome we went back and forth, and our comparative assessments at any moment were influenced by wind, fatigue and success or failure at reading putts. Luckily, the exercise was as pointless as picking a favorite at Bandon Dunes: Just play everything!
Coore and Crenshaw designed the range, which I skipped because I have a theory about practicing; Doak designed the bye hole—an extra par 3, for breaking ties—which is near the clubhouse. We played it twice. The first time, we came away with $50 worth of Pro V1s, which some previous group had hit but not bothered to retrieve. (Every golf course should have a bye hole; Alister MacKenzie drew one up for Augusta National, but it was never built.) Everywhere we went, we encountered wildlife worthy of the National Geographic Channel: The vastness of the property and its isolation from populated places make it feel like a nature preserve. We played through cormorants, great blue herons, water moccasins and basking plus-size alligators, and a couple of times I heard belly-flop-like splashes in the reeds at my back as I was getting ready to swing. A shuttle driver told me that a Canadian visitor earlier this year had expressed concern about the "baby rhinoceroses" on one of the courses: Where was their mother? It turned out that what she had seen were armadillos.
When Streamsong opened, in December 2012, the only guest building was the clubhouse. It contains a golf shop, a restaurant and bar, a large conference and reception space, and, upstairs, 12 guest bedrooms, which can accommodate 16 golfers. There's also a second-floor lounge, called Albatross, which is intended mainly for the people staying in the guest rooms. It's furnished with leather chairs, a pool table, a poker table and putting holes cut into the floor. A year ago, the resort added a full-scale hotel. It has bedrooms for more than 200 visitors, plus three additional restaurants, a spa and an infinity-edge swimming pool that only looks alligator-accessible (from poolside, it appears to be continuous with a lake beyond it).
Alex, Ashley, Luke and I stayed in the hotel. My only complaint about my room—which was the size of a suite and had two big TVs, mounted back to back—is that it was unnecessarily awesome. If you've spent all day playing golf, and are planning to do the same thing tomorrow, all you really need is a shower, a bed and uncomplicated access to food, alcohol and non-steroidal anti-inflammatory drugs. My accommodations, from that point of view, struck me as overkill. There were parts of my room that I didn't have time to visit, and the restaurants were so good they were almost a burden: At some point, 2½-hour meals at $100 a head begin to affect your swing. The building itself has the sort of neo-brutalist look that wins awards from architects but makes me think of airports and industrial parks, and there are no pool tables, putting holes or golf-course views. The hotel is also exasperatingly far from the bag drop: a little over two miles, over a route served by too few shuttles. When we saw the Albatross room, we all wished we'd been billeted in the clubhouse. (Golfers who stay there sometimes don't leave, except to play golf.) To my way of thinking, the perfect accompaniment to a pair of brilliantly minimalist golf courses would be a brilliantly minimalist golf lodge—a golfastery.
Nevertheless, most of the hotel features that I either didn't like or didn't care about, including the fancy restaurants and the spa, are there for a reason: Streamsong is aimed at a larger demographic than the one I belong to, which is golf-obsessed middle-age males. The name Streamsong was chosen to emphasize the uniqueness of the courses (no "Dunes" or "Oaks" or "Crossing" or "Links") but also because it didn't sound excessively masculine. And the strategy has been successful. Most of the golfers on the grounds were men, as you would expect, but we saw quite a few who were traveling with wives or girlfriends, or vice versa, and at dinner the second night we sat next to 16 women on a buddies trip. Their ages ranged from 38 to 62, and their handicaps from scratch to 25, and they were playing 36 a day in a Ryder Cup format, and as soon as they finished sharing their desserts they went off to play cards. Their leader—a teaching pro—told me that she was on the verge of murdering several of them, but that happens on men's trips, too.
Given the obvious interest in making women feel welcome, there are a few odd oversights. Ashley is too long to play from the forward tees—5,200 yards on the Red, 5,500 on the Blue—and so is Megan Godfrey, a former member of the golf team at the University of Illinois, who joined us, as our fifth, for a round on the Blue. (She works for the company that manages the resort.) But on the scorecard only the forward tees had been rated for women, and even that was confusing, because the numbers hadn't been labeled that way. The director of golf told me that all four sets of tees on each course had actually been rated for men and women—something every course should do—but that not everything had been added to the card. It should be, and not just for women. I played, with Ashley, from one set back (6,100 on the Red, 6,300 on the Blue), but as soon as I've got a few more grandchildren I will want to move up. Streamsong should also create and rate some hybrid sequences. Ashley and I played from farther back on a few holes, where the longer shot seemed irresistibly cool.
One group that Streamsong accommodates beautifully is golfers who have planes to catch. The sixth green on each course is close to the clubhouse, and if you have an inconvenient departure time you can play six holes on either one, or six holes on each, using a two-sided, twelve-hole scorecard created for just that purpose. And, if you have time to squeeze in a couple of holes beyond that, someone will come out in a cart to fetch you when you absolutely have to go.
Shortly before our visit, we were told, executives from the company that owns Streamsong had met there to discuss its future. When the resort opened, no one knew for certain if Florida golfers would be interested in playing courses that had virtually nothing in common with other Florida courses, or that golfers from other places would be willing to spend vacation time in one of the emptiest, most economically depressed parts of the state, even to play something unique. The success of Bandon Dunes has raised the hopes of many would-be golf-course builders who own property in unlikely spots, but Florida is still a state where old-course bankruptcies are far more common than new-course triumphs.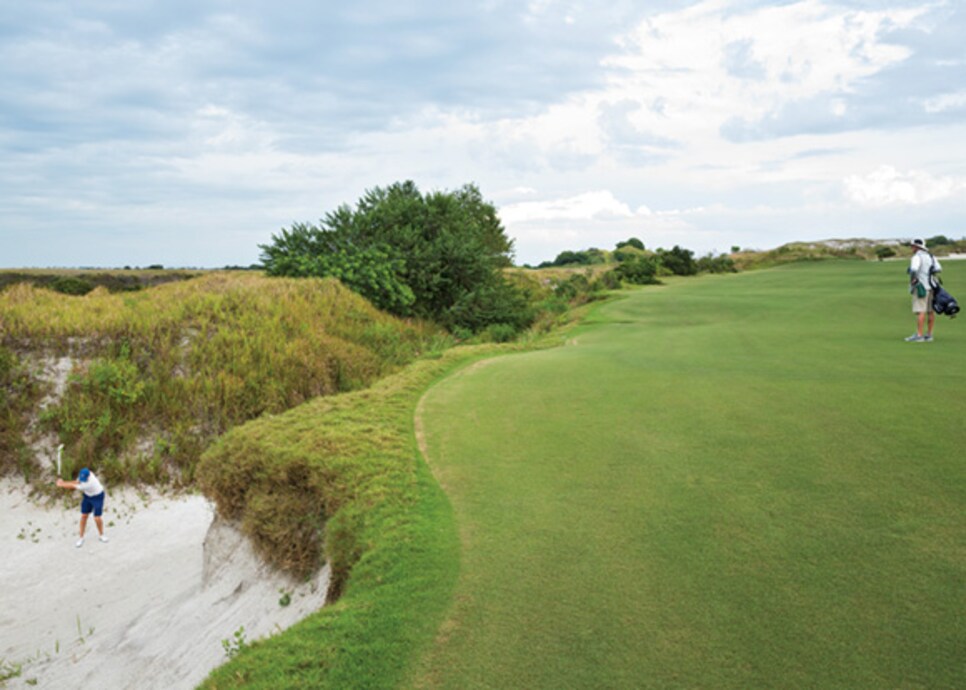 Yet Streamsong has been successful since it opened. It attracts golfers at the rate of about 50,000 rounds a year, and the summer months—which in central Florida are hot, humid and lightning-plagued—have been almost as busy as the peak season, which runs roughly from January till the Masters. (Florida residents pay deeply discounted greens fees during the disgusting months.) The obvious question, with 16,000 acres available, is whether two courses are enough. No one in a position of responsibility would tell us anything definite, or even wink meaningfully, but it seems obvious that the next step will be to add at least 18 more holes.
I asked Bill Coore whether he had noticed any other likely course sites during his time on the property. He said he had, and that discussions about more courses had focused on one area in particular. "It lies to the south of the Red course and across a wetland area, and it's excellent," he told me. "It's rolling sand, rather than big dunes and lakes, and it's actually in an area that has been reclaimed from the mining operation. From a distance, it's going to look a bit bland, because it doesn't have the giant dune ridges, and yet when you get on it you see that it twists and turns and rolls. And there are other areas, too, including some recently mined ones. Those would need a lot of earthwork to fit the holes in, but they could be extremely dramatic, in terms of the landforms. It depends on who does the courses. Someone else in our business might look at it and say, 'I'd rather be in that.' " Well said. Let's have both. When do we start?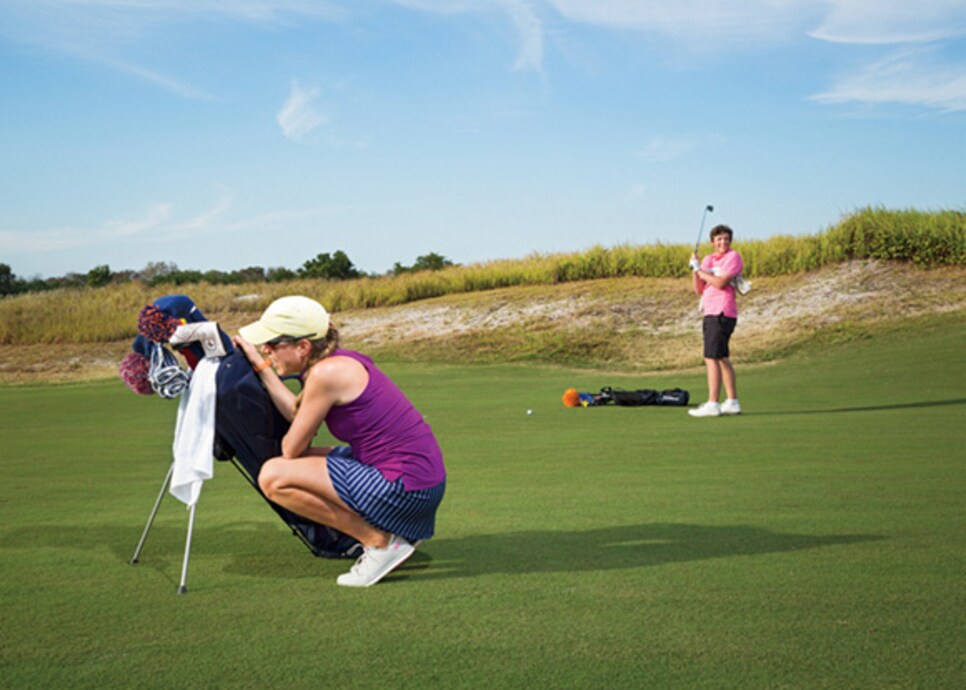 GOING OFF-COURSE & LOVING IT
__→ __Golf from sunup until sundown on consecutive days can exhaust even the fittest players, especially at a resort like Streamsong, where the heat rarely subsides and where walking is mandatory in the peak season.
__→ __On my third day, after walking the Red course in the morning, I ditched my buddies and rode about 15 minutes through rural farmland to a shooting-clays course. There are eight stations on the course, and you go from station to station trying to hit clay pigeons flung in the air from different angles and in different configurations. I'd never touched a shotgun before, but Recreation Manager Tyler Ramsdell was a helpful instructor, and I was able to blast some clay from the sky. The standard cost: $100 for 50 clays.
__→ __Later that afternoon, I walked the 1.7-mile nature trail—a deserted path that's well removed from the Red and Blue courses, looping around a lake on the north side of the Lodge. At dinner, I felt far more refreshed than I had the previous night, after having walked 36 holes.
__→ __The next morning, about two hours before our 9 a.m. tee time, Ramsdell and I went bass fishing. We walked to the lake just outside the lodge, and we hopped into a small boat. The fee: $80 per person per hour, two-hour minimum. By the time I met my crew on the first tee, I'd already caught (and released) a three-pound bass. They were jealous. —Ashley Mayo (pictured above)