Courses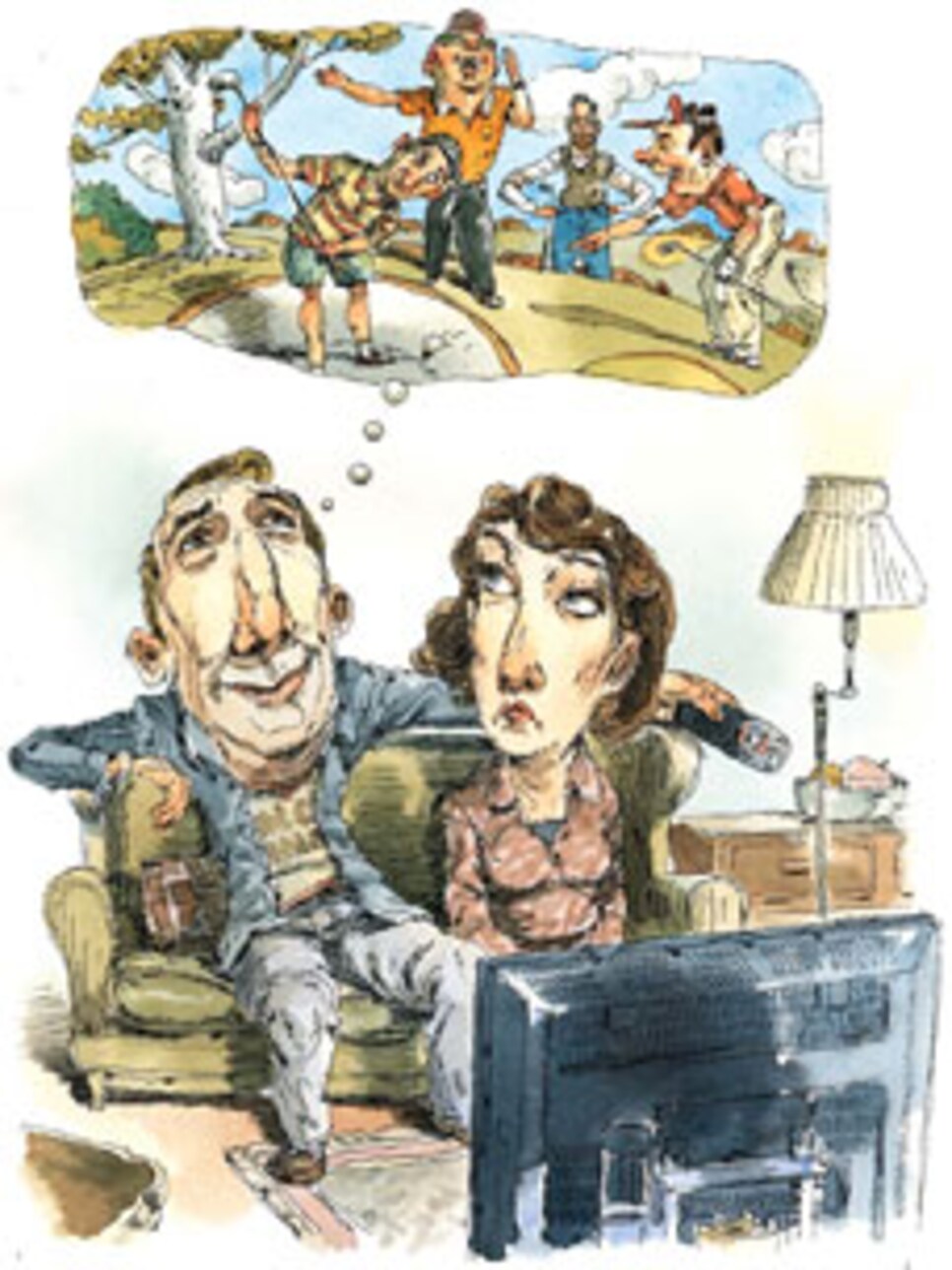 We've been going on our annual golf trip for about 15 years, and these days we cap out at 40 guys. At night we break into smaller groups for cards.
We used to play Guts. In this game, everybody gets two cards, and there's a "ghost hand" of two cards in the middle. You look at your cards, and then we count down -- "3, 2, 1" -- and if you're out, you drop your cards. If you stay in, you have to beat everyone else and the ghost hand. If you don't beat the ghost hand, you have to double the pot.
One year, when we were at the SpringLake Golf Resort in Florida, we had a $1 bet that just got crazy. It was nuts. The ghost hand kept winning, and the pot just grew and grew. In the end there were three guys. One lost $2,000, and one lost $2,500. A few of us went outside and parked our cars so the guys couldn't get away without settling their bets with the third guy. I saw a bead of sweat dropping down one guy's forehead as the game was wrapping up.
We're not the kind of group that has that much money just lying around, you know? So the guys had to negotiate some kind of payout. One guy had to wear a sticker with "IOU" on his forehead during lunch. The other guy agreed to do the winner's landscaping for him. We stopped playing Guts after that year. Now we play Texas Hold 'Em with a $30 buy-in.
IT'S NOT EASY WEARING GREEN
We have 16 guys every year, and we play 36 holes a day in Northern Michigan. We call it the Green Jacket Getaway -- one of the competitions is a two-man scramble, and the winners get a green jacket they can keep until the next year. They embroider their names on the back, next to the previous years' winners.
There are a lot of perks for winning the green jacket. The other guys treat you to dinner one night. You win some cash. And the next year, you get the best lodging. You also have to tee off wearing the coat in the opening ceremony at the next year's event.
That part isn't necessarily a perk. This year, defending champion Craig Coleman, who had won it a couple of times, got up there with everybody watching -- I mean, 15 guys all crowded around the tee -- and hit the ugliest shot anyone has ever seen. He almost whiffed. It went dead left, no more than 16 feet, and rolled down behind a little mound. We couldn't find it.
I'm not joking: Everyone was laughing so hard, it took five minutes before he could tee it up again.
A couple of years ago, my group was staying at Amelia Island Plantation, in a condo. We'd played Friday afternoon, and one of our guys, Marty Zimmerman, said he wasn't feeling that great, so he stayed back in the room. We played Saturday morning, and Marty said he still wasn't feeling so hot. We played golf that afternoon, but he didn't.
The next morning Marty was in obvious pain, so one of his roommates, Jon, called for an ambulance. It came right away, but Marty can be really stubborn. He kept saying, "I'm fine, I'm fine," but he was doubled over in pain. The crew finally convinced him and got him to the Amelia Island hospital. Sure enough, he'd had a heart attack. He needed immediate surgery. So they put him in a helicopter and flew him to Jacksonville for a bypass.
After all this had happened, Marty's other roommate, Paul, finally came wandering out of his room. "Hey," he said, "where's Marty and Jon?" He'd slept through the whole thing.
Marty's doing fine these days. He still comes on the trip. We used to call it The Machos because we're all former lifeguards. Now we call it The Marty Memorial.
--Don Quinn, Ormond Beach, Fla.
Our trip is the Perkasie Cup, named after the town in Pennsylvania where we all grew up. We play two teams, Ryder Cup format. A few years ago we went to Myrtle Beach, where an odd thing happened. We were at the Wild Wing Resort. Our first group hit the turn and went to the next hole, a par 3. As the guys pulled their carts to the tee, a raccoon came out of the woods and stared at them. One of our guys is Mr. Nature Guy. You know, instead of looking for ProV1s in the water hazard, he's the one who always notices the big turtle. Anyway, he was saying, "Oh, look, a raccoon ... "
When they got out of the cart, the raccoon jumped right in and started eating a hot dog and wouldn't budge. Finally one guy slammed his 7-iron against the bag on the back of the cart, and that scared off the raccoon. But once they drove away, it took after their cart and chased them. Guys were yelling, "The raccoon is chasing us! It's the Cujo of raccoons!"
This is when I pulled up to the 10th tee with the second group. We could see what was happening and were laughing like crazy. The raccoon stopped, turned around and ran straight back toward our cart. We jumped out and the animal hopped in, grabbing my peanut-butter cookies and running off. Now it was the first group's turn to laugh at us. That thing was scary. We were lucky no one ended up in the emergency room.
--Casey Chmielewski, Cape May, N.J.
A TRADITION (WITH A COST)
Our trip is called The McPherson Cup. It used to have another name, but now it's in honor of a friend who passed away last year. There are 16 of us. We've been going for eight or nine years, usually the weekend after Labor Day, when we get a good rate. We've been to Sea Island, Hilton Head, Daufuskie Island, Stonehenge in Tennessee, Old Waverly in Mississippi...
We're pretty serious about the competition, but we don't play for money. We have two teams -- Alabamans and Appalachians -- and we play for points.
We do have a tradition that can be pretty costly for one member of the group, though. On Friday night we have our big opening dinner, and we play a game called Credit Card Roulette. At the end of the meal, all 16 guys stand up, and each one tosses a credit card into a bucket. Then the waiter takes one out at a time and reads the name. The second-to-last name in the bucket pays the tip. The last guy out pays for everything else, usually in the neighborhood of $500. It's very funny.* You get some hilarious reactions as the names are called. --Allen Baker, Birmingham, Ala.
** THIS IS EASY FOR ME TO SAY, AS I, HAVE NOT YET LOST THE GAME.*
A WATER RESCUE ON THE 18TH HOLE
Everyone in our group belongs to the A-Z Investment Club in Fordyce, Ark. There are eight of us. Starting in 1996, we've been all over the U.S., from coast to coast and a lot of places in between.
On one trip a few years back, we played at the Las Vegas Paiute Resort. We play an individual net-score game every day during the trip. One of our guys, Bill Nutt, had never won. He approached the 18th hole on the final day with a commanding three-shot lead, but he pulled a Jean Van de Velde. He hit two balls into the water hazard, and somehow his club went in, too. I'm not saying he threw it in. It might have slipped. In any event, it was a new Cobra driver.
His partner, Allen Bedell, said something like, "You probably shouldn't have done that." Bill replied with an expletive.
As they stood there staring at the club, they were surprised to see the Cobra actually floated. Reflecting on the cost of the club, Bill decided to retrieve it, but the wind blew it farther from shore, out of reach.
When they finished the hole, Bill losing by one stroke to Dr. Jack Lyon, he went into the golf shop and offered the assistant pro some money to go get his club. The assistant said, "What kind of a Cobra driver is it? Is it an offset?" Bill said it was. The assistant laughed and said, "I'm not going in after an offset driver!"
We all sat down for lunch, and after a while Bill disappeared. He didn't say anything. He was just gone. And then we looked out and saw Bill standing outside, dripping wet, carrying his Cobra offset driver and a pair of soggy underwear. The whole place burst out laughing.
-- Steve Anthony, Fordyce, Ark.
'MAN, YOU'RE ON FIRE THIS YEAR'
The trip I go on has been around for 28 years, and I've been on 18 of them. There are 12 golfers. Most of us worked for Ford, though now we're spread out in retirement.
The guy who organizes our trip is Duane (Boomer) Bloomquist. He's at the center of most of the funny stories about our group. My favorite took place a few years ago in Michigan.
We had one grill outside our condo, but we needed another for our steaks. So a couple of guys and I went out to get another one. When we came back, there was this bonfire in our living room. It was huge! We could see guys in there running around like mad, throwing towels on it and stamping their feet.
It turns out, Duane didn't have any matches, so he lit a piece of paper on the stove and then tried to run across the condo and drop it into the grill. But he couldn't get all the way to the patio, and it was burning his hand, so he dropped it on the floor, and whoosh! That carpet was not flame-retardant.
After we ate, guys got down on the floor with knives, and they were able to scrape up most of the burn marks. It didn't look too bad. These were not luxury condos. I'll bet the next people in there didn't even notice. And you know what? The smell was pretty much gone by the time we left.
--Bob Knecht, Plymouth, Mich.
WAITING FOR THE CLAMPDOWN
Every November our group goes to the same place: Santee, S.C. It's not the most high-end destination, but the price is right. We stay five nights and play 27 holes a day. It'll come to $347 a man this year.
A few years ago, before there were condos, we stayed at a hotel right off I-95. This place had definitely seen better days. One of our guys, Dale Miller, kept complaining that his room smelled. So we dug around, and sure enough there was a dead rodent behind the nightstand. Well, this sends Dale over the edge. A dead rodent! In his room!
Later that night we went to a restaurant with a tank where you put in money and try to take out a live lobster with a mechanical claw. If you catch one, they will cook it up for you.
A couple of our guys decided they'd catch one and bring it back to the hotel. When we got back, the guys cut the rubber bands off the lobster's claws and hid it under Dale's pillow while he was getting ready for bed. Sure enough, when he climbed in and put his hands behind his head, the lobster clamped down on his finger.
He jumped out of bed and ran straight to the pool fence, screaming like a seventh-grade girl. On top of that, he was naked. People were laughing so hard they were practically throwing up.
-- Roger Schwarzkopf, Greenfield, Ind.
We're all from the Pittsburgh area originally. We go to Myrtle Beach and play golf all day, then have a few drinks and tell stories all night. The trip has been going on for 15 or 16 years.
About eight years ago, one of our guys had lost a sizable amount in the betting the day before and was looking for a way to make some of it back without a lot of risk. We were at the TPC Myrtle Beach, where we had just played the last three holes in a complete downpour. We set up on the porch, looking out over the course. Someone suggested that if the guy who lost the money swam across the pond to the 18th green, we'd all kick in some cash. He thought about it for about two seconds before saying yes.
He went down to the water with my brother-in-law, stripped to his underwear and started swimming. We were all watching from the porch when one of the waiters came by and asked if we knew there were two alligators in the pond. The cook said it was true, too. But our guy got across the pond all right, and we all had a laugh.
He ran up onto the 18th green and started dancing around with the flag, like he'd made a hole-in-one. We were taking pictures and laughing when an assistant pro came up and said, "What group is this again?" We told him. He said, "If you come back here again, you'd better book under a different name." We have, and we did!
Was the pro angry about the swimming? Not exactly. It was more like he was ... disgusted.
-- Fred Stout, McLean, Va.
THE TROUBLE WITH CELL PHONES
We drive down to Myrtle Beach from Maryland every year. Usually there are eight of us. One night a few years ago, we'd had a few drinks after the round, and at dinner we were talking about our county commissioners and wanted to know the answer to a question about one of them. One guy said his wife would know, so he called her, and she answered the question.
When he was done, he just put the phone down and said, "So what are we doing tonight, guys?" A few of us started chanting "Strip club, strip club!" We were all pretty happy, and we ended up at a place called the Pink Pony.
Unbeknown to us, the guy's wife was still on the phone! She listened in for about an hour and a half until the battery died. She heard everything.
The next morning, during breakfast, his wife called. "So, how was the strip club last night?" she asks. You should have seen his face. He says, "Um ... good?"
We have a rule, like in Vegas: "Everything that happens in Myrtle, stays in Myrtle." Now we've added, "And you have to hang up the phone."
*--Joe Galdieri, Huntingtown, Md. *