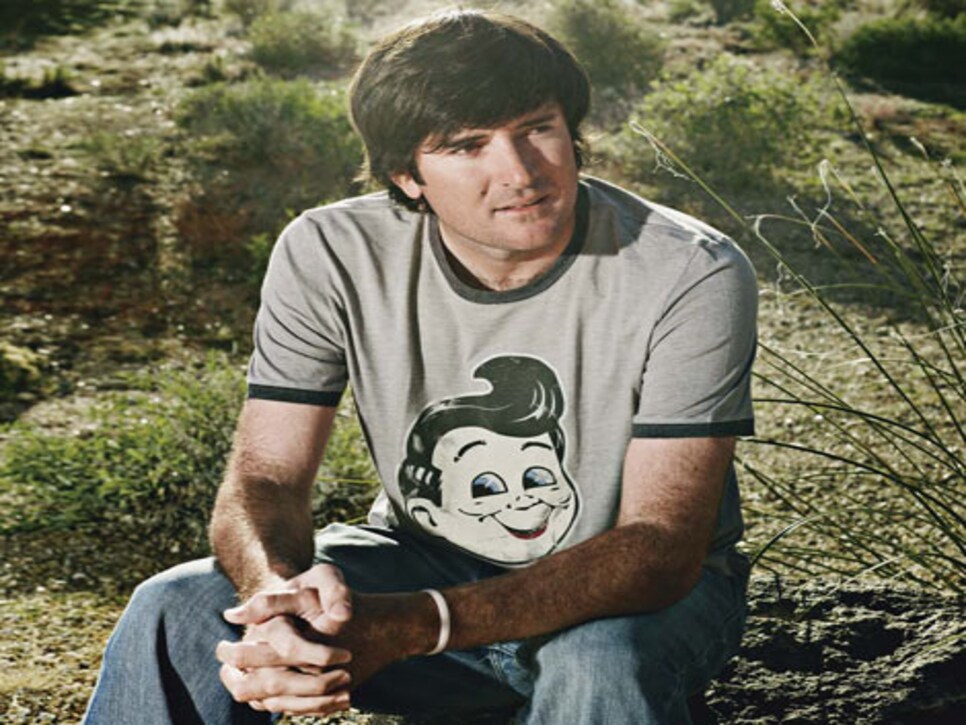 'Where's Bubba?,' asks Felix Tambellini. The 2-year-old son of Nationwide Tour player Roger Tambellini has just seen his mother, Alexa, greet Bubba Watson's wife, Angie, in the parking lot of the TPC Scottsdale, sparking hopes that one of his favorite life-size characters won't be far behind. When Watson, 6-feet-3 and 180 pounds, saunters up in a T-shirt and shorts, a splendid splinter with long hair spilling out from a floppy bucket hat, Felix lights up. "Hi, Bubba!" he says. "Hi, Bubba!"
"Hey, buddy," answers Watson, as if addressing a peer, shaking Felix's hand. Moments later, walking to the clubhouse for lunch, Watson says, "Kids love me. I think it's mostly just a chance for them to say the word Bubba."
Mostly, perhaps. But children have a sixth sense for a kindred spirit.
At 30, Bubba Watson remains the PGA Tour's best representative of the little boy within. The game he plays is essentially the same one he began honing as a 6-year-old curving plastic golf balls with a 9-iron in the windy Florida Panhandle. Watson has never had a coach, a trainer, a nutritionist or a sport psychologist, and he's proud of it (though he admits to leaning on his caddie a lot). He has never had a golf lesson and says there's only one person in the world -- Tiger Woods -- whose advice he'd accept about the game. "I like to learn in my own way, on my own," he says. "I'm just all natural feel."
At the same time, Watson commandeers the most audacious form of Big Boy golf ever seen. He has led the PGA Tour in driving distance for three straight years (and leads again this year, averaging more than 313 yards) after topping the Nationwide Tour in 2005 with an average of 334. But what sets Watson apart is that he uses his clubhead speed to dramatically shape shots more than any player since the inception in the late 1990s of the straighter-flying, multilayer ball.
Watson paints wondrous, improbable, rococo arcs in the sky, from 20-yard hooks with a sand wedge to 50-yard slices with a driver. He's in the tradition of classic, two-way shot carvers like Jimmy Demaret, Chi Chi Rodriguez and most recently Corey Pavin, who was thought to be the last of the breed. Woods, of course, likes to move the ball both ways and vary his trajectories, but as one who has been intrigued enough with Watson to allow him into his practice-round rotation, Tiger acknowledges that even his strokes aren't as radical or daring as Watson's. "It's fun to see a guy who hits the ball that far, but it's the shots he can play that are phenomenal," says Woods. "The lines and shapes Bubba takes, sometimes I can't see them myself until he hits them."
Watson swings with an individuality and majesty that belongs with other mind-blowing athletic motions, like Tim (The Freak) Lincecum's pitching delivery or sprinter Usain Bolt's stride. Watson's extreme extension is Nicklausian going back and Hoganesque going through. And as Bubba's arms drop from their skyscraping position into the slot, his lower body fires and rotates with an aggression that would be unsustainable in tournament golf without otherworldly eye-hand coordination. Sure, purists can point to an excess of movement, which undoubtedly contributes to Watson's problems with distance control and overall consistency, but for sheer sound and fury, it's the most exciting and interesting swing on tour.
"Bubba can swing the way he does because his whole process is out there -- where he wants the ball to go," says Sean Foley, a swing coach who works with several PGA Tour players, including Sean O'Hair and Hunter Mahan. "So many players, their process is in here -- all about some part of their swing. The freedom is lost because they don't even know where they're going."
Watson's genius is reflected in empirical data, namely, his freakish launch conditions. Using a 44½-inch driver with 6.5 degrees of loft, Watson generates a clubhead speed of 122 miles per hour (about 10 mph faster than the tour average), and his ball speed is 194 mph (exceeding the tour average by almost 30 mph). But where Watson is really off the charts is in his combination of launch angle (16 degrees; the tour average is about 12) and spin rate (an absurdly low 1,600 to 1,800 revolutions per minute; the tour average is 2,700). He is the epitome of the titanium era's mantra for maximum distance: high launch, low spin.
Greg Norman, by consensus the best long driver with balata and persimmon, sought out Watson to be his partner at the 2007 Shark Shootout, where they finished second. "Bubba's greatest strength is that he's got a beautiful ball flight with every club, from sand wedge to driver," says Norman. "That's what pure golf is all about."
There are numerous stories of Watson's shots: huge blasts (including a 422-yard bomb on the Nationwide Tour in 2004 that remains the longest ever recorded on that tour), driven greens, amazing escapes from trouble. On tight holes and in tight situations, his go-to shot is a physics-defying frozen rope of a low fade that Watson calls his "dink cut," even though it usually travels 300 yards. The anecdote that might say the most about his improvisational virtuosity occurred last year during the tour stop at Colonial. Playing with his wife and his caddie, Ted Scott, in the afternoon at nearby Vaquero, a big, challenging course where several tour players practice, Watson used only a 4-wood for every stroke, including putts, and shot 77 from the 7,000-yard-plus tips.
"Bubba's game is the topic of a lot of conversations out here," says Matt Rollins, a close friend and Ping's PGA Tour representative. "I don't know how many guys have come up to me in the last few years and said something like, 'Hey, I just played with your boy Bubba. Man, if he ever figures it out, we're all in trouble.' "
The problem is, Watson has a lot to figure out. Consistent with his propensity for extremes, he's perhaps the most distractible, impatient, mentally fragile player on the tour.
To start, the dawdling pace of tournament golf kills him. "Five hours of PGA Tour golf -- I mean, it's no fun," he said at the Quail Hollow Championship, where he tied for second. "My mind just wanders. I'm thinking about what shoes I'm going to buy ... man, I need to wash my car. I'm thinking about stuff that doesn't matter, because we're out there for so long." During casual rounds at home in Scottsdale, where he zips around in a cart and never takes a practice swing or checks a yardage, Watson says he can't remember the last time he didn't shoot in the 60s. "If we could play tournament rounds in three hours," says Scott, "he might win 10 times a year."
Watson's microphone-captured blowup at Steve Elkington during the second round of last year's New Orleans event came after Watson believed that Elkington had once again moved as he was preparing to hit. "You gonna stop walking, man? Damn," Watson said as he stepped away from a wedge shot. Then, trying to gather himself, he said to Scott, "I'll tell you what, man: Veterans can kiss my ass." After the round, Watson apologized profusely for his language, saying, "I'm not like Charles Barkley; I'd love to be a role model." Watson says that he and Elkington have since made peace, but referring to Elkington's reputation on tour for gamesmanship, adds: "After everybody heard what happened, at least 20 guys came up to me and shook my hand."
But such episodes underscore the biggest reason Watson has never won, not in three years on the Nationwide Tour, not in four years on the PGA Tour (he has three seconds on each tour). He perennially leads his peers in eagles, but he also makes more of the mistakes that lead to careless bogeys, as his poor ranking in three-putt avoidance indicates. Watson's volatile style and temperament cause him to have too many stretches like his two-under-par homeward nine during the second round of this year's Memorial: bogey, eagle, birdie, bogey, birdie, par, par, eagle, double bogey.
Like many who are preternaturally gifted, Watson can come off as self-assured bordering on cocky, reminiscent of a young Ted Williams, whom Watson resembles. An admirer of Payne Stewart, Watson wore knickers at junior golf tournaments, and he distinguishes himself on tour in part by embracing pink: The shaft on his driver, the graphics on his bag and clubs, his headcovers and even his spikes are all the color of Pepto-Bismol.
But beneath the bravado lurks insecurity. Watson, now ranked 75th in the world, talks openly about suffering from nerves, admitting at the 2007 U.S. Open at Oakmont that he was "feeling like throwing up the whole time." The first time he was in serious contention on the PGA Tour, with the lead on the 71st tee at the 2006 International, he hit a startling dead push into parts unknown, the lost ball ending his chances. Since then, his many forays while in the hunt have often been marred by late mistakes.
In an attempt to lessen the expectations, Watson sometimes affects a so-what? attitude. "I don't play golf for the limelight," he said at Quail Hollow. "I want to be in my little shell in my house playing video games." It wasn't convincing when he said it, and even less so when a few moments later he admitted, "I would love to be No. 1 in the world. I'm trying every day to be the best golfer who ever walked this planet. That's what I want to do."
Asked about the contradiction, Watson laughs and says, "Yeah, I've got issues."
He's anything but a cold tour automaton, that's for sure. He talks in bursts, his most common verbal tic a rapid "yeah-yeah-yeah" employed when most people would simply nod an "uh-huh." During a recent practice round at Muirfield Village, Watson continually called out, "Hey, Teddy, watch this," as he attempted to impress his caddie with an extreme short-game shot or a new way of picking up a ball and bouncing it with a lob wedge. On the ninth hole, Watson noticed a narrow finger of a lake tightly framed by trees next to the tee and decided that he could shape a shot that would go untouched until splashdown. He gave an elaborate description of what the ball was going to do (go under the first set of branches, then rise over a second set before fading into the open water). It was hard to imagine until he hit the ball and it behaved exactly as predicted.
Off the course, Watson is one Bubba who doesn't hunt, fish, smoke, chew or touch alcohol. He's heavily involved in charities, including funding the new playground at the Ronald McDonald House in Pensacola. Saying that "I just felt wrong" for urging kids to stay in school without having a college degree, Watson decided last year to return to the University of Georgia to complete the last class toward a degree in consumer economics. He calls finishing his 30-page paper -- on his experience founding an affordable line of golf clothing that is now defunct -- "the hardest thing I've ever done."
It's the sort of sustained and significant task encouraged by Watson's wife of five years, the former Angie Ball. An ex-college and professional basketball player, she has an inch on her husband in height and much more than that in the ability to calmly assess her next step and how to methodically achieve it. When shoulder injuries ended her basketball career in 2004, she took up golf, getting down to a 5-handicap and recently winning the women's club championship at Estancia in Scottsdale.
"Bubba is amazingly talented in almost everything he tries," Angie says. "I just try to help him direct his energy in a productive way." There's much restlessness to overcome. On a typical day on or off the tour, Watson might fill his spare time bouncing back and forth between playing video games like Call of Duty, watching his favorite parts of comedies like "Anchorman" and "Zoolander" or adding to his collection of more than 200 pairs of bright-colored athletic shoes. It's a life in search of constant stimulation.
When told that he sounds like he might have attention-deficit disorder (ADD), Watson says matter-of factly, "I'm sure I have it." To which Angie adds, "Oh, don't worry, you have it."
Turns out the condition is not uncommon among exceptional athletes and, perhaps, golfers in particular. Stewart, the golfer Watson most identified with, was acutely affected. "It's a lot of what used to be called the artistic temperament," says Dr. Richard Coop, the educational psychologist who worked with Stewart and says he has had eight golfers in 25 years who suffer from the condition. "In daily life, and even in regular golf tournaments, Payne was very impulsive and very distractible. But in high-stimulus situations, like the U.S. Open, he was often able to hyperfocus and achieve extraordinary performance."
Erik Compton played on the golf team with Watson at Georgia, and in addition to undergoing two heart transplants, also has been diagnosed with ADD.
"ADD is great when you're in a zone, but it's bad when you're out of the zone," says Compton. "I know when Bubba is in the zone, he gets so intense it's like his eyes turn black. But when you get distracted, it's harder to get refocused. And that's what Bubba struggles with. In that way, he's had it harder than I have with ADD."
Psychiatrist Dr. Edward Hallowell is a leading expert on ADD, with three best-selling books on the subject, and he has the condition. Informed about Watson, he says, "I would love to meet with him. I know I can help him."
Hallowell suspects that some of the greatest minds in history -- including Einstein, Edison, Shakepeare, Mozart -- had the condition, and that it enhanced their creativity. "The ADD gene is what made this country great," he says. "It's been the engine for inventors, innovators, entrepreneurs, pioneers, all kinds of achievers."
The reason, says Hallowell, is that people with ADD live their everyday existence in a state of jagged disorder -- including a general restlessness and inability to sustain concentration -- and thus hunger for structure in life. When they find an enjoyable endeavor that provides structure, they often take to it with a passion that leads them to excel. Because they are so used to adapting to disorder, they develop a heightened ability to make connections, which when unleashed within a structure can lead to extraordinary insights, solutions and innovations.
"Without structure there is chaos, which is where a lot of ADD people live," Hallowell says. "But once they have structure in place, they can run wild within it. Golf is the perfect ADD sport. It combines structure and novelty. Wherever you find those two coming together, ADD people thrive. Golf has all this structure -- the rules and etiquette, the difficulty of play, the exactness of the swing, the meticulousness required to put a small ball in the little hole. But it always gives you a new shot, a chance to start over, new stimulation. And that's what creates focus." Of course, it's the other obstacles presented by ADD -- including distractibility, impatience and anger -- that hold people, and golfers, back. And the less a person is aware of the condition, the more likely he or she will remain mired in unproductive patterns.
"The key symptom of adult ADD is unexplained underachievement," says Hallowell. "Bubba has been successful, but given his talent, he's underachieving because he hasn't won. But it sounds like he could be a champion in the making. He has a gift, one that he probably thinks no one else can understand, but he can enhance it. Wouldn't it be great if a diagnosis of ADD turned him into Tiger's rival instead of Tiger's sparring partner?"
Told of Hallowell's ideas, Watson, not surprisingly, is resistant. "I don't really want to know about it," he says. "I think it's one of those things that if we all looked, we all have some kind of issue going on. I don't see that it's a bother now. I don't like to deal with doctors. Because doctors might have issues, too. It's no big deal to me. I have to do things my way, and I'll figure it out."
It's what he did with golf years ago, drawing a five-foot circle in the dirt driveway for a target and then spending hours finding a way to hit every shot imaginable. "Hitting a plastic ball low is hard," Watson says of a challenge that particularly appealed to him. "So hitting a low cut with a plastic ball, think how hard that is. But when I learned to do it with a plastic ball, doing it with a real ball was easy."
It was Watson's father, Gerry Sr., who took one look at his nine-pound, three-ounce infant and called him Bubba, proclaiming, "Looks like we got a bubba instead of a baby." It was also Gerry who gave his son a club and the plastic balls, more concerned about preserving his windows than growing a tour pro. Though Senior has never been better than an 80s-shooter, he did establish an environment that allowed his son to become a free spirit.
Gerry was a captain with the Green Berets Special Forces during the Vietnam War. "I tested well, somehow, and they threw me in there," he says. But he says you would be wrong to assume that he would be tough on his son because he was a military man who saw combat.
"Special Forces guys don't really do discipline," said Gerry, 62, who came back to work as a construction engineer and is now retired. "We were the crazy, weird people who would wear disguises to blend in with the population. We were mostly free spirits, not like Navy Seals, where everyone looks alike. So I didn't have a lot of rules for Bubba, other than, 'Don't lie.' His mother and I played it by ear, but we realized he was a good person who loved golf, and we let him be himself."
With his unschooled action, Watson says he has been the longest hitter at every level of competition he has played. When he shot 62 as a 12-year-old on the same course where Boo Weekley and Heath Slocum played their golf, he began to believe in his dream of being a pro. Woods' swing is the only one he has ever emulated.
"I watched him on TV when he was an amateur and I was in high school," says Watson. "I noticed he took the club back real straight, almost outside, so I started doing that. Before that my natural shot was a draw; after that it became a fade.
"About all I think about is aiming it, and really I just sort of aim at an area, not a little target," he says. "I never think about my elbow or none of that. If I have to hook it around a tree, I feel a big hook and think, Give me a big hook. I don't think about stance or clubface or anything. If I get into a shot and my feet feel fine, I'll just hit it, I don't care. I don't do alignment or anything like that."
"Hitting the ball is so easy for him," says his caddie, Scott. "I don't like him to hit a lot of practice balls, because that's probably the one place he could maybe work himself into some bad habits. He controls the ball well because he always knows what direction it's curving. He almost never hits a double cross, and I can only think of one or two bad ball-striking rounds. And if he does hit a bad shot, he never thinks it's his swing. The one thing that he never questions is his swing."
"There is a great lesson in studying Bubba," says Geoff Ogilvy. "He looks like he enjoys hitting golf shots, and everything is secondary to that. I think that's the key. He moves the ball around in the air like no one else. I'd like to play like that, but I've always been afraid it would mess up my swing. But I've discovered that when I'm totally into the shot and not thinking about technique, my technique gets better. Most of the tour is in this bad place where players think that if they aren't always thinking about their swing, it will get messed up. Bubba is the opposite -- all he thinks about is the shot."
Consistent with Hallowell's theory about ADD and structure, Watson is never more into the shot than on hard courses. It's why he believes his first victory might come at a major. Going into this year's U.S. Open at Bethpage, he had played in only seven majors, with his best finish a tie for fifth at Oakmont, where a birdie-birdie finish would have tied him with Angel Cabrera. (Watson went bogey-bogey.). He loves the Masters, and with his ability to hit low shots in the wind, Watson is looking forward to Turnberry and his first British Open.
It comes down to handling his volatile emotions, and this is where Watson accepts help.
"Bubba wants to go for every shot," says Scott, who caddied for Paul Azinger before joining Watson in 2007. "I talk him down not because I don't think he can pull it off -- because I know he can -- but because of the mental consequences if he doesn't. Phil Mickelson plays a lot like Bubba, but he's great at not letting a bad shot or a failed gamble throw him off. Those things used to really stay with Bubba, but he's getting better at letting them go.
"His galleries can be a circus, yelling at him to pull out the driver," Scott says. "He hears everything that's said, and he can let dumb comments bother him. I try to remind him how lucky he is to be out here on the PGA Tour. I have a saying: Hey, this is what you signed up for."
Learning to deal with the vicissitudes is a big part of why Watson makes every effort, including getting up before dawn, to play practice rounds with Woods.
"I just ask him a bunch of questions, like a little dog chasing a bulldog. I kind of nap at his feet to see how he works and how he ticks. Not that he tries to teach me, but he's the only guy I would listen to."
One suspects that as much as Watson gets out of playing with Woods, playing with Watson helps Tiger, often obsessed with technique, stay in touch with the artistic side that was so important to the way he learned to play the game.
Woods also enjoys Watson's ability to trash talk. Last year when Nike came out with a new model, Watson piped, "Hey, Tiger, where's your square driver? Don't be mad if Michelle Wie got one before you did." Adds Watson: "I talk about how far I hit it past him. He always wants to talk about majors and all that stuff."
But Watson fondly remembers a serious moment after a practice round before this year's Players Championship. "We were having breakfast, just me and him, and he looked at me and said, 'You're too good not to be winning and doing this and that.' I said, 'Yeah, I understand that. But my mind just wanders. I have some stuff going on up there.' So we keep talking, and I said, 'Tiger, thanks for letting me play with you. You're the only person I want to play golf with. Watching you play golf, I know you're the best ever. I want to beat you, but watching the way you do it, the way you handle yourself with the crowd, how you practice, and then letting me chirp in your ear and ask a question, that's what really helps. I appreciate it.' And he goes, 'Man, I like watching you play.' It was neat. It was neat."
Adds Scott: "Tiger is the way Bubba has chosen to learn. When he goes to sleep at night, I know Bubba's thinking, Well, he's human. There's nothing he can do physically that I can't do. OK, so what is the difference? And what I think Bubba has learned is that you've got to be a mature person to play this game really well."
For Watson, that means continuing to deal with his issues. And never losing touch with the little boy within.