The Loop
Bubba Watson's wild week, Rory vs. Brandel, and an ex-golf WAG's workout obsession
Welcome to another edition of The Grind, where we had no clue Bubba Watson was such a big "Boy Meets World" fan until last week. In addition to everything else that happened in L.A., Watson took the time to film a cameo for an upcoming episode of "Girl Meets World," the spinoff of the classic show. Bubba, why didn't you say something! I can introduce you to my college buddy, Lee, aka Minkus!

Oh, you already met Topanga?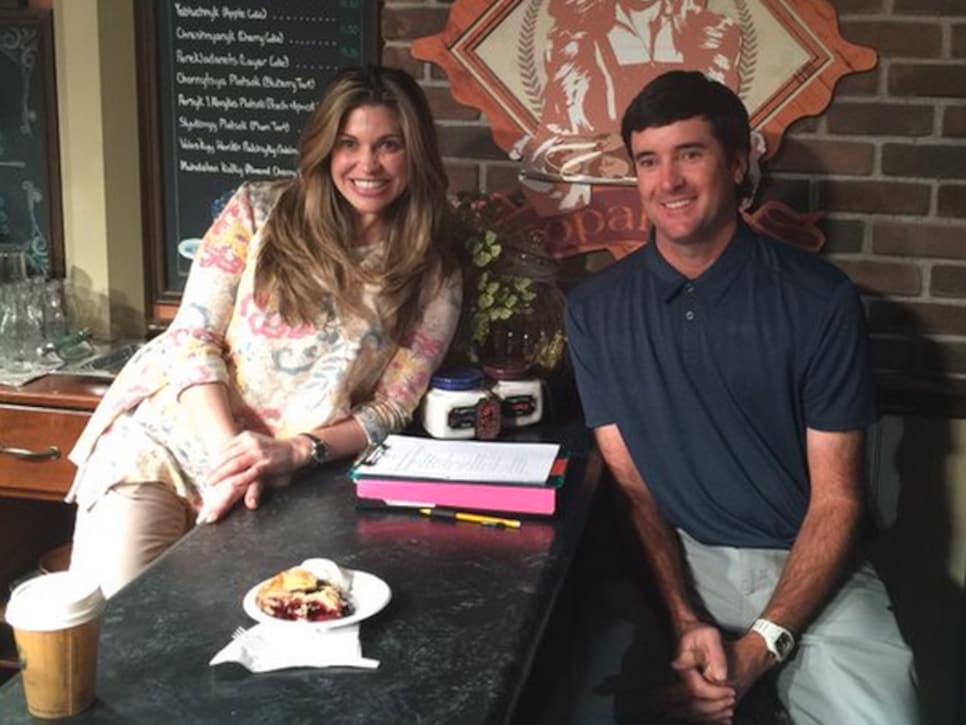 Suddenly, my offer doesn't seem as exciting. Moving on…
__Bubba Watson: __ Forget about the "Big Four," Watson is the one to beat at Augusta National after his latest win at the Northern Trust Open against a strong field. He also became the first PGA Tour player to ever win an event in the same week he passed a kidney stone, taped a cameo on a TV show, and sat courtside at a big basketball game. Impressive.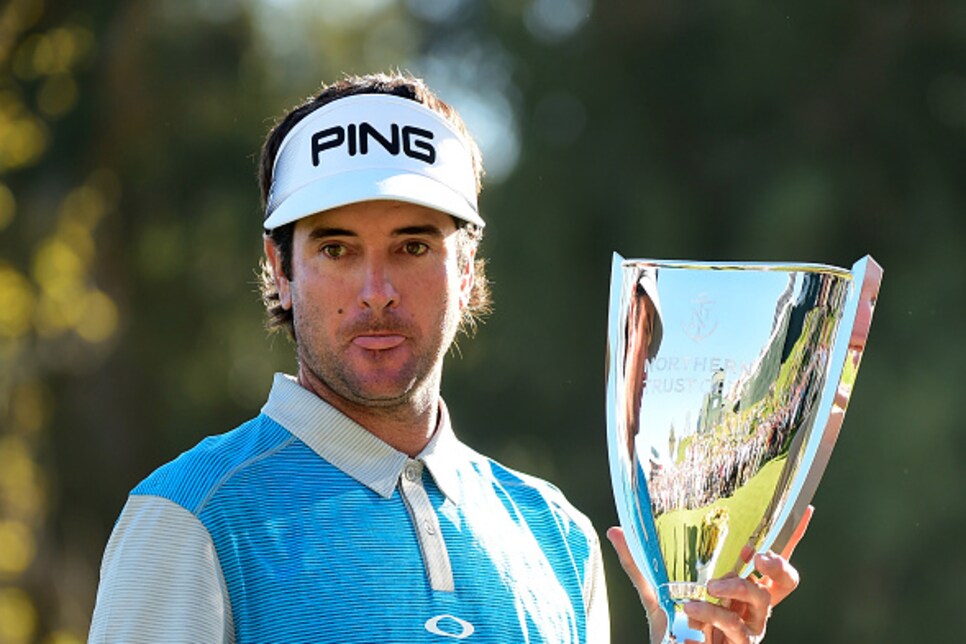 West Coast Swing: Watson added his name to an impressive list of winners from this exciting stretch that also includes Jordan Spieth (yes, we're counting Hawaii as West Coast), Brandt Snedeker, Hideki Matsuyama, and a resurgent Jason Dufner, plus Vaughn Taylor's improbable, heartwarming win over Phil Mickelson at Pebble Beach. The best news for golf fans? The PGA Tour season is still more than a month away from the year's first major.
Rory vs. Brandel: Remember Tiger vs. Brandel? That's soooo 2015. Chamblee vs. McIlroy is where it's at now when it comes to golf feuds we're blowing way out of proportion. The Golf Channel analyst voiced concerns McIlroy might be spending too much time in the gym, and the four-time major champ responded with a video of him weightlifting and then this crack about doing squats with Chamblee on his back.
"Tranquility": As in, that's the name of the house mansion property zip code Greg Norman has put on the market. It's beautiful, Greg, but I think that if I'm going to plop down $55 million, I need more than one putting green, and I want the waterfront guesthouse to have more than two bedrooms. Sorry, just my personal preference.
__ Rory McIlroy's Sunday: __ What the heck happened?! After eagling his first hole of the final round to grab a share of the lead, McIlroy made seven bogeys and one birdie the rest of the way to fall all the way to T-20. The 75 was the worst final round score of his career at a non-major. It's OK, he'll be back.
__Jordan Spieth's week: __ The World No. 1 opened with a 79 and missed the cut. He now has more missed cuts (16) than Tiger Woods does in his career. And it got worse. Check out this shank on Riviera's range:
It's OK, he'll be back, too.
Soomin Lee: The 22-year-old South Korean appeared headed for his first European Tour title at the Maybank Championship before disaster struck. He double bogeyed the 16th and 18th holes to lose to Marcus Fraser by a stroke. Ouch.
Passing kidney stones: And speaking of things that can hurt, according to Bubba, his latest "baby" was bloody, but it gave him no pain. Sounds like the lefty got really lucky, from what we've heard and seen:
The PGA Tour heads to Palm Beach and the Honda Classic to begin the Florida Swing. Watch out for PGA National's Bear Trap!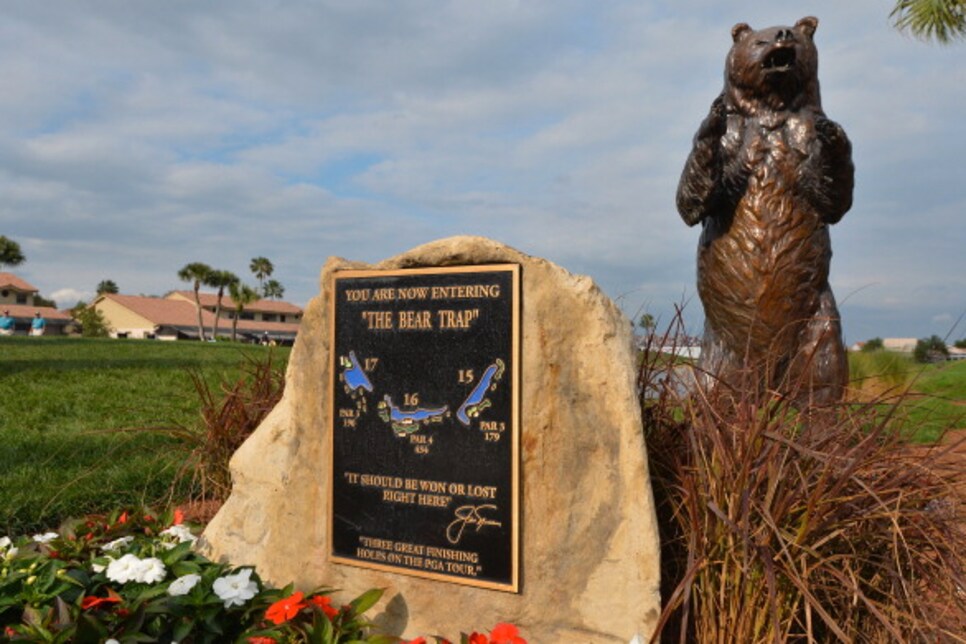 Random tournament fact: The"Bear Trap" isn't as scary as the bear that attacked Leonardo DiCaprio in "The Revenant."
RANDOM PROP BETS OF THE WEEK
-- Bubba Watson will become a regular on "Girl Meets World": 1 MILLION-to-1 odds
-- Rory McIlroy will squat with Brandel Chamblee on his back: 100-to-1 odds
-- Bubba Watson won't actually retire this year if he gets to No. 1: LOCK
Bubba wasn't the only Watson who had a big week.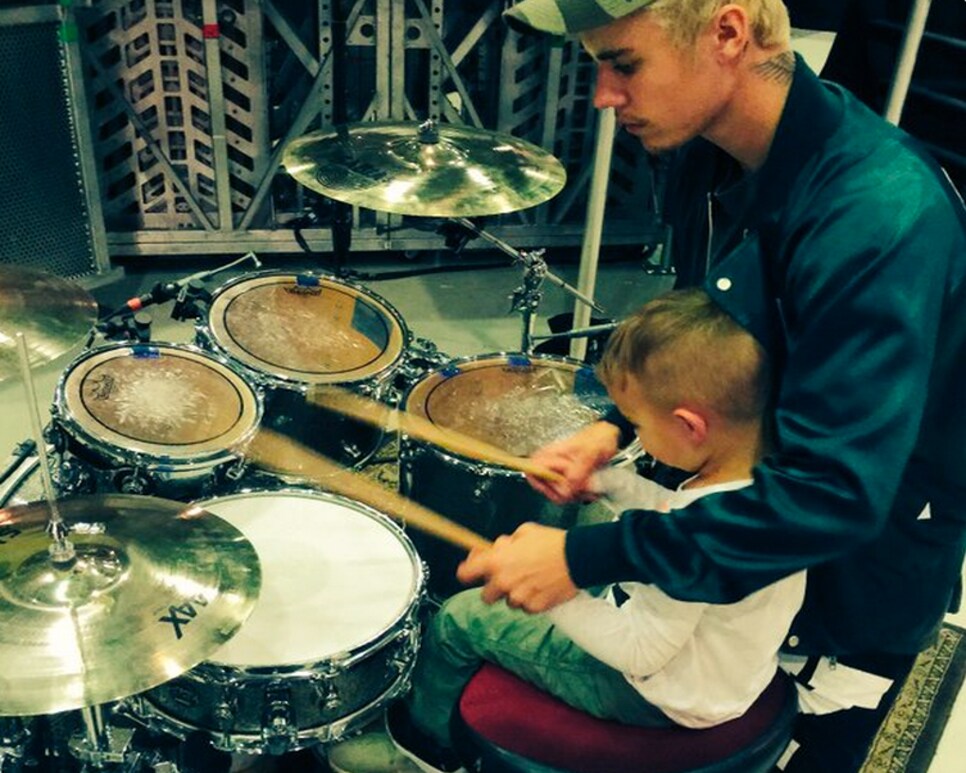 That's young Caleb getting a lesson on the drums from Justin Bieber. And now, supposedly, Stephen Curry wants to give him shooting lessons next. Tough life.
This is Chris Wood and Joost Luiten working on their soccer skills in the middle of a sporting goods store in Malaysia.
We also could have titled this section, "This week in European Tour players having more fun than the rest of us."
"It's unbelievable, six years since my last title. My kids keep saying to me every time I walk out the door, 'dad, can you bring home a trophy?' And I say, 'I'll try, I'll try'. . . . "This time I get to take one home and they can take it to school for show and tell, which is going to be pretty cool. That's the main reason I wanted to win." -- Marcus Fraser after winning the European Tour's Maybank Championship for his first victory in 119 starts. OK, now we don't feel as bad about Soomin Lee's choke.
THIS WEEK IN PAIGE SPIRANAC BEING PAIGE SPIRANAC
Check out Paige hitting a tee shot out of some brave stupid dude's mouth:
I'm a big Paige fan, but you couldn't pay me Rory McIlroy-Nike money to do that. Speaking of Rory. . .
THIS WEEK IN RORY MCILROY MAKING US FEEL BAD WITH HIS TRAINING
As if normal push-ups weren't hard enough. . .
That was so intense it could have passed as a scene from the training sequence in Rocky IV. At least, Rocky Rory showed he's human at the end of the week, both with his golf, and his diet.
THIS WEEK IN EX-GOLF WAGS MAKING US FEEL BAD WITH HER TRAINING
A hotel room workout? That's nothing. In between getting body painted and posing for Sports Illustrated's Swimsuit Issue, Lindsey Vonn made sure to work out – in body paint and heels:
She and Tiger really seemed meant for each other. Sigh.
__THIS WEEK IN DUSTIN JOHNSON-PAULINA GRETZKY PUBLIC DISPLAYS OF AFFECTION __
We're assuming those emojis mean something to the extent of "thinking about my love." Less clear is what Paulina is wearing. Is that some sort of a circus costume?
This is the week that Jack Nicklaus Ryder Cup party to rally the American golf contingent is supposed to happen. Because nothing says intimidation like a game of charades. . . . With Jim Furyk sidelined due to wrist surgery, Mike "Fluff" Cowan has been on Sung Kang's bag for a T-17 and a T-8. Sounds like the front-runner for caddie of the year. . . . A new Tiger Woods biography from writers Jeff Benedict and Armen Keteyian is in the works. Like Tiger's comeback, there seems to be no timetable. . . . And finally, shout-out to my co-worker Joel Beall, who baked these delicious chocolate chip cookies from scratch (Or so he claims):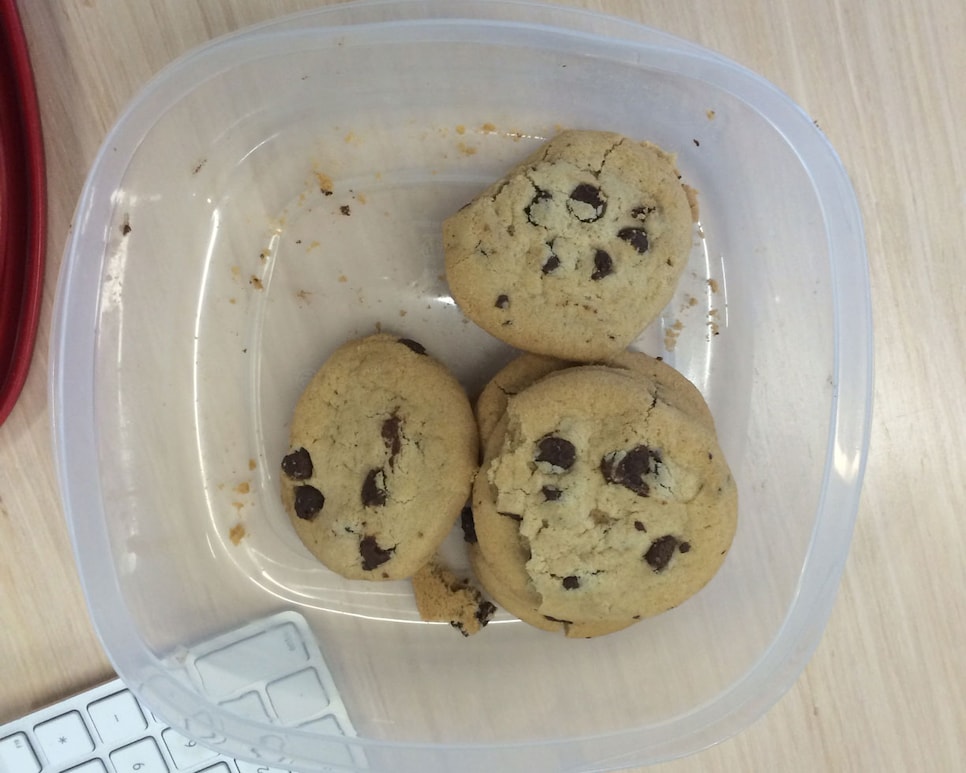 As you can see, I had a few -- even though I had vowed to start eating healthy this week. Eh, there's always next week.
RANDOM QUESTIONS TO PONDER
Will Tiger's denim problem be addressed in his new bio?
Who you got in a pull-up contest: Rory or Lindsey?
Who is in charge of dessert at Jack's party?