The Loop
Bubba Watson's 'mud ball' adds to legend, subtracts from gold medal chances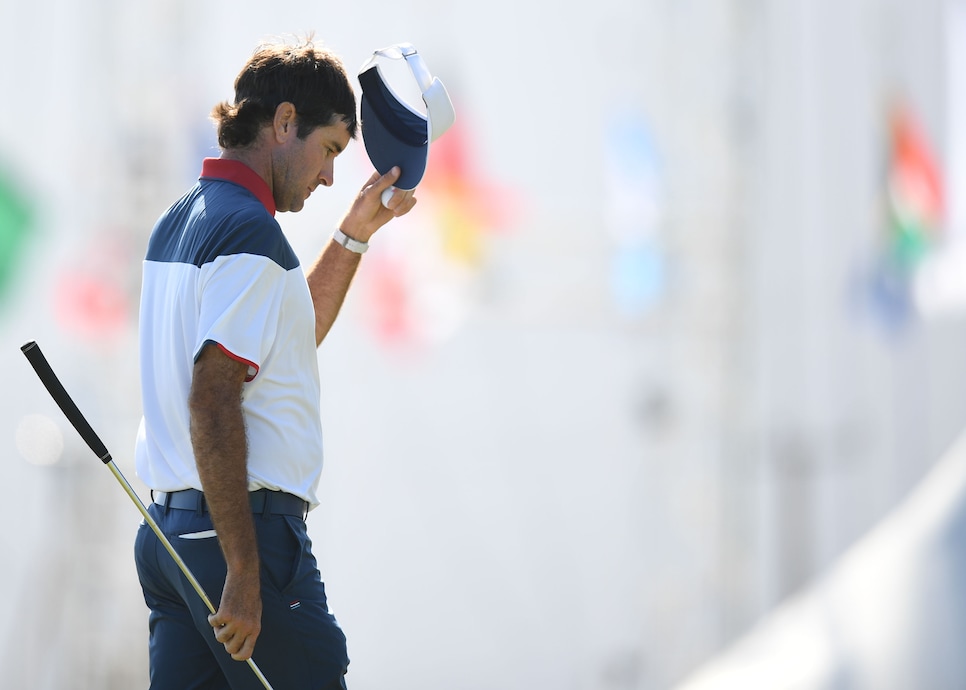 RIO DE JANEIRO — Bubba Watson says his latest antics will cement legend status as he moved himself into Olympic medal contention with a second straight 67 on Saturday.
A drop-kick putt at the par-3 14th "will be talked about for years," according to Team USA's low man in the clubhouse through three rounds of Olympic golf.
"It was hilarious. What can you do?" Watson said of his failed attempt to abort a putt that rolled about five feet. "You have to laugh it off and keep going."
Given that Watson is six back of leader Justin Rose and five back of Henrik Stenson, gold and silver medals may be out of reach. Bronze, however, is very much a possibility given that he is only three strokes behind Australia's Marcus Fraser.
Watson tees off Sunday in the second-to-last group with David Lingmerth and Emilliano Grillo. Each is tied with Bubba at -6 (207).
The Baghdad, Fla., native continued his daily dose of post-round joviality in spite of the four-putt bogey. Getting into medal contention doesn't hurt.
"I went from wherever I was to where I'm at now," he said. "That's the best way to say it."
Bubba was headed out to shower in his Olympic village suite and to hang out in the "cafeteria." He planned to attend badminton Saturday night.
"This is a dream of a lifetime. I'm hanging with the athletes.  I mean, golf just gets in my way."
Watson says he's feeling little pressure in part because he's met other athletes whose dreams can end in little time.
"They might have 30 seconds, Sunday night, I think it's just under, what, ten seconds. You think about that, four years, they have been waiting to run just under ten seconds. We've got four days. Ours is a marathon. We have four days to improve and gain on the leader."
His gain on the lead would have been more if not for an almost unfathomable mistake that led to a bogey at 14.
"You can't see it [a piece of mud], but as soon as I putted, my caddie and the other caddie that was next to him, you could see it. It was just about half a quarter size, quarter size.
"So as soon as I took it back, it fell [from the bottom of his putter], so I tried to stop, and you could see me recoil, trying to stop, because I didn't know what it was. It was like I thought it could have been a bee or a bug. I looked down and I was like, that's mud, where did it come from, or dirt, whatever you want to call it. Mud putter."
The infamous "mud ball" chirper added a new term to the Bubba lexicon. Hopefully it's not one remembered as the difference between himself and a medal.