The Loop
Bubba Watson's excellent week: Justin Bieber, Northern Trust Open lead, Clippers-Warriors
PACIFIC PALISADES, Calif. — Bubba Watson has already had a pretty swell week in Los Angeles.
His son Caleb learned how to play the drums from Justin Bieber after a concert rehearsal. Then Bubba taped a cameo for the television show "Boy Meets World," a "good quality show," he said, that currently runs 48 episodes deep on his cell phone. And after a 67 at Riviera Saturday, there is a Steph Curry-Chris Paul show to attend.
The Northern Trust Open's 54-hole leader by one stroke didn't come down to the media center for a post round press conference because he's got to weave through LA traffic for a much ballyhooed Clippers-Warriors game starting at 5:30 p.m.
Considering the way Steph Curry's been playing and Bubba's access to great tickets from owner Steve Ballmer, who can blame him for wanting to get off the property?
"It's a win-win, seeing the good play at basketball and y'all are holding me up from getting there," Watson said with the light laugh of someone who fed off the supportive and unusually big gallery. With eight players within two strokes of his Northern Trust Open lead, Bubba will have to hold over a diverse cast of characters that includes Dustin Johnson, Rory McIlroy and Adam Scott.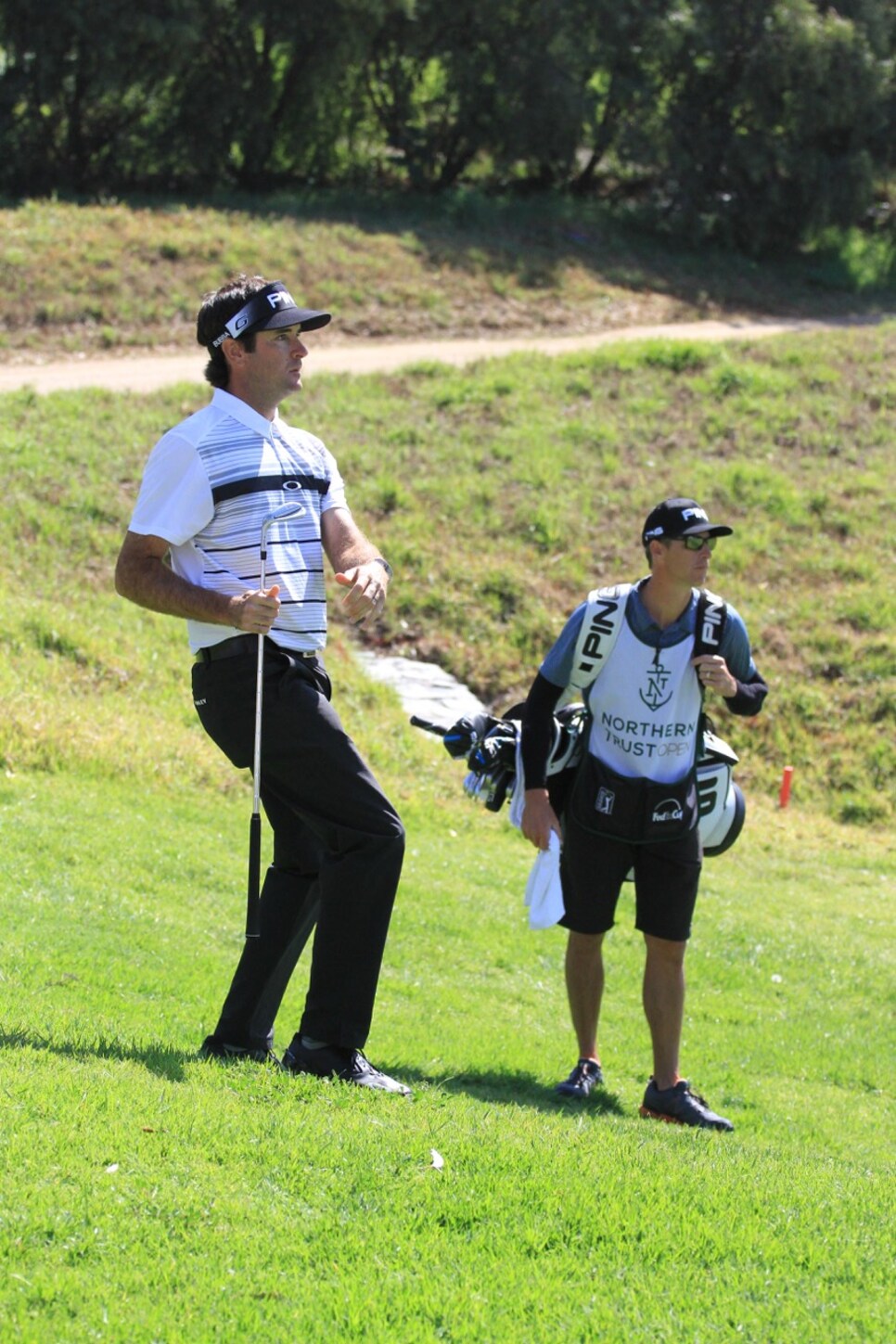 "As [big as] my ego is, we all feel good about our chances, even the guy that's five back," Watson said. "For me, yeah, I'm going to go out and try to do the same thing, keep my head down, try to take deep breaths and try to slow it down and hopefully it works out with one or two pars and one or two birdies gives me the victory."
Watson will have to hold off a number of powerful drivers who are taking advantage of Riviera's non-existent rough and soft greens. Besides superstars Johnson, McIlroy and Scott chasing Watson, those within two  strokes include UCLA graduate Kevin Chappell, Chez Reavie, Jason Kokrak, K.J. Choi and Marc Leishman.
Bubba says he will be leaderboard-watching like he always does, though his goals are oddly modest. He's starting with a top 10 as the priority and hoping "something crazy" happens.
"When I make a bogey and still see I'm top-10, it keeps me going, or how close I am to top-10 and then obviously when you get around the lead, you perk up a little bit," he said after a round that included 13 of 18 greens hit and 28 putts.
With perfect weather and a big crowd boosted by the leaderboard and a post-round concert from the English Beat, Watson wasn't necessarily feeding off the positive vibes.
"It's better than booing me because a headline was wrong," he said in a bit of a classic Bubba revisionist history. Watson was referring to the Scottsdale fans reacting to negative comments prior to the Waste Management Open.
"They know you can play and they appreciate a past champion around here, just like any golf tournament would."
The 2014 Northern Trust Open winner tees off at 10:20 am ET with Jason Kokrak and Chez Reavie, who both sit just one stroke back of a former champion looking to cap off a dream week.