The Loop
Bubba Watson wins Northern Trust Open for second time in three years
That's entertainment, as they say in the neighborhood, steps from Sunset Blvd., adjacent to Hollywood, and does anyone put on a better show than Bubba Watson, one man playing two roles, protagonist and antagonist alike?
Only two weeks after again running afoul of those with an aversion to an athlete speaking his mind ("I don't like it at all," he said of the TPC Scottsdale), Watson won the Northern Trust Open with a dazzling close at the Riviera Country Club, his second victory there in three years.
"I love it because of the history," Watson said early in the week, but also because "you can imagine a bunch of shots around the trees and around the greens."
No one navigates a course with greater imagination than Watson, and with Riviera's fairways that bend and pin positions that require shots that do so as well, he is in his element.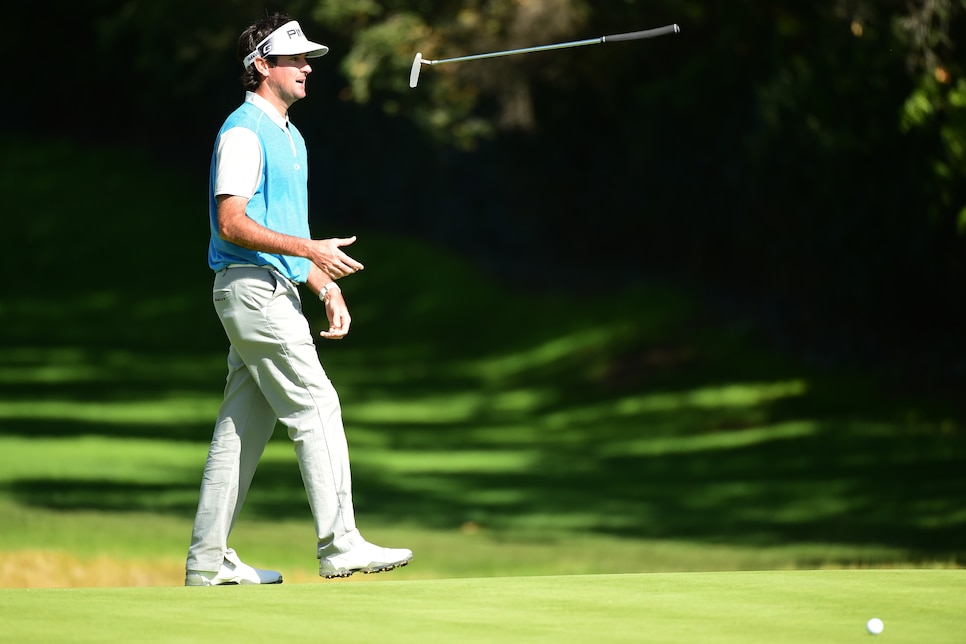 He hit a perfect draw to a tight right pin at the par-3 16th to three feet for a birdie that moved him into a tie for the lead with Jason Kokrak. Then he reached the green in two at the 590-yard par-5 17th, made a two-putt birdie to take the lead and held it with a routine par at 18 to prevail over a star-studded cast.
Early in the round, Watson, Rory McIlroy, Dustin Johnson and Adam Scott were tied for the lead. Only Scott kept pace, and he holed a chip shot for birdie at 18 that briefly tied the lead.
"For me to come back and win and pull one out in a tough way it means a lot," Watson said.
More to the point, he overcame his most formidable opponent. Himself. He never lost his composure, even when he made a mess of the 13th hole and fell two shots behind.
"We've been working on it hard," he said. "Slow process. Instead of swing thoughts and swing, it's all about the mind. And so for me it's staying patient and Teddy [Scott, his caddie] in my ear. And Teddy's been a blessing with that. It's been a struggle over five years, but it's working in the right direction."
Watson is the most entertaining player today, with a swing that did not come from the country club assembly line, and an array of shots that never go straight in a game requiring marksmanship.
But he also is given to fits of frustration on the course and misspeaking off it. With Watson, better to take the good with the bad and simply enjoy the show.
And what a show it is. This victory was his ninth, and, at 37, he is moving down a path that leads to the World Golf Hall of Fame. Two of the nine wins came in the Masters, the first in 2012, the second in 2014.
Incidentally, he won the Northern Trust into 2014, too. Is there a pattern here that suggests a third green jacket in 2016?
Stay tuned. With Bubba in the mix, however it turns out, it won't be dull.