The Loop
Bubba Watson was just presented with a $30,000 gold replica putter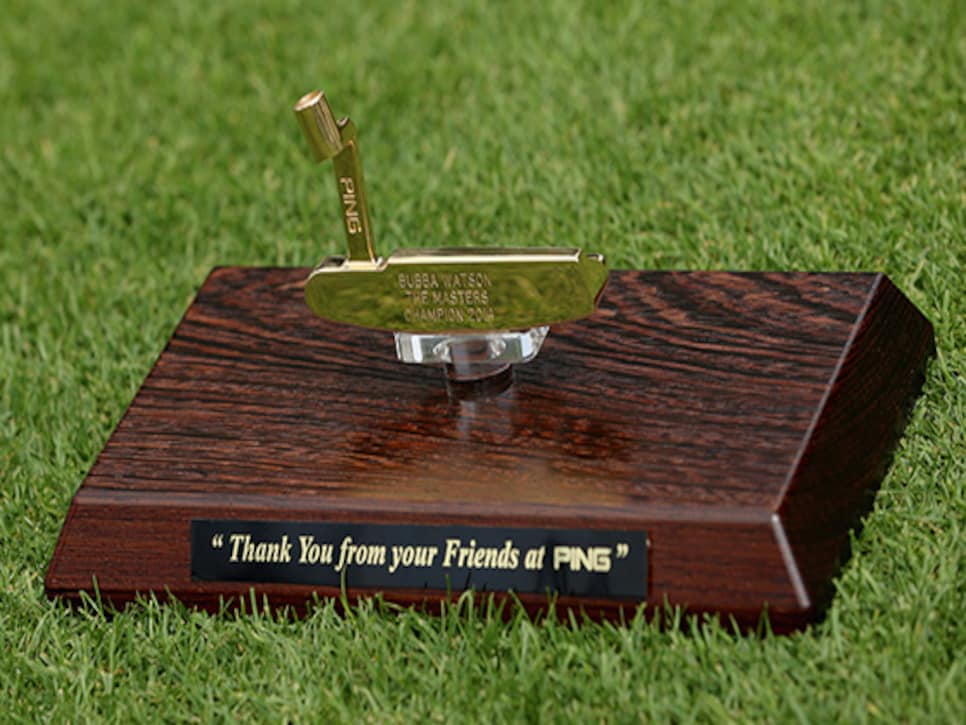 The Masters hasn't even started yet but already Bubba Watson is ahead of the game -- about $30,000 ahead.
No, the two-time Masters champion didn't cash in big on a practice-round wager, but rather was presented this morning with a solid gold replica of the Ping Anser Milled 1 putter that he used in winning last year's Masters. Ping president and CEO John A. Solheim made the presentation in a brief ceremony on the lawn in front of the Augusta National pro shop.
"It's a little heavier than mine," said Watson as he carefully inspected the putterhead, which had his name and "The Masters Champion 2014" engraved on the face. Bubba, who is known to have the ability to tell when a club is a gram or two off weight, was more than correct in his assessment. The headweight of his normal putter is a little more than 12 ounces. The solid gold one weighed 24.7 ounces. At the current price of gold, that equates to a value of approximately $30,000.
In all, Ping has presented players with 28 solid gold putters and one solid gold wedge (to Watson, for the memorable shot from the trees he hit in the playoff on No. 10 to win in 2012), since Solheim began the program in 1997. The heaviest putter presented was to Suzanne Pettersen, who won the 2007 LPGA Championship with a Ping Doc 15. The solid gold replica checked in at a hefty 36 ounces.
As Watson headed off to practice, he turned and quipped to Solheim, "Maybe we can do this again next year."
A nice thought, if perhaps a little greedy.