The Loop
Bubba Watson sounds awfully confident about how he'll fare at the NBA All-Star Celebrity Game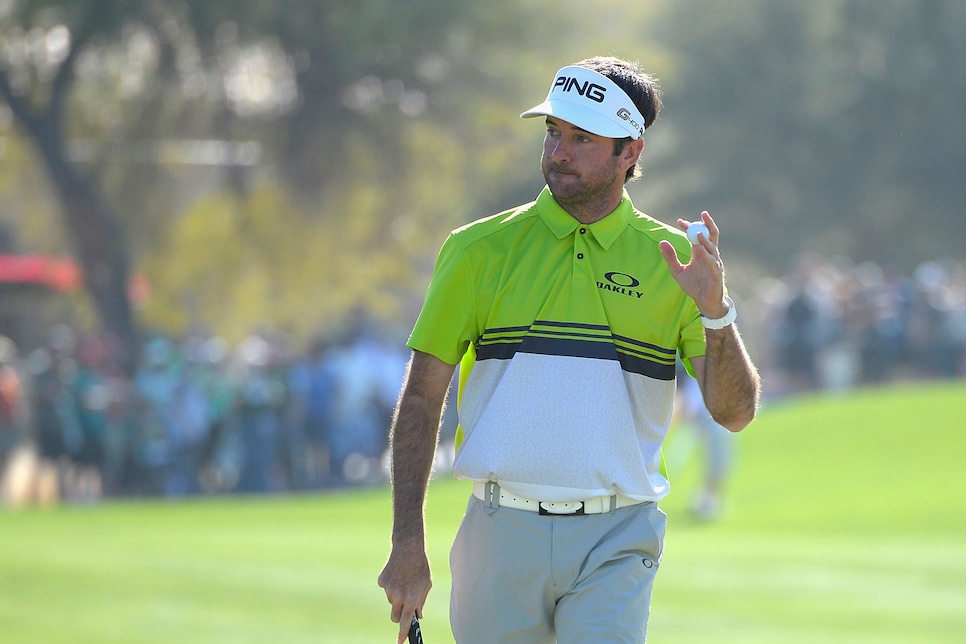 Bubba Watson is praying for good weather this week at the Genesis Open, particularly on Friday, so that he might get the chance to show that he is as much a deep threat on a basketball court as he is on a golf course.
The two-time Masters champion is playing in the NBA All-Star Celebrity Game scheduled to begin at 4 p.m. PST Friday at the Verizon Up Arena at the Los Angeles Convention Center. The exhibition contest is part of NBA All-Star Weekend.
Watson's name wasn't randomly pulled out of a hat. Once he found out that the NBA All-Star Weekend was in Los Angeles and that the dates coincided with the Genesis Open at Riviera Country Club in nearby Pacific Palisades, Calif., a PGA Tour event he has won twice, the lithe left-hander began lobbying to participate.
"I love the NBA. I love watching basketball," Watson said Sunday at Pebble Beach Golf Links after finishing T-35 in the AT&T Pebble Beach National Pro-Am. "My wife [Angie] played in the WNBA. I've had season tickets from different teams. As soon as I heard a year ago that they were going to be in L.A., and that the dates corresponded, once I saw that I started petitioning. I told them I'd love to play in it, and finally they said I could."
Watson, who played basketball in high school until his father Gerry insisted he choose between hoops and golf, is a member of Team Clippers, which includes recording artist Common, actor Jamie Foxx and former Boston Celtics star Paul Pierce among an array of celebrities.
In order to improve his chances of making it to the game on time, Watson asked the PGA Tour if it could arrange for a late-early set of tee times for him on Thursday and Friday, respectively. There was no guarantee he could be accommodated, but he's hoping it works out. He would embody representation of the tour and for golf, he reasoned. But weather could become an issue. A significant delay would put his temporary hoops career in jeopardy.
There would be only one thing to do. "I really don't want to pull out of L.A., but I will pull out if I have to. I will no-show because I am definitely showing up at the [arena]. That I'm not worried about."
The 6-foor-3 Watson brings a unique skill set to the game. "I can tell you I'm not afraid to pass the ball," he said with a laugh. "I will be outside the paint for sure. I can shoot the basketball a little bit. Angie told me to stay out of the paint. She said, Do not get hurt. I won't get hurt. I don't do defense or rebounding. But, hey, it's the NBA."
The former Angie Ball, who stands 6-4, was a standout basketball player at the University of Georgia, where she met Bubba. Born in Toronto, she played for the Canadian women's basketball team in the 2000 Summer Olympics before one season in the WNBA with the Charlotte Sting. Leg injuries ended her career. Currently, she is recovering from major knee surgery.
Watson, who recently fell out of the top 100 in the world rankings and has yet to post a top-10 finish on tour this season, said he hasn't picked up a basketball for about eight weeks. He could attend a shoot-around Thursday, but he'll pass and go in cold.
"It is very funny that the day before, Thursday, they'll have a shooting coach there if you want to go and practice and need pointers. I think it's their way of saying, you should go," he said. "I will not go. I understand the game of basketball and played it for many years. It was a funny email. I chuckled when I read that.
"I do need to get there early and meet everyone," he added. "I'm going to have like a car right there revved up and ready to get over there. They give us an hour on the court to warm up beforehand. I'm thinking, 'Man, some of these people aren't athletes. They're going to be tired before we even start.' But seeing the celebrities and hanging out with them and talking shop with them … it will be a blast. It's something I've always wanted to do."