The Loop
Bubba Watson said he's done following golf coverage because it's way too negative
HOYLAKE, England -- Bubba Watson posted a second round 72 and appeared to be in a better mood Friday at Royal Liverpool. But the two-time Masters champ sounded off after his round in epic first world fashion. Facing the writers he essentially suggested he detests, Watson suggested "there's not been one positive thing" said about him on television or in print.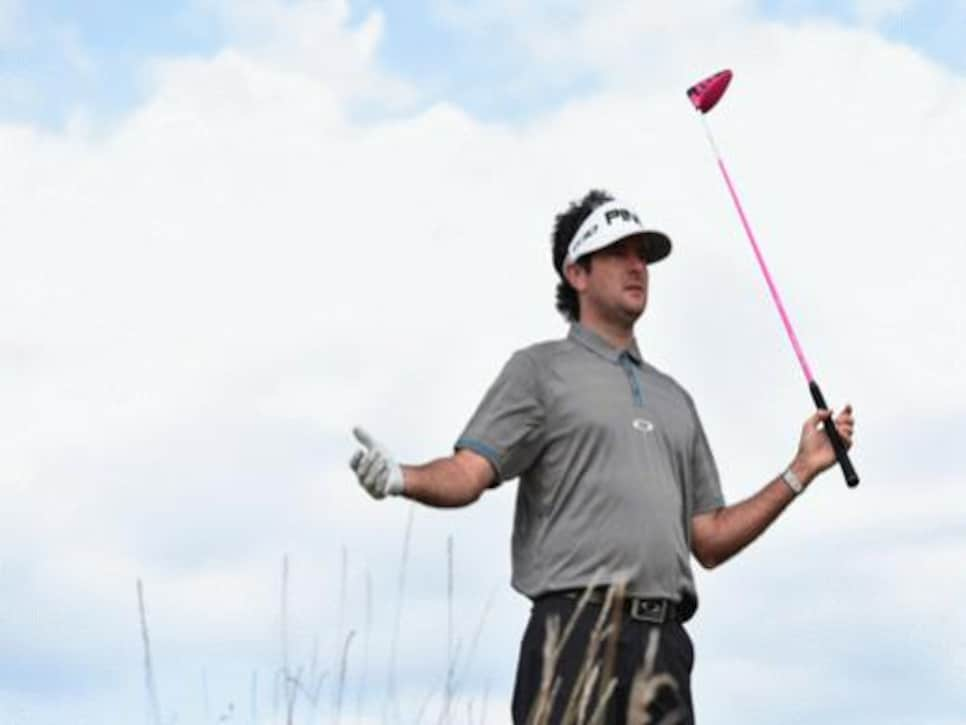 With so much focus on the R&A's push for fans to interact with their smart phones and The Open's incredible app, writers have been asking players how they feel about the technology push. Watson willingly revealed what drives his skepticism toward modern media.
Q. You're a sports fan, would you attend a golf tournament where you can stay at home and get the better coverage that there is on TV?
BUBBA WATSON: Some coverage is not very fun to watch, just saying. I don't mind watching an LPGA event. They're always positive. It would be rare to hear a negative comment. So watching that, I don't mind watching it. I hate the negative comments. I mean, guys are trying their hardest. We always hear, "Oh, that's terrible," this and that, this and that. "I did this when I was 17 years old. Shot 63 before." (Laughter). So, no, that's why I don't watch coverage anymore, there's too much negative stuff going on in the world, not just golf, the whole world. Just can't even watch that stuff.  The Dickensian tale of woe, set against some pretty bleak news from around the world, continued when he was asked if he really does not follow men's professional golf because the coverage is only negative. BUBBA WATSON: Oh, gosh, there's a lot. There's not been one positive thing. I'm waiting on that one. Then I'll start reading. Well, I can't read yet, but I'll start.  Watson said he's deleted his phone apps and the phone Internet browser to spend more time with his family. Q. Why did you decide to take Internet off your phone?
BUBBA WATSON: You know what, when you're spending time with your wife and your family and your child, there's no reason to search scores. There's no reason to see what the NBA is doing, football or baseball is doing. Q. You start to get into that smartphone addiction?
BUBBA WATSON: I wouldn't say smartphone, but I would say, you know, it was just -- you always looking at scores and updates, seeing who is getting traded from baseball, who is getting traded from NFL, from basketball, seeing what LeBron James is doing. I said take it off, let's go back to the old days when it's just the family. You spent family time together.
Q. When was that that you did that?
BUBBA WATSON: Start of the year.
Q. Are you saying that --
BUBBA WATSON: I'm not saying anything right now.
Q. This may be true, but what is the analysis versus the negative? Is there a difference in your mind (inaudible)?
BUBBA WATSON: Yeah, the whole year is about rejoicing for me. But when you look at it sometimes you can get too pumped up, you think you're the greatest golfer in the world. And sometimes you can get too much bad talk or negative talk when where you think you're the worst golfer in the world. Next week I could probably win; this week I'll probably miss the cut. It fluctuates. I'm trying to stay away from negative and positive, just remain even keel. As long as my wife loves me and my child thinks daddy is the greatest, then I'm good to go. And he's good to go home after missing the cut.