The Loop
Bubba Watson retains same goal, but is hedging on retirement
KAPALUA, Hawaii – The Year of the Monkey has commenced according to the Chinese calendar. In golf, it's the Year of the Bubba.
After Masters victories in 2012 and 2014, Bubba Watson couldn't be blamed for thinking that perhaps it's his turn again to slip on the green jacket. But at this point in his career and his life, turning 37 and recently adopting a second child, a daughter, with his wife Angie, the long-hitting left-hander would take any win on the PGA Tour.
"Man, I wish it worked that way. It would be nice to win it again," Watson said effusively, as if hasn't already won twice at Augusta National Golf Club. "I would accept that. Would it be wrong to have some expectations at least?"
No, what would be wrong with that? Expectations fuel belief, which you have to have when you set goals for yourself. And Bubba still has goals. After winning the Hero World Challenge in early December, Watson reiterated that he'd retire if he won 10 times. Or if he got to No. 1 in the world, so he can "walk away on top."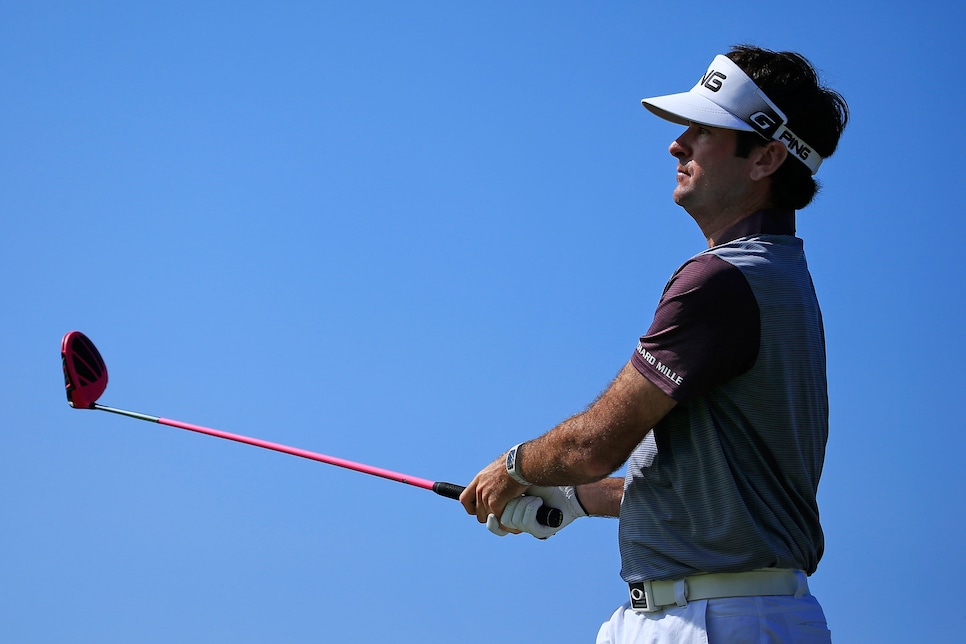 Watson doesn't count the Hero, hosted by Tiger Woods, as one of his victories because it wasn't an official tour event. At the Hyundai Tournament of Champions he continually said he's at eight wins.
Victory No. 9 might be difficult to come by at Kapalua Resort. After a 5-under-par 68 Friday at Kapalua's Plantation Course, Watson stood at 9-under 137, tied for eighth in the limited-field event.
Not so bad except that he trails world No. 1 Jordan Spieth by seven strokes.
But acceptable given that he's recovering from some kind of virus that had him bedridden for 21 hours before his opening round.
"You know, I'm looking forward to this year, and this was a good start for me," Watson said in his customary rapid-fire speech pattern by which words flow in gulps. "I put some new irons in the bag. New but the same model. Have a new driver and 3-wood. Working with them. They're really good."
Watson qualified for this winner's-only field by capturing the Travelers Championship in a playoff for the second time. That was notch No. 8 on his belt. But he's not really going away if he should win twice more this year.
"No, it's a goal of mine. I don't know what you were taught when you were young, but you set a goal. And once you reach that goal you set a new goal," Watson explained. "I could set a goal of 15 wins, but I still wouldn't have reached my first one. So I can't change my goal until I reach it.
"My first goal was to get to the PGA Tour. I got here. And then when I got to the tour I had to change it to winning on the tour. And I won. Then it was to win a major. Now my goal is 10 wins. I'm not going to change my goals on my professional career until I get there. I've never had a goal of how many majors. I just want to win. Any victory is important because they're hard to get. Right now I have eight."
Watson picked 10 because it was a nice round number and because he believes it's a milestone of sorts in today's game as he surveys the competitive landscape.
"Back in the day you had a handful of guys [who could win]. Now you've got guys all over the world who are joining our tour," he said. "They're grinding because Tiger Woods showed us how to get to a different level. Told us how to train, how to eat, how to prepare. That 20 tournament mark you need to get to to become a veteran member a lifetime member. I think it's changed, at least in my own mind. The talent level is so much different, so much better, and it's not limited to Europe and the U.S. Well, you had Greg Norman at No. 1 for a long time. So for me personally, I think 10 wins is a huge number. Ask Jordan Spieth and his number is probably different. But 10 wins is my number."
Watson said he feels like his time is running out, that 40 is coming up fast in his window. He also wants to spend more time with his two adopted children. He's thinking of future sporting events that they might play in that he doesn't want to miss as well as other special moments large and small.
But Watson's longevity could stretch well into his 40s because of his competitive length. Think of Davis Love III, who is at Kapalua this week at age 51. Think of Fred Couples, who can still handle the long Masters layout. Kenny Perry and Vijay Singh were effective competitors in their 40s because they could generate clubhead speed.
Watson is really still learning how to play the game, understanding it better. "I have a lot of room to improve in terms of approach to the game," he said.
"I see that I can still play, but I'm running out of years," he added.
And what if he did reach 10 wins this year?
"Like I said, I'd set a new goal. But reachable."
Go big. But then don't go home.