The Loop
Watson: "If I do it again this year, yes, there should be a plaque"
AUGUSTA, Ga. - On Sunday, as he and his wife, Angie, were walking up the 18th hole completing a casual round at Augusta National Golf Club, Bubba Watson noticed a small group congregating near the location of his renowned recovery shot from the trees right of the 10th fairway, the shot that won him the Masters.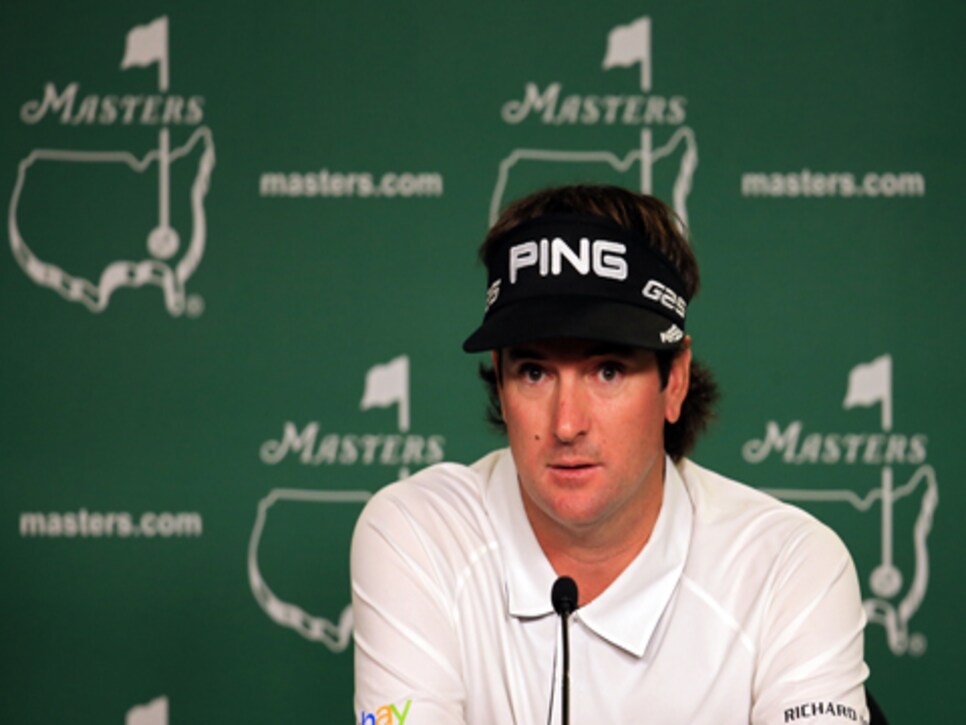 Bubba Watson addresses the media during a practice round prior to the start of the 2013 Masters. Photo: David Cannon/Getty Images
Watson yelled over to them that they weren't quite in the right spot. He found out later that one of the men was former Masters champion Billy Casper.
On Monday, Padraig Harrington made a stop in the trees at No. 10 to size things up. Patrons have been gathering there by the hundreds to take photos. It seems there is no shortage of interest in what is already considered one of the great strokes in Masters history.
Perhaps Watson is the only guy not interested in reliving the 52-degree wedge shot that set up the winning par over Louis Oosthuizen in last year's sudden-death playoff.
"No, I would never hit it again," he said, then paused and smiled. "Well, unless Thursday through Sunday ... I've been known to hit it in the trees, but I'll lay up so I won't look as bad. But, no, not on purpose. I would never do it. I think that for me, I have to try to get my name to keep going throughout history, so I don't want to hit it again."
Certainly Watson, an unlikely Masters winner, has nothing to prove as he prepares to defend his Masters title -- except perhaps show that he can keep his emotions in check.
That, of course, he couldn't manage during his 20-minute press conference Tuesday morning at Augusta National Golf Club. Just as he had done after sinking the winning putt a year ago, Watson sobbed openly discussing what it meant to be a Masters champion and to own a green jacket -- and how he shared the prize with his new adopted son, Caleb.
"Out of respect and honor for Augusta National, as one of greatest clubs we have, as one of greatest tournaments, out of respect for them, I didn't do any of my funny antics that I normally would do," Watson said, wiping away tears. "Only thing I did was wrap Caleb up in it."
Only three men -- Jack Nicklaus, Nick Faldo and Tiger Woods -- have won consecutive Masters titles. Watson, 34, admits that his game isn't as sharp as it was a year ago. In fact, he's winless since winning his first major title.
"Obviously my stats probably show that I was better last year," he said. "My mind, my physical, my preparation, is the same. I feel good, feel confident."
But he sees no reason why he can't win again. As he was reminded Tuesday, his victory was the product of four days of outstanding golf, not just one miracle shot.
"Me as a competitor, as a believer in my game, yeah, I can see pulling it off. It wouldn't shock me," Watson sad. "I would still cry, but it wouldn't shock me. But the way I look at it, I'm going out there, and I want to make the cut because, first off, I don't want to have to sit around and give somebody the green jacket. I want to be here on Sunday, playing. But it's going to be tough."
Yes, but not as tough as the first one. On a scale of 1 to 10, he rates his heroics at the 10th a nine-plus, given the circumstances. Naturally, somebody mused about the club commemorating the stroke with a plaque, given how so many people have been drawn to the area where he made history.
"Well, who wouldn't want to see a plaque that says Bubba in the middle of the pine straw?" Watson asked, drawing laughs. "I would never ask for a plaque. (But) If I do it again this year, then yes, there should be a plaque."