The Loop
Bubba Watson holds off Adam Scott and Jason Kokrak to win at Riviera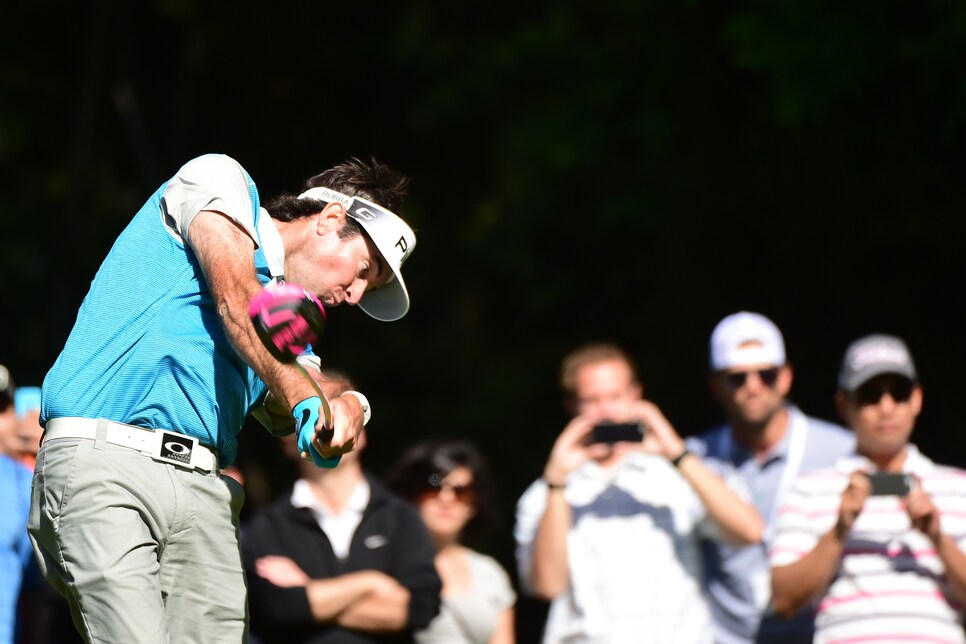 The PGA Tour's run-up to the Masters is commonly thought to start with the Florida Swing. For Bubba Watson, it seems to begin a week earlier. With a final-round 68, Bubba Watson held onto his 54-hole lead at the Northern Trust Open to pick up a ninth career PGA Tour title and remind everyone that despite all the "big four" talk, he's still the one to look out for at Augusta National in a few weeks.
"You never know when your last one is going to be," said Watson, who was even after eight holes on Sunday. "For me to come back and pull one out in a tough way, it means a lot, and it's very special for my family."
The last time Watson won at Riviera (2014), he followed it up by winning a green jacket that same year. On this occasion, Watson held off fellow Masters champ Adam Scott by one shot, as well as Jason Kokrak, who was looking for his first PGA Tour win.
Part of a four-way tie when he reached No. 13, Kokrak made a big move with this aggressive approach shot to the traditional Sunday (way) back-left pin:
Kokrak converted that birdie and suddenly had a two-shot lead over Watson, Scott, and K.J. Choi. But Kokrak bogeyed 15, and Watson birdied the par-3 16th to pull even.
A pair of three-putts looked like they'd doom Scott, but he two-putted for birdie on No. 17 and then added this dramatic chip-in for birdie on 18.
But shortly after Scott's incredible finish, Watson two-putted for birdie on No. 17 to grab the lead for good.
After failing to take advantage of the par-5 17th, Kokrak had one final gasp on 18. He outdrove Watson by 30 yards and hit a wedge to 14 feet, but his birdie attempt just slid by the hole. Watson then two-putted for the victory.
The most surprising round of the day came from Rory McIlroy. The four-time major champ making his 2016 PGA Tour debut eagled the par-5 first to pull into a tie for the lead, but then made seven bogeys and just one birdie on 18 the rest of the way to fall all the way to T-20.
The World No. 2 will look to complete the career Grand Slam at Augusta National, but he'll face a challenging task in topping Watson, a two-time Masters champ who feels he and caddie Ted Scott are more mentally strong than ever.
"We've been working on it hard, slow process," Watson said. "Instead of swing thoughts and swing, it's all about the mind. for me, it's staying patient, and having Teddy in my ear. Teddy's been a blessing. It's been a struggle over five years, but we're working in the right direction."
And that right direction could lead the lefty straight to a third green jacket.