News
Bubba's blowout win dampens the WGC-Match Play, but makes the Masters even more intriguing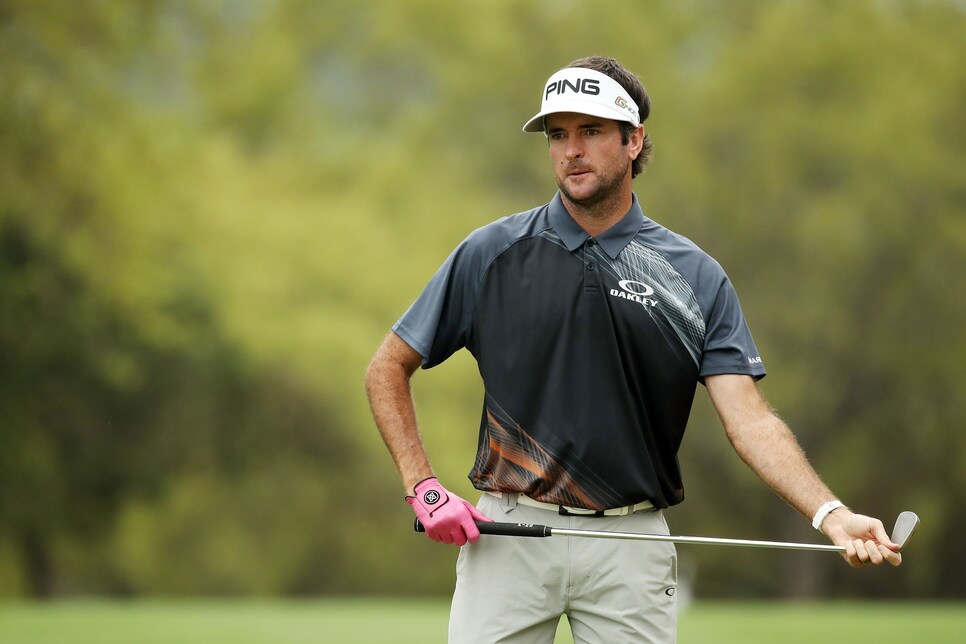 Photo By: Gregory Shamus/Getty Images
AUSTIN — There were sightings early Sunday morning, another writer told me, of spectators setting up chairs near the 18th green at Austin Country Club. It's a move that would make sense at a normal stroke-play event, where fans might want to see the concluding action of a tournament. But on the last day of the WGC-Dell Match Play, it's the height of strategic folly. First off, we're talking about match play; the odds that any individual match lasts to the 18th hole are … well, I don't know what the odds are, but certainly less than 50 percent. Second, there are only four matches total on the final day. Only four! Two semis, a consolation match and the championship tilt. If those people stayed behind the 18th green all day, hoping for a big payoff, they would have seen exactly one hole of golf in 10 hours, when Kevin Kisner and Alex Noren each made par before heading to extra holes in their morning semifinal match.
That bit of misguided fandom got me thinking: If I bought a ticket and decided to camp out at one hole, what's my best bet to ensure some back-nine drama, but also be guaranteed the match won't finish before it gets to me? My answer, at least for Austin C.C., is the 13th hole. It's probably the best "match play" hole because of the way it forces the players to lay up or drive the green at great risk. It's set up ideally to switch or exacerbate the existing momentum, and it routinely punishes desperate player. Plus, you can see everything from the ropes, all the way from tee to green, and there are boats to watch between the action.
Yet, if any actual spectators hit upon the same solution, they would have been deeply disappointed in Sunday's championship match. Bubba Watson defeated Kevin Kisner, 7 and 6, ending even the pretense of drama with a title-clinching birdie on the 12th hole. The only suspense was whether he'd cry during his TV interview—he's always been quick to tears, but I wasn't sure if a non-Masters, non-coming-back-from-a-long-drought-at-Riviera win would evoke the same poignancy, especially when the tension ran out of the match on about the fifth hole.
As it turns out, yes, he cried:
Kisner shed no tears, of course. The eyes that looked so narrow and fierce in a blowout win of Ian Poulter on Saturday afternoon (a Ryder Cup audition?), and in his 19-hole duel with Noren on Sunday morning, had widened into a faraway stare by the seventh hole, when Bubba's par put him 6 up. By that point, the only hole Kisner hadn't lost came at the sixth, when Bubba missed a five-foot birdie putt.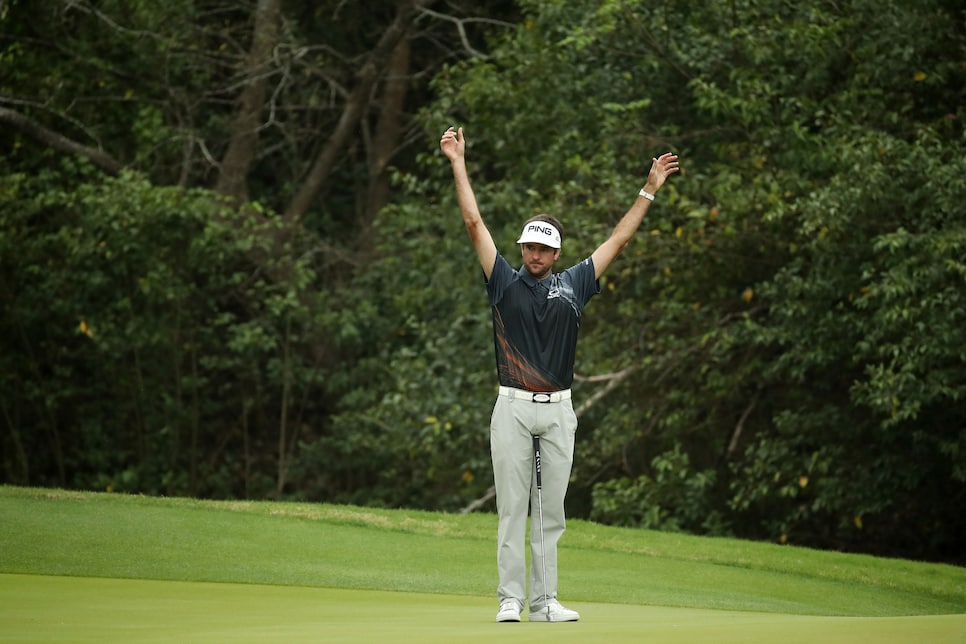 Gregory Shamus/Getty Images
Having started the match trying to notch a third career PGA Tour title, and the biggest of his seven-year PGA Tour career, the 34-year-old Kisner was merely trying to keep from being on the bad side of history over the closing stretch by losing 9 and 8 in the minimum number of holes. The final 7-and-6 deficit still goes down as the most lopsided since the WGC moved to an 18-hole final in 2011. Even in the 36-hole final era, which stretched from 1999 to 2010, only one finalist got beat worse—Stewart Cink, who lost to Tiger Woods, 8 and 7, in 2008.
On Kisner's penultimate hole, the 11th, he had to walk along a narrow footpath bordered on one side by bunkers and on the other by the crowd of fans held back by a thin rope. Bubba had passed a moment earlier, and the cheers fell down around him with the volume you'd expect. But as Kisner strode past, 7 down and on the verge of defeat, the gallery's encouragement had a tentative aspect, as though they were trying to figure out the right thing to say to a friend who had just been fired by an indifferent boss. Kisner won that hole with a long birdie putt, and they roared, but everyone knew it was merely a stay of execution, Kisner included.
After the inevitable loss, Kisner, now with seven runner-up finishes in the last four years, tied for second most on tour in that time frame, sounded like a man trying to explain a car crash after falling asleep at the wheel:
"I was like, what in the world is going on? ... I don't know what to call it right now. I just know it wasn't right. It was right all the way up until the second tee ball, and then I just didn't know what was going on. … Oh, well, it went left and right, not straight. I don't know what else to say besides that. … It was just pitiful, man, I couldn't hit anything where I was looking."
When asked to describe the feeling, Kisner chose two words: Helpless and lonely. And I think the latter was truest—walking along the course, understanding the imminence of defeat, he was the solitary man personified. Nobody could help him. Nobody could even touch him.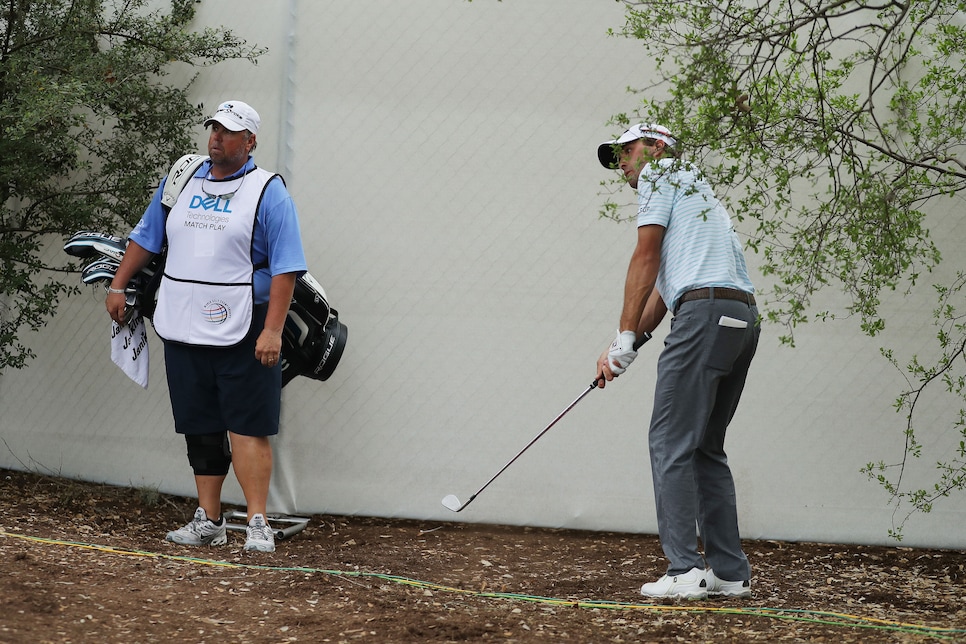 Richard Heathcote/Getty Images
"You could just tell, the energy wasn't there," Bubba said of Kisner. "The drive and the competition was there, but he was just exhausted."
This makes the second straight afternoon when an opponent practically handed Bubba a victory on a silver platter. Yesterday, in quarterfinals, a very fatigued Kiradech Aphibarnrat chunked his way around the back nine until he lost enough holes to go home. And that's the nature of this tournament—some players have an easy path to the knockout stage and beyond, and others can play three tremendous rounds from Wednesday through Friday and still go home because they caught a juggernaut in the process.
Bubba acknowledged his good luck in the final presser, the powder blue trophy resting on the table in front of him, his 11th career PGA Tour win and second WGC title. The 39-year-old spoke about his mother's sacrifices again, and he re-told his favorite story—the one about "Bubba from Bagdad."
"I can draw up cartoon characters all day long that I'm a Masters champion and all these things as a kid," said the winner of two tour titles in the last six weeks and a two-year victory drought. "But it happened. It's overwhelming. I can't make that into a real story. I should write a book, it would be a phenomenal book."
Inevitably, talk turned to the Masters. A few journalists went to great lengths to get him to say something substantive about being one of the favorites, but he wouldn't bite—he zigged, zagged, and evaded, and deflected in the end by making light-hearted fun of a journalist's shirt. It was a fitting end to a surprising win. Everything Bubba does is interesting, it's just that it will rarely be what you want, and it will never be what you expect.