Golf Digest Schools
Bubba Watson shows you how to hit a draw—and turn it into a hook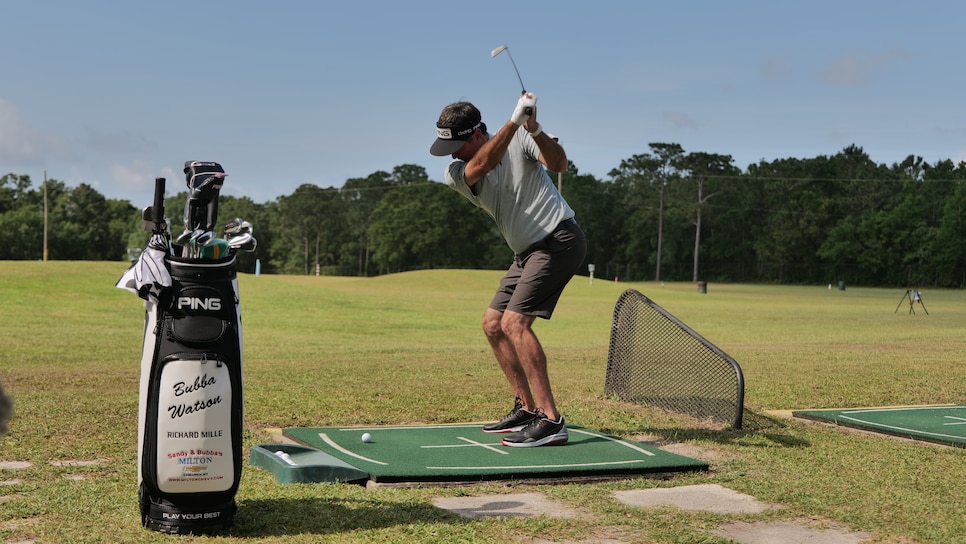 We all remember Bubba Watson's wedge shot out of the trees on the second playoff hole at the 2012 Masters. Who could hook a 52-degree wedge some 40 yards and stop it 15 feet from the hole? Bubba could—and did—and it led to his first of two Masters victories. It remains one of the most spectacular shots in the modern major era.
Bubba is known for his ability to shape the ball, sometimes out of necessity but often because he simply sees shots differently than other players do. "The straight ball is the hardest to hit, so I like to curve it," he explains. "When the pin is on the left, I want to cut it in there," Bubba says. "When the pin is on the right, I like to draw it in."
When setting up for a draw, Bubba says to start by closing your stance to the target. Then, think about swinging on more of an in-to-out path. Lastly, focus on releasing your wrists through the ball. "What I do at impact is roll the wrists to help the ball have that spin, so it'll curve," Bubba says.
Watch his full demonstration below:
If you're looking to create a more severe draw—like that hook Bubba hit at Augusta—he says simply roll the wrists faster. Clearly, Bubba plays more by feel than swing mechanics. Every golfer knows producing shots like that takes a lot of trial and error, especially if you want to try it with a major championship on the line! Then again, like Bubba says, hitting curves can be easier than hitting straight balls.
Find out the secret to shaping shots in "Bubba's Junkyard," now on Golf Digest Schools. In this 20-minute range session, you'll see Bubba's shotmaking on full display, with ball tracers on every swing. Watch as he breaks down his go-to shots from tee to green, from the Dink Cut to the Trap Wedge to the Sky Chip. And don't miss his hilarious game of "Call My Shots." It's vintage Bubba.
"Bubba's Junkyard" is one of more than 130 video programs in Golf Digest Schools. Take your game to the next level with instruction from the top teachers and players. And with the new Golf Digest Schools app, you can bring it all with you anywhere you go.