News
Bryson DeChambeau's wish for a repeat win in Dubai disappears with four-bogey finish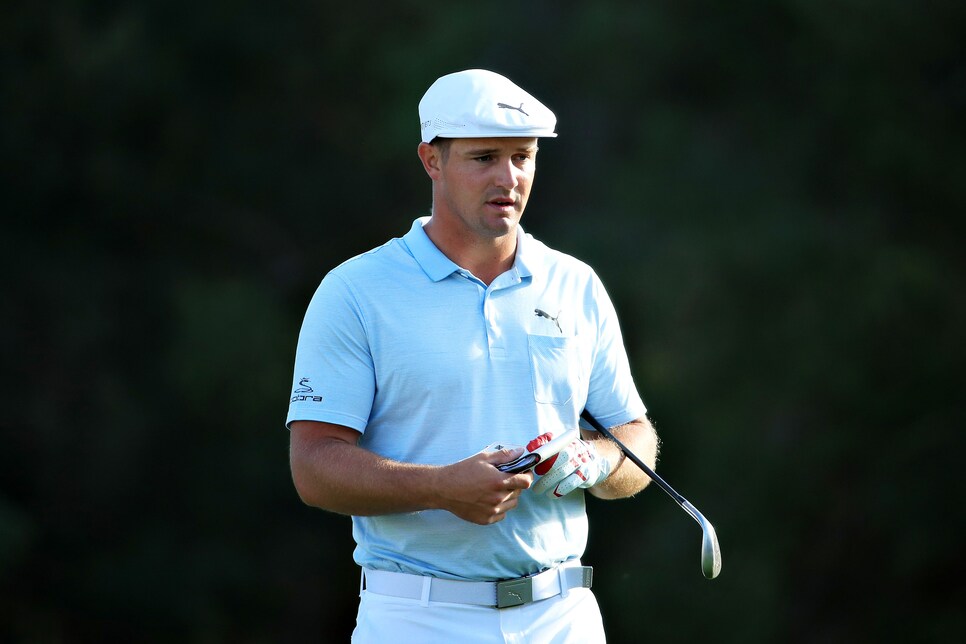 DUBAI — Long, thick rough is one thing. Overly narrow fairways is another. Firm, fast greens is a third. But throw in a strong wind and (briefly) rain to the mix and golf can quickly become a bit of nonsense. Especially when landing the ball short of putting surfaces and running it on is all but impossible on a course where a proliferation of sharp doglegs makes finding fairways an exercise in near futility. That's at least one penal factor too many.
Welcome to the final round of the Omega Dubai Desert Classic.
On a day when the average score from the 71 players soared to 74.76, Lucas Herbert emerged from the morass to claim victory, his first on the European Tour, with the highest winning score in the event's 31-year history. The Australian's Sunday 68, the low score of the day, and nine-under-par 279 total were both matched by Christiaan Bezuidenhout, the pair needing two extra holes before an Herbert birdie broke the tie and decided the destination of the $541,660 first prize.
All of which was merely the culmination of a day marked by a seemingly endless stream of widespread disaster. By way of example, overnight leader Ashun Wu of China needed 42 shots to play his final nine holes, yet finished only four strokes short of what would have been a fourth European Tour victory.
But none suffered more than defending champion Bryson DeChambeau. The extreme combination of weather and course set-up was not to his liking. Not at all. Young Bryson, it must be said, often does not handle adversity well. Nine days on from a missed cut in Abu Dhabi and the first flounce of his fortnight in the Middle East, the World No. 17 repeated the performance at the end of a day that began so promisingly.
Two birdies in his first three holes had taken the then-smiling American to 11 under par and into a tie for the lead with Wu. From there, however, things went first gradually downhill, then more precipitously.
By the turn, DeChambeau had fallen to eight under. Then on the 10th hole, DeChambeau was issued a slow-play warning from European Tour officials. Still golf's self-styled scientist began the back nine with four pars and a birdie, giving himself a chance at the repeat win. But, sadly for the man who won by seven a year ago, a par on the 14th hole was followed by an error-strewn finish.
Four straight bogeys to close left DeChambeau with a final-round 76 and a five-under total that was good enough for only a tie for eighth place, four shots short of the playoff. In totality, it was a bit of a horror show. Three-putts on the short 15th started the slide. The 16th green was missed, as was the 17th (twice) with short pitches from, you guessed it, cloyingly heavy rough. And, just to round things off, his second shot on the par-5 18th landed in water rather than on land en route to that fourth-successive bogey.
Maybe two minutes after his manager/agent announced to European Tour officials that there would be no cozy post-round chat with the media, DeChambeau, eyes glaring, face flushed red, marched across the practice putting green toward the clubhouse. Given how much he has bulked up recently, it is to be hoped that no one was daft enough to get in his way.
Herbert was understandably in finer fettle after his two-putt birdie on the second playoff hole at the aforementioned 18th was too good for his opponent. That, however, has not always been the case. Only a few months ago, the 24-year-old went public with the mental-health issues that blighted his 2019 season. Consider the following quote:
"Halfway through the year, when I came home from the Irish and Scottish Opens, I didn't even know if I wanted to play anymore because I just didn't enjoy the game," Herbert said on the PGA Golf Club podcast. "I was playing great, but I didn't enjoy the game, didn't enjoy a round, didn't enjoy the many sacrifices that you have to make to play well. I just was not in a place where I wanted to make them. I was like, 'If I lose my tour card this year, I'll happily go home and get a job as a chippy or a carpenter or something like that.' "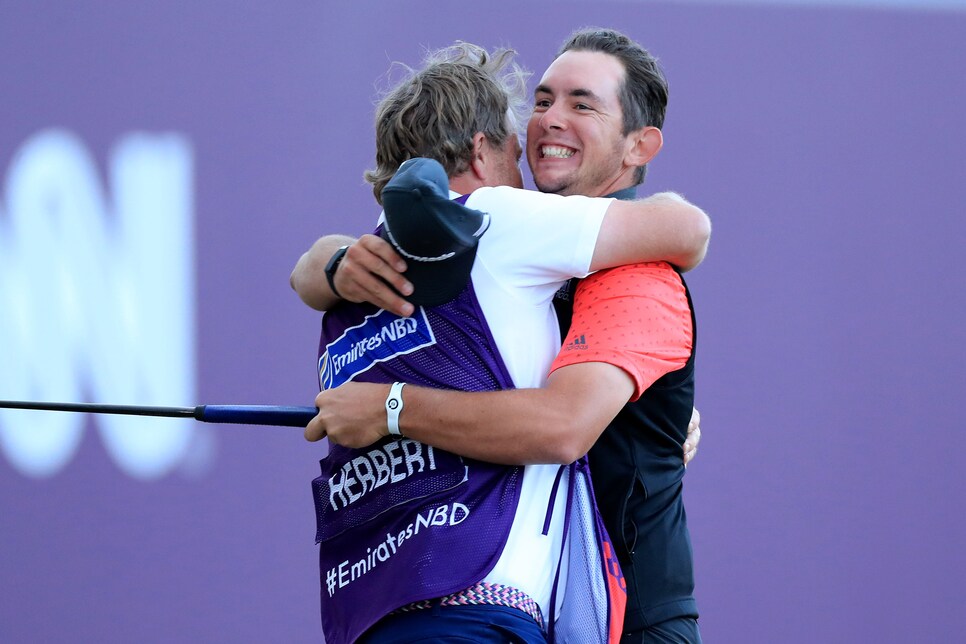 All of which was in complete contrast to the happy, smiling figure on the podium at the post-tournament press conference.
"I started off with a bogey and worried about where that was going to take me for the day," said Herbert, who, representing Australia, was second behind Jon Rahm in the individual section of the 2014 World Amateur Team Championship. "But from then on, I just played nice, solid golf. My goal at the start of the day was anything under par. That was always going to be a really good score. It was so tough out there. Anyway, I did everything well. A few putts managed to go in here and there, and I pulled off some pretty good shots when I needed to. It's a really good feeling sitting here at the moment."
Good on ya', mate. At least one person had fun out there on Australia Day.