The Loop
Bryson DeChambeau's Masters performance comes despite worry over ailing father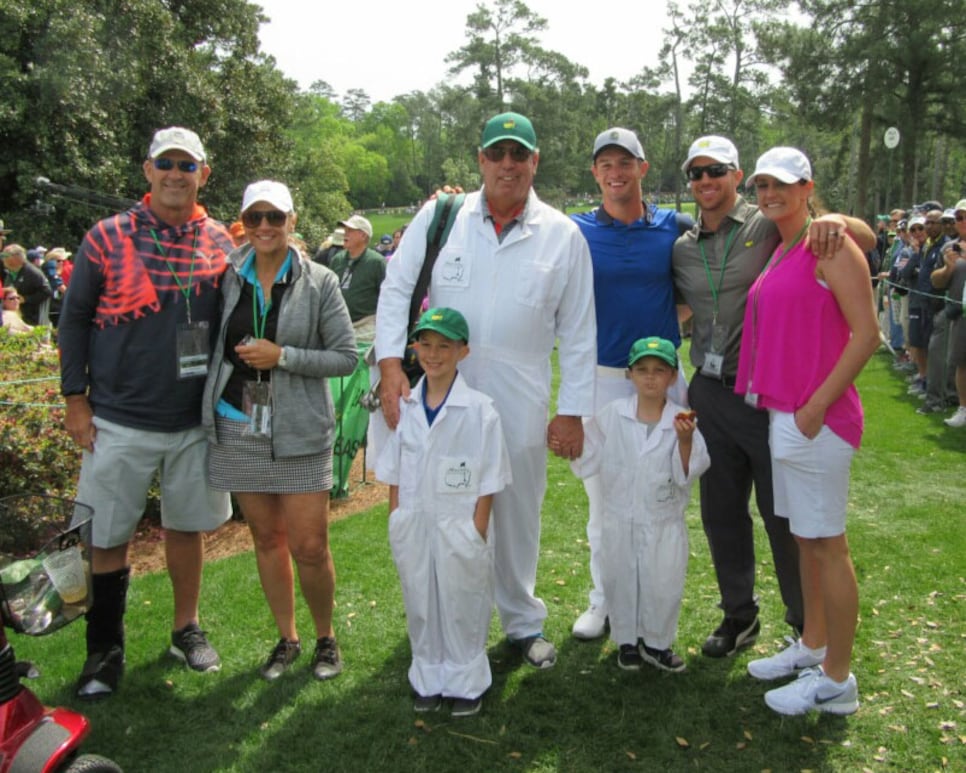 Mike Watney isn't looking to be a hero. He's just trying to pay it forward by giving back to someone he has known for years. The retired former Fresno State golf coach and uncle of tour player Nick Watney had two healthy kidneys, and knew Bryson DeChambeau's father, Jon, needed a new one. So he volunteered to be a donor.
"With Bryson playing so well and about to turn pro, I knew that Jon was going to start an exciting new part of his life," Watney explained on the eve of last week's Masters. "I feel like people should help people whenever they can."
At 56, Jon DeChambeau's situation was becoming dire. He was diagnosed with diabetes 25 years ago, had double-bypass surgery in 2014 and, over the past year, underwent multiple surgeries to amputate the toes on his right foot. Instead of being at Augusta National last Thursday to watch Bryson play his first round in the Masters, Jon watched on TV while going through four hours of dialysis at a clinic in Augusta. His kidneys shut down in 2014.
"Mike felt empowered enough to help me," Jon said. "He's helped save my life, and prolong my life for a good number of years."
On Friday, with his son paired with Jordan Spieth, Jon drove the course in a scooter rented from a medical-supply center in Augusta, negotiating galleries that routinely ran 10-people deep. "There's no way I could walk up and down the hills," Jon said. "I probably would have set myself down in the grandstands. That's all I'd see if not for that ride."
Bryson got to within one of Spieth's lead, but a triple bogey at the 18th put him four strokes back going into the weekend. Jon decided to go back on dialysis on Saturday so that he could follow his son Sunday. In his last round before turning professional, Bryson shot 72 to finish T-21.
Watching from his home in Clovis, Calif., Watney recalled when he was the assistant pro at Belmont Country Club in Fresno, the course where Jon DeChambeau won multiple club championships and, at one time, held the course record of 64. In 1979, Watney became the golf coach at Frenso State. The first player he recruited was Mike Schy, who would become—and remains—Bryson's instructor. Meanwhile, Jon became the director of operations at River Bend Golf Club (now Dragonfly G.C.) in Madera.
"Fresno-Clovis is not a huge area, so anybody in the golf scene pretty much knows everybody," Watney said. "But to be honest, we were never super, super close."
That's why DeChambeau's wife, Jan, couldn't believe it when Jon explained what Watney was offering to do. "It was jaw dropping to me," Jan said. "I couldn't believe it when Jon told me and I got the same reaction from Bryson. What an awesome thing to do."
Watney made his decision after reading an article in the Clovis Independent, a weekly newspaper, entitled, "Give a kidney, save a life." Since then, he and Jon have spoken on the phone several times. Watney has to go through some tests before a date is set for the transplant, but he's committed.
"Helping a friend is the least I can do," he said. "To me it's not that difficult a decision."