The Loop
Bryson DeChambeau's irons have nicknames related to the Masters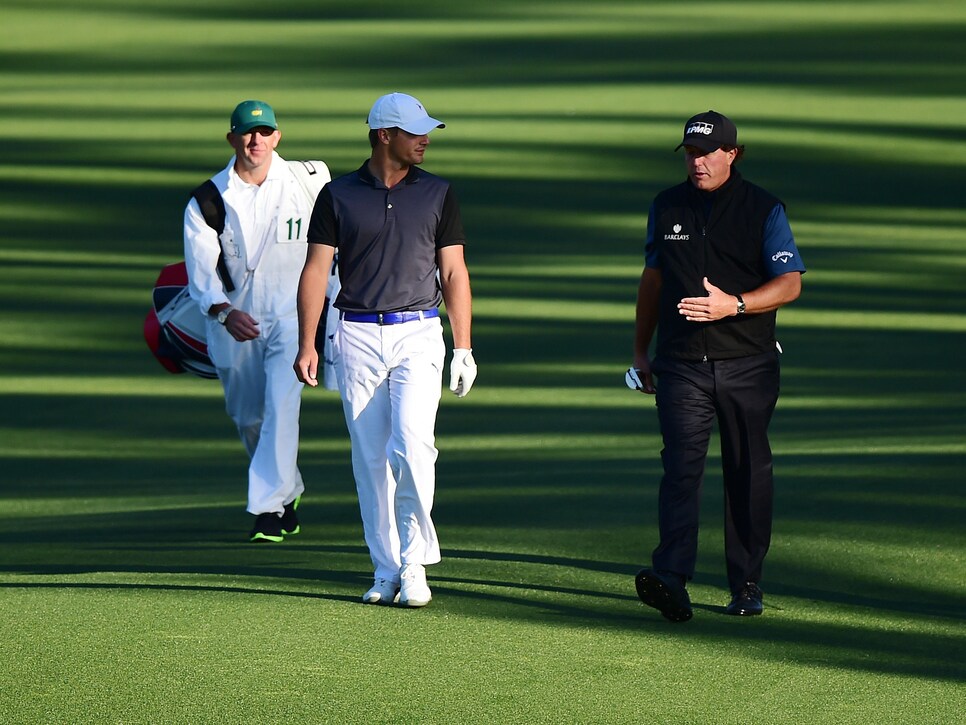 AUGUSTA, Ga. -- Amateurs competing at the Masters often talk about brushing up on the history of the tournament and its sacred co-founder, Bobby Jones, to better soak up the experience of competing at Augusta National. Yet amateur darling Bryson DeChambeau -- known for his scientific approach to the game and golf swing -- has taken the practice to an entirely new dimension.
Besides the 10 rounds he played at Augusta prior to this week's event, and staying in the Crow's Nest on Monday night, the reigning U.S. Amateur and NCAA champion has given his irons -- made famous for all being the same length and weight -- Augusta-themed nicknames.
For instance, his 60-degree wedge he calls King, a reference to the Masters champ from 1960, Arnold Palmer.
And his 55-degree wedge is known to him and his caddie as Mr. Ward, low amateur at the 1955 Masters and a former U.S. Amateur champ.
But that's just he start. His 50-degree wedge is Jimmy, after 1950 Masters winner Jimmy Demaret and his 46-degree pitching wedge is Herman, after 1946 winner Herman Kaiser.
His 6-iron he calls Juniper, the flower that the par-3 sixth hole at Augusta is named after, and his 5-iron is Azaela because that's the name of his favorite par 5 at Augusta (No. 13).
OK, so not all his clubs pay homage to the Masters. His 34-degree iron he calls Tin Cup. Why? Well, three plus four is seven, and a 7-iron was Roy (Tin Cup) McAvoy's favorite club. And his 3-iron he calls Gamma, because that's the third letter in the Greek alphabet.
DeChambeau says he gave his clubs these names in large part because of his reference for Jones.
"I tried to learn as much as possible about Mr. Jones, and I've probably forgotten more than I know right now," DeChambeau said. "But at the same time, his spirit is still here, and it's quite an honor to get to experience that here."
DeChambeau reverence for Jones only increased the first time that he played Augusta National last December. It was then that he learned that he wasn't the only former U.S. Amateur champion to believe in the benefit of playing with all the same length clubs.
"I went into the trophy room my first time here, had some breakfast and I looked over," DeChambeau recalled. "As I went in, I looked to the left and I saw this set of golf clubs and I knew that they were Mr. Jones because they all looked relatively the same length, and it was a pretty special moment. Because we'd always heard that story, never verified it. But when I actually got to go up to that case and I looked in, I went, Oh my goodness, they all look really close to the same length. It inspired me even more. It was gratifying to our journey."