News
Bryson DeChambeau won despite "ripping part of hand off" at a hockey game by...blowing the air horn too hard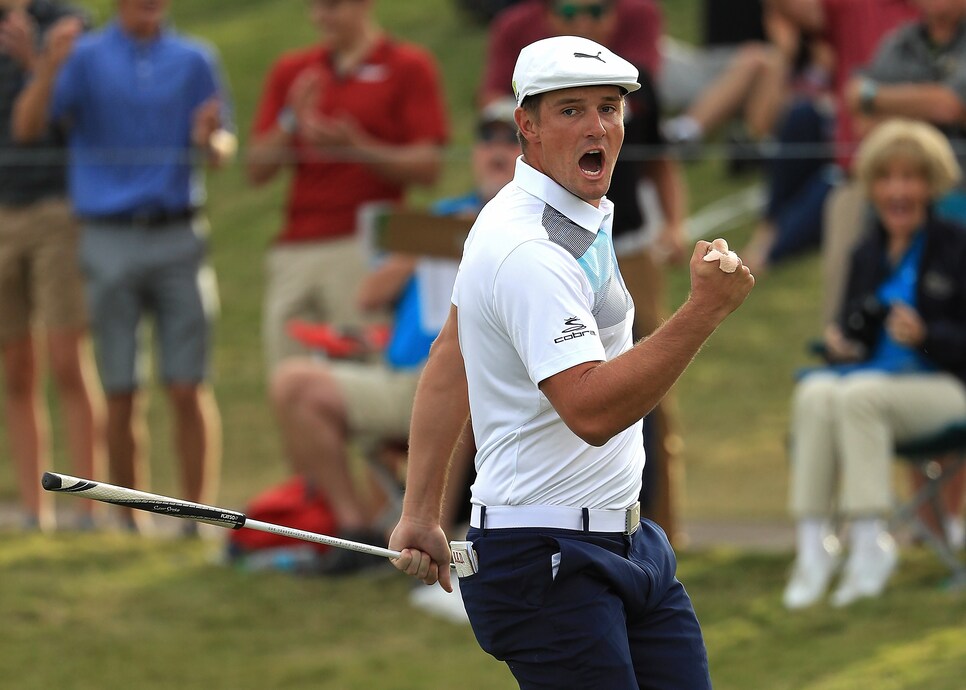 Bryson DeChambeau is a man of science. But an act of the golf gods nearly kept him from winning over the weekend.
DeChambeau captured his fourth event in 2018 at the Shriners Hospitals for Children Open with a 66 on Sunday, good enough for a one-shot victory over Patrick Cantlay. A performance impressive in itself, especially so given DeChambeau played through injury. An injury caused, by all things, an NHL air horn.
The Ryder Cupper was at a Vegas Golden Knights game on Saturday night and was asked ring a ceremonial siren. A move that backfired on DeChambeau.
"I went a little too hard on the air horn or what do you call it? I think that's what it's called. Yeah, and I ripped part my hand off, which is nice," DeChambeau said. "So, no, it was all good though. It's all right here. It's fine. I mean, just hurt every shot, but it was all right. No, just kidding.
"I gave that thing a whirl and got the crowd pumped up for the third quarter and they went on to win, so, hey, more power to them and more power to me I guess. I won this week too, today, so it's not a bad deal."
After initially discussing it in a lighthearted matter, DeChambeau did assert the injury posed an issue throughout his final round.
"Oh, yeah. I was freaking out," DeChambeau admitted. "I actually put Nu-Skin on it this morning and it dried up and dried my hands too quickly. Then I opened my hand and it cracked and split.
"So now I'm like, 'Wow, I'm really in some do-do; not in a good place.' Essentially tried to put some lotion on just to moisturize it a little bit again. We did that and it started feeling better, and then the guys at the player performance center were able to wrap me up pretty nicely.
"It was manageable. Every time I clenched my fist a little bit too hard or hit a shot that was a little bit too steep I definitely felt a pull on it."
Quite the curveball for a guy so prepared he has his own dew garcon.
In short, don't expect DeChambeau to ring the bell at the New York Stock Exchange after he wins the 2019 Masters.