News
Bryson DeChambeau upstages Tiger Woods, positions himself for back-to-back FedEx Cup playoff wins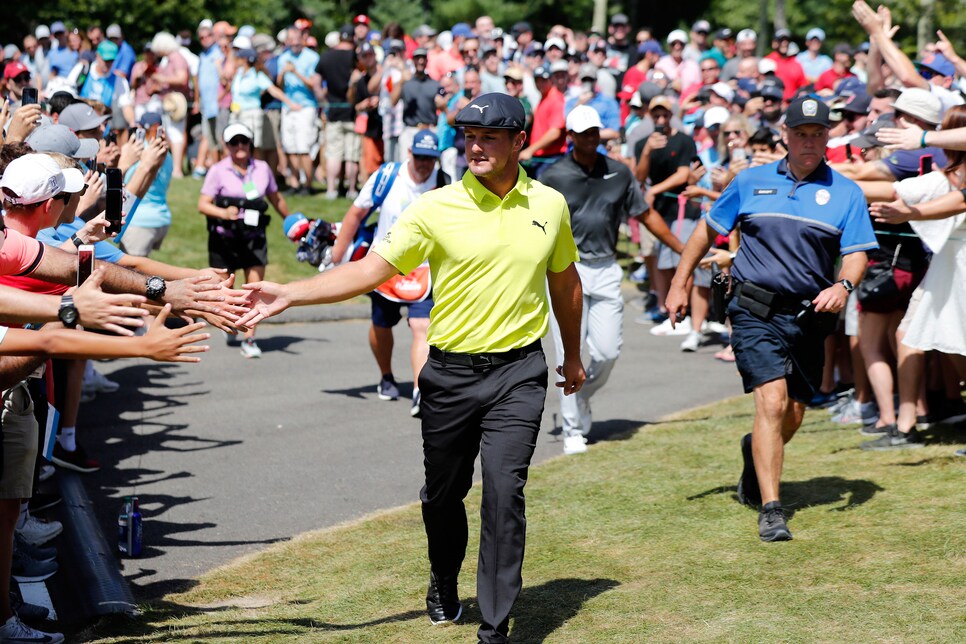 NORTON, Mass. — Earlier this week, Bryson DeChambeau said he'd welcome a pairing with Tiger Woods at next month's Ryder Cup, adding that the duo could maybe "intimidate" their opponents.
Playing with Woods for the first time in competition in Sunday's third round of the Dell Technologies Championship, DeChambeau certainly made a favorable impression on his potential future teammate, shooting a sizzling eight-under 63 that moved the 24-year-old to within a stroke of the lead with one round to play at TPC Boston.
DeChambeau is looking for his second victory in as many weeks and the fourth of his PGA Tour career. If he pulls it off, he would join Vijay Singh as the only other player to have won the first two legs of the PGA Tour's FedEx Cup Playoffs since its inception in 2007.
But first there was something arguably just as special: Getting to play alongside Woods.
"He's my childhood idol," DeChambeau said.
He hardly played like he was in awe, though, making an eagle, seven birdies and just one bogey alongside the 14-time major champion, whom he clipped by five strokes.
"To be finally able to play with him under tournament conditions, it was different," said DeChambeau, who has played numerous practice rounds with Woods this season. "I was a little nervous, for sure. But I was able to get out there and execute shots and worry about my game and focus on hitting the best shots possible."
It didn't take long, either. DeChambeau birdied each of the first two holes, then added two more red numbers on the sixth and seventh holes.
"After I made the birdie on seven, that's really when [the nervousness] went away," DeChambeau said. "There were some tee shots that I left a little right and just a little nerves. It's Tiger Woods, guys."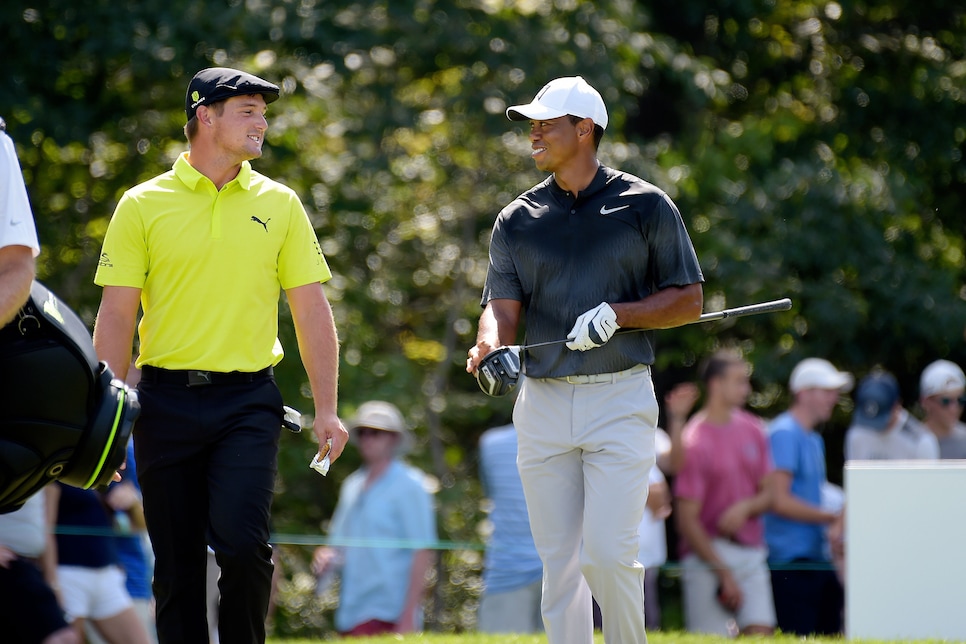 Once DeChambeau settled in, he cranked it up down the stretch.
On the difficult 490-yard par-14th, he piped a 320-yard drive up the right side of the fairway before sticking his approach to just inside 11 feet and making the putt for birdie. Though he bogeyed the next hole, DeChambeau bounced back with two more birdies on 16 and 17 then stiffed a 237-yard approach on the par-5 18th to a foot, setting up a kick-in eagle to match the low score of the week.
It wasn't just the shots he hit, but the way he acted in the presence of Woods and the enormous gallery following them. Throughout the round and especially early on DeChambeau chatted up his boyhood idol. Both players seemed to enjoy each other's company, even in the midst of competition.
"He's fantastic to play with," Woods said. "He's great."
He could also make a great partner for Woods at next month's Ryder Cup matches outside Paris. Note to U.S. captain Jim Furyk: the duo combined for 11 birdies and a best-ball score of 10 under. Would seem to be two pretty good captain's picks, no?
What does Woods think of the idea that they could intimidate a few people?
"If he goes around and shoots 8-under par every time," he said. "that will work."