The Loop
Bryson DeChambeau says injury played a role in his Friday triple bogey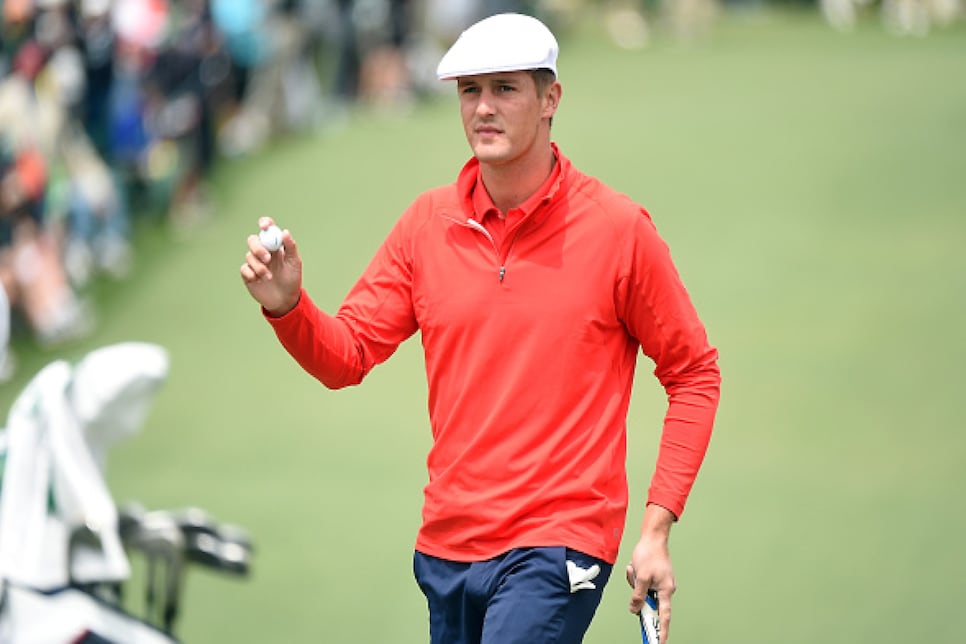 AUGUSTA, Ga. -- Through 35 holes at this year's Masters, Bryson DeChambeau looked poised to make history. Becoming both the first amateur to win a green jacket and just the second rookie seemed very much in play as he stood on the 18th tee just one shot behind the leader and playing partner Jordan Spieth. Then, disaster struck.
DeChambeau made a triple bogey that included taking a drop where few have ever ventured, an area in between concession stands and the members tee for the eighth hole. It dropped him from solo second to T-8 entering the weekend, and the 22-year-old amateur was never able to get back on track over the weekend with a 77-72 finish. And after his final round as an amateur, DeChambeau divulged that an injury played a role in his 18th hole nightmare.
"Ultimately my body took a toll this week and my hip," said DeChambeau of his right hip. "Really haven't talked about it too much, but my hip gave out the second round, on 15, and ultimately led me to pull those two shots. I wouldn't say that's the full reason, but at the same time, it did affect me. It was unfortunate, but again, it's a learning experience."
Some late club tinkering caused DeChambeau to practice and player more earlier in the week than he had planned. DeChambeau noted he was tired on Sunday and that he should have rested more in the days leading up to the tournament.
"The only thing I would change is how I spent my time resting, Monday, Tuesday, Wednesday," DeChambeau said. "Unfortunately messed up and, you know what, I'm 22, I'm still young and learning how to manage my time. That's the one thing that I think I'd change."
DeChambeau won't have much time to recover from his busy week, but this hip doesn't appear to be much of an issue. He said he still plans to make his pro debut at Hilton Head on Thursday.